Storage Spaces is a technology in Windows 8, 8.1 and 10 and Windows Server that allow combining multiple hard disk drives (HDD) or solid state drives (SSD) into one storage pool. It is actually a virtual disk that offers cost-effective, highly available, scalable, and flexible storage solutions.
Why you need to resize or expand storage space virtual disk?
But sometimes, you may find that Storage Space running out because there are so many data stored on it. At this moment, you need to extend and resize virtual disk and storage pool. However, there is little partition software that supports to manage storage spaces and storage pools in Windows. So, to do this, you have to migrate your data to a larger volume and then extend the file system on the volume to recognize the newly-available space. After you verify that your new volume is working properly, you can delete the old volume. It's really complex and tedious!
What is the best and easiest way to manage storage pools?
So, is there any easy way to resize or extend storage space virtual disk? Of course yes, here, we will introduce you the best virtual disk storage space management solution - EaseUS partition tool, a powerful and easy-to-use third-party disk management tool that allows you to increase the storage space without losing the data. Requiring none of the complex operations mentioned above, it can help you resize or expand storage space and storage pools in Windows 10/8.1/8 within 2 simple steps.
To resize or expand storage pools and virtual disk, follow these steps:
Step 1. Launch EaseUS partition tool, right-click the storage space virtual disk and choose "Resize/Move partition".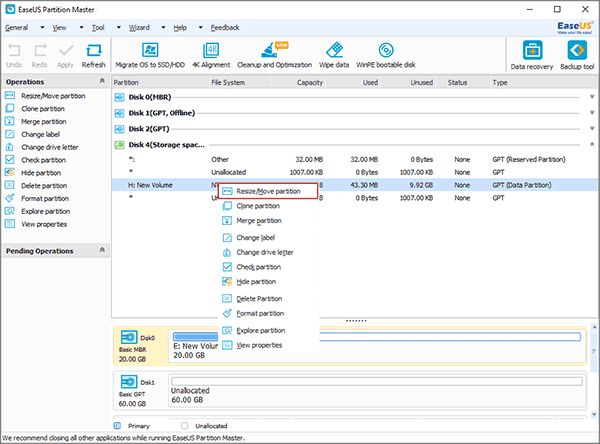 Step 2. Drag the partition handle rightwards to extend storage space virtual disk. And finally, click "Apply" to confirm all your operations to resize storage pool.