Can't resize dynamic system volume on GPT disk, help!
"Does anyone know how to extend dynamic system volume or increase dynamic system partition size on GPT disk?
I allotted about 50GB to the system partition on my computer. But now the system volume has only 10GB free space left. So I was thinking to add more space to the dynamic system partition. I tried to extend the system volume on the GPT dynamic disk in my PC, but Disk Management tool didn't allow me to do so. It even warned me that an error existed on the drive and it couldn't extend the volume. Please help me if you happen to get a solution to this issue."
Due to data security consideration, some users may convert their basic system disk into a dynamic disk and even create mirrored volume to prevent unexpected physical damage on the hard drive with data loss problem. However, according to some GPT dynamic disk users' feedback, they can't adjust or resize the dynamic system volume on GPT disk with unknown error.
So how to simply resize dynamic system volume/partition on GPT disk? If you are having such a problem on your computer, don't worry. Just follow provided method here below to solve this issue on your own now.
Download dynamic partition manager software to resize system volume on PGT disk
Professional partition manager software - EaseUS Partition Master Free fully support to resize, copy, delete and even format dynamic volume on both MBR and GPT disk.
If you have problems in adjusting the dynamic system volume on the GPT/MBR disk in your PC, don't worry. You can directly download this software for free, install it on your computer and apply it to resize your MBR/GPT dynamic system volume in Windows 10/8/7 now:
Resize/adjust, extend or shrink system volume on GPT disk for free
Step 1. Before you start resizing the dynamic system volume, please firstly apply EaseUS Partition Master Free to check and repair disk error.
Step 2. Launch and run EaseUS Partition Master Free.
If you have free and unallocated space on the dynamic GPT disk, right-click on the system volume and select Resize/move volume.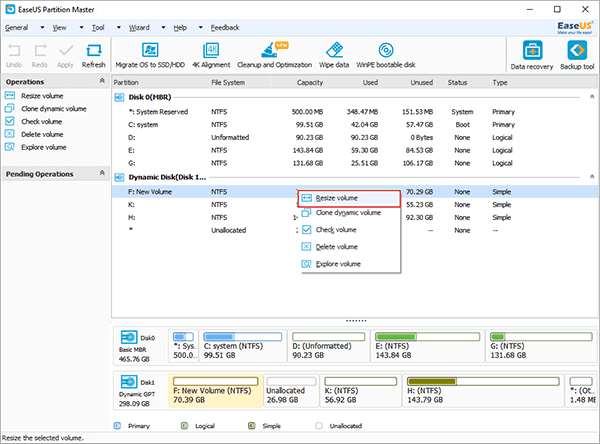 If you don't have unallocated space, follow the next tips:
1. Right-click on a simple volume/partition which has free space and select Resize/move volume, drag the right handle leftward to shrink the dynamic volume.
2. Repeat Step 2.
Step 3. Drag the right handle of system volume rightward to extend the system volume on GPT disk.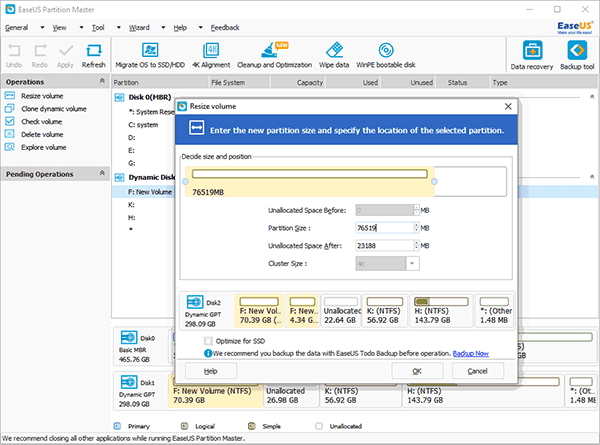 Step 4. Click Apply to confirm the operation and keep the changes.

By doing so, you'll successfully get an increased system volume on the dynamic GPT disk with the system running smoothly on your computer.