How do I resize or expand EFI system partition?
"What I want is simple, 100 MB is too small and I just want to make it 1GB. See that unallocated space in colored grey box, I want to move that near the EFI System Partition so that I could merge it. But now the problem is I can't because of Microsoft Reserved Partition, so I'm stuck. How should I enlarge or extend it?"
Why you can not resize EFI partition with Disk Management tool?
This is the question about how to expand EFI partition asked by a user on the forum. Just like this case, you might want to resize, extend, move or delete EFI partition in some special situations. But soon you may find you cannot do it with the Windows built-in Disk Management tool. How does it happen? Because EFI system partition (ESP for short) is different with other partitions. It is usually created when you successfully install Windows OS on a GPT disk of your computer and protected and locked by the Windows to prevent and avoid systems unbootable issue. So, you are not allowed to edit EFI system partition with Windows built-in Disk Management tool.
Reliable software to resize, expand or move EFI partition
So, does it mean it is impossible for you to resize or expand EFI partition? Of course not. Professional third-party partition manager software with "Resize/move partition" feature is ready for help at any time. Here, EaseUS partition software, a popular disk management tool is recommended. It can help you resize, expand or move the EFI partition without any limitation. And it allows you to extend EFI partition in multiple methods: merge EFI partition with adjacent unallocated space, or shrink the adjacent partition to leave more space for EFI partition. During the process, no data loss problem will happen.
To resize or expand EFI partition, follow these steps:
Step 1. Launch EaseUS partition tool, right-click the EFI partition and choose "Resize/move partition" option.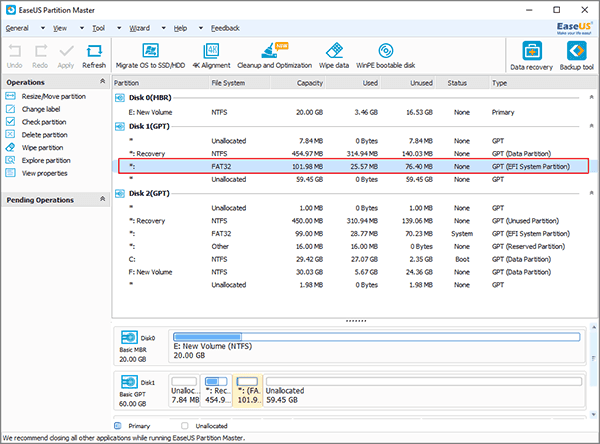 Step 2. The software will prompt a message if your EFI system partition is large enough, making sure you still want to continue with the extending or shrinking operation. Click "Yes" to go on with the task.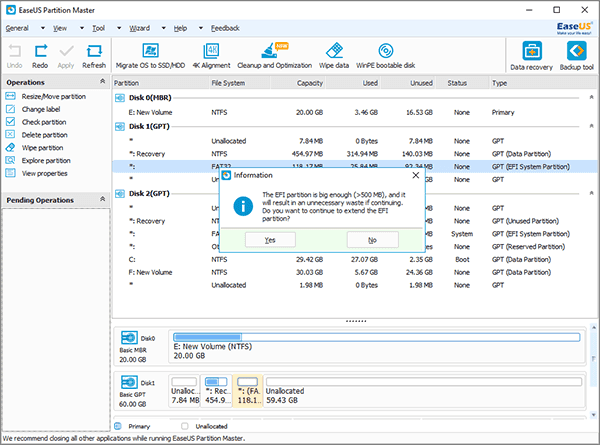 Step 3. Drag the mouse pointer to the direction where unallocated space locates, to extend EFI partition; or else place and drag the mouse pointer at either side of the partition bar to shrink it.
Step 4. Click "Apply" to resize or extend the EFI partition.