Why you need repartition hard drive before installing Windows 10?
Are you interested in trying out Windows 10 on your own PC? It's easy. You can do it just like installing any other version of Windows. But in case of unexpected accidents such as data loss disaster, low disk space, etc, you'd better make full preparations before the action. The best way is to repartition hard drive before installing Windows 10. This page will introduce you how to do it with a step-by-step guide.
As most of you know, there are two ways for you to upgrade your PC or laptop to Windows 10, one is to directly performs the upgrade operation, the other one is to clean install Windows 10. If you choose the first method, you might encounter low disk space problem during the Windows 10 upgrade process. So the best way to avoid this problem is to repartition the hard drive to extend system partition. And if you choose the second method, you are strongly recommended to repartition your hard drive and install it on a new-created hard drive partition. So you can simply delete the partition and return your PC to normal without data loss and system reinstall if you want to rollback to a previous version of Windows from Windows 10 later.
Steps to repartition hard drive before installing Windows 10
For average users, repartition hard drive before installing Windows 10 is not an easy task, and sometimes it can even cost all your important data. So you should do it carefully. The best way is to find a reliable and easy-to-use partition software. EaseUS partition tool is your best bet. It allows you to create, delete, resize, merge, split, move, copy partitions with no data loss.
1. Launch EaseUS partition tool. Choose the partition you want to change and select the right option to extend, shrink, move, copy or merge the partition.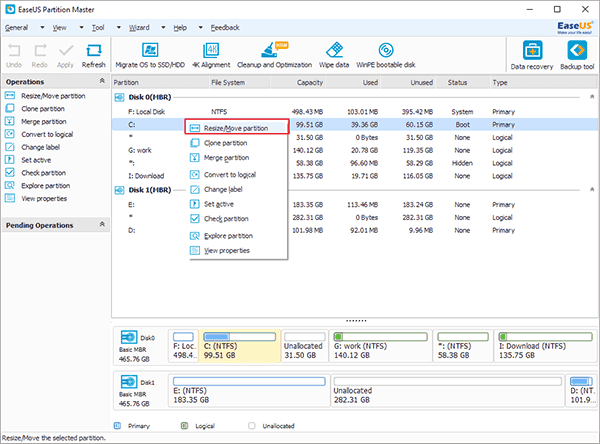 2. Drag the arrow towards right hand to resize the partition.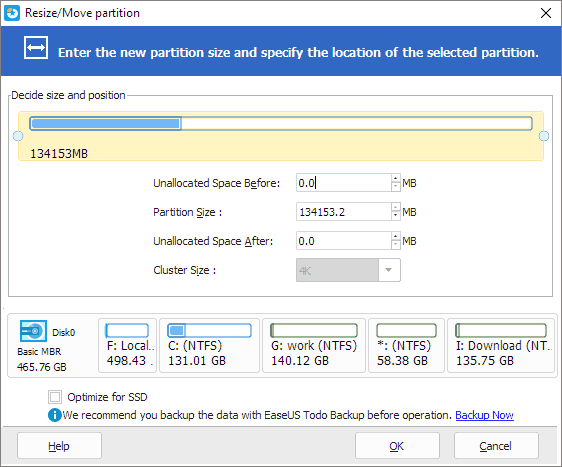 3. Then click Apply to confirm all your operations.