Partition Resizer Windows 10 Improves Your Partition Management Skill in These Ways
Partition resizer Windows 10, as you've frequently heard of, is a key feature/function of some hard drive partition software. What do you do with such a partition resizer on a Windows 10 computer? We'd like to say, a lot.
Generally, a partition resizing tool mainly helps adjust the volume, capacity and size (from kilobytes to megabytes to gigabytes) of a drive's partition, let it be a primary partition or a logical partition. It's an essential partition managing software that lets you increase, extend and expand one partition (let's say C:) by means of shrinking, decreasing and reducing the contiguous or discontinuous partition (let's say D: and E:).
By enlarging a drive's partition, Windows 10 users can benefit a lot from the situations as follows.
1. Fix Windows 10 low disk space warning issue;
2. Create unallocated space so as to make a new partition;
3. Make a second or more partitions on a drive;
4. Merge/combine used unallocated space/free space to system drive partition;
EaseUS Partition Master - Freely Resize (Extend/Shrink) Hard Drive, External USB Flash Drive, Pen Drive, Memory SD Card, HDD, SSD, etc.
Do you now wonder what's the best free partition resizer for Windows 10? Among all the participants in the market, we choose you EaseUS Partition Master. This piece of free partition manager software provides the best user experience in coping with the resizing job in Windows 10 environment, with all the storage devices, for both internal drive partition or external drive partition of HDD, SSD, USB flash drive, pen drive, SD card, memory stick and more.
Its simplicity, ease of use, wizard-based onscreen guidance and resizing tricks makes it outstanding. Download and install it on your Windows 10 PC, or Windows 7/8/8.1 PC in case that someday you'll upgrade the old OS to Windows 10, and see how you're going to like this partition resizer.
Guide for resizing partition with EaseUS Partition Master on Windows 10
STEP 1. Launch EaseUS Partition Master. Right-click the partition (Y:)you're going to extend or shrink, and select "Resize/Move Partition".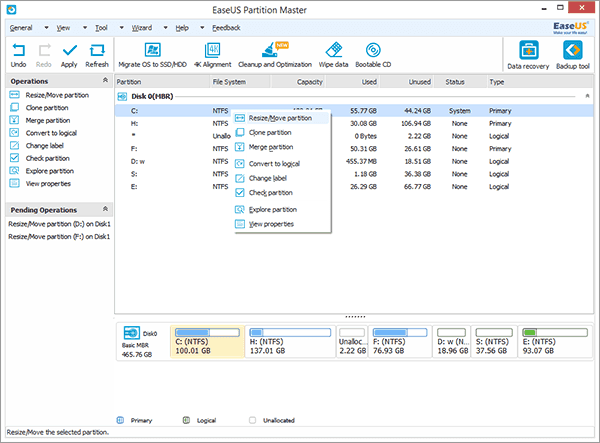 STEP 2. Position the mouse pointer on the left partition handle to shrink the partition Y:.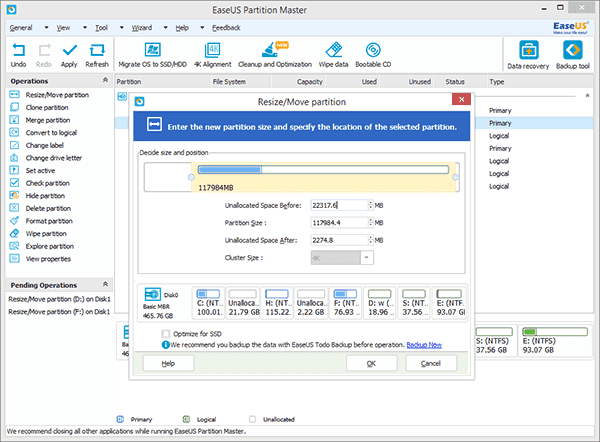 STEP 3. Click "OK". Then there is unallocated space on the left side of Y: drive.
STEP 4. Right-click that partition (X:) you're going to extend and select "Resize/Move Partition". Position the mouse pointer on the right handle of C: drive to extend it. With the increase of X: partition size, the unallocated space is decreasing. Click "OK".
STEP 5. Click "Apply". Now you've successfully shrunk partition Y: and extended partition X:. If there is unallocated space on your hard drive, just jump the step 1-3 and directly extend the partition.