All new hard drives, whether it is internal or external hard drive, require formatting and partitioning before they can be used to install Operating System or store data. Disk partitioning is the process that takes a single hard drive and segments it into logical volumes so that the data can be easily managed. You can choose to keep the hard drive as a single volume, or you can create multiple logical volumes. Windows built-in Disk Management tool provides an easy way to create partitions and file system formats on new external hard drive. To access and use the tool, you must have administrative right.
Partition external hard drive with Windows built-in disk management
Step 1. Attach the external hard drive to the computer.
Step 2. Right-click "Computer" and choose "Manage" to open the Computer Management window.
Step 3. Click "Disk Management" under Storage. Select the external hard drive under Volume. Right-click on the area labeled "Unallocated Space" and then select "New Simple Volume" from the menu. A wizard appears to guide you through the process.
Step 4. Enter a size for the new volume. The default value is the full capacity of the external hard drive. Choose a smaller size than the default if you create multiple volumes on the drive and then click "Next."
Step 5. Assign a drive letter to the new volume. The default is the next available sequential drive letter. Keep the default or choose another letter from the drop- down list. Click "Next" to continue.
Step 6. Choose a file system format, assign a label or name to the new volume or whether to enable compression. Click "Next."
Step 7. Review the settings on the summary page and click "Finish" to complete the settings. Windows begins to format the external hard drive.
Partition external hard drive with partition manager software
As magic partition manager for hard drive and external hard drive, EaseUS Partition Master can extend partition, shrink partition, resize/move partition, copy partition, copy disk, copy dynamic volume, convert FAT partition to NTFS, split partition, merge partitions, create partition, format partition, delete partition, recover deleted partition, etc. to manage your hard drive partitions more easily and safely.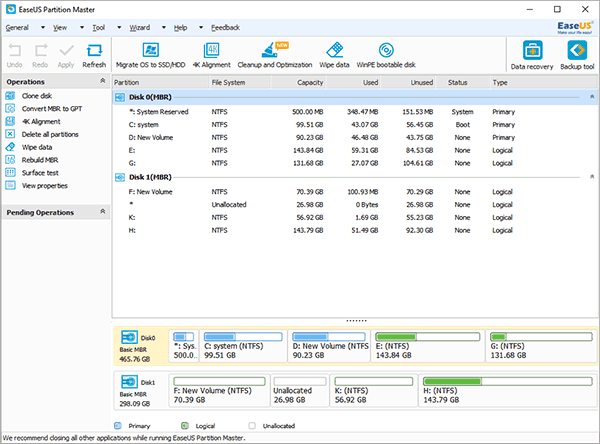 1. There is already some unallocated space on external hard drive.
In this case, it is pretty easy to solve this problem. Right click the unallocated space and create one or more new partitions.
2. External hard drive doesn't have any unallocated disk space.
To generate more partitions, right click the partition and shrink it by "Resize/Move partition" feature, there will be some unallocated space behind it. And then create new partitions on unallocated space.