How to merge partitions to get more space on C: drive? Windows computers usually have four partitions named as C: D: E: F: respectively, and C: drive being the system partition is a default location for system data and most Internet downloads. If computer owners used to save data on the default place, they'll soon realize that the system volume needs extending desperately.
Disk Management can NOT increase C: drive through "Merge Partitions"
In fact, Windows disk management under "Storage/Manage/Computer" is capable of expanding C: drive, except directly merging with D: drive because there is no "Merge Partitions" option.
To extend C:, you have to shrink one partition to create some free space behind C:. Then choose C:, execute "Extend". Extend Volume Wizard will pop out, you'll see the present total volume of C: drive on the wizard windows and the maximum available space you can add in it. Input the number, and the extend behavior will be successfully done.
Partition manager software is quick & efficient in merging partitions
There are some limits in gaining C: drive space with Disk Management. However, you have a better alternative. EaseUS Partition Master Free, a third party partition program, provides "Merge partition" feature to merge two neighboring partitions directly. Now let's take a look at how to allocate more space on C: drive by merging with its adjacent partition.
1. Launch EaseUS Partition Master Free.
2.Right click C: drive, choose "Merge Partition" on the tool bar.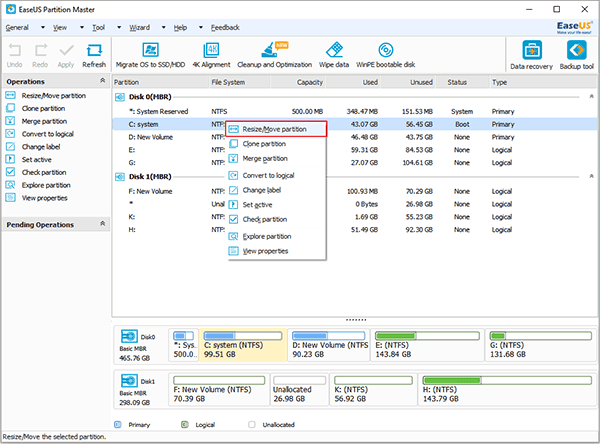 3. In the Merge partition window, you should first choose two neighboring partitions in the partition layout, then choose the merge destination by selecting a partition label. Here merge C: with D:, choose C: system as the merging result.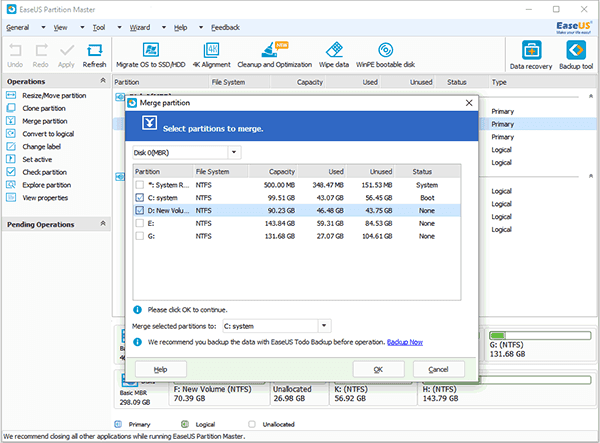 4. Click OK, the program will check file system on the partition.
5. Click Apply, you have successfully merged C: and D: partitions. As a result, C: drive size has been largely extended.