Is Unallocated Space on a Hard Drive Useless
"I have a 1 TB Seagate external hard drive which is almost two years old. Today when I check the drive's storage in the Disk Management, I saw 65.76 GB storage displaying as Unallocated. How did this unallocated space come? What should I do with this unallocated space?"
What's Unallocated Space on a Hard Drive Partition
Supposing that you've formatted a hard drive or deleted a partition on an external hard drive, flash drive or memory card, there is unallocated space showing up. As is known to all, the hard drive partitions are coming with unique drive letters in Windows operating system, and they are used to store data. Sometimes, people find that their hard drive, especially when a hard drive is not showing up as usual in the Computer area or File Explorer. In most cases, it's because the partition has been deleted or removed and became unallocated space.
When a hard drive partition or the whole hard drive becomes unallocated space (sometimes called free space) in Windows, it's no longer useful for Windows to write files or store data until it's converted to a real partition with a drive letter assigned to it. Simply deleting the unallocated space won't help. Instead, you must use a proper way to fix unallocated hard drive space.
How to Delete Unallocated Space and Put it to a Significant Use
The empty partitions on your hard drive, USB or memory card are of no use at all, so do you know how to delete unallocated space completely in Windows 10/8.1/8/7/XP/Vista & Windows Server 2016/2012/2008? You don't have to delete it at all. There are two ways for you to make use of unallocated space on an HDD, external USB flash drive or memory card!
1. Create a new partition on the unallocated space
2. Add the unallocated space to an existing hard drive partition
Here's how you use EaseUS Partition Master Free to start the allocation job of unallocated space.
On your computer, install EaseUS free partition manager.
If you see unallocated space on some external hard drives, use a hard drive enclosure to connect the external drive to the computer.
Guide: Create a Partition with EaseUS Partition Master Free
 Notice:

If you want to create a partition on an empty USB, SD card or external hard drive, connect it to your PC in advance.
Step 1: Launch EaseUS Partition Master
On the main window, right-click on the unallocated space on your hard drive or external storage device and select "Create".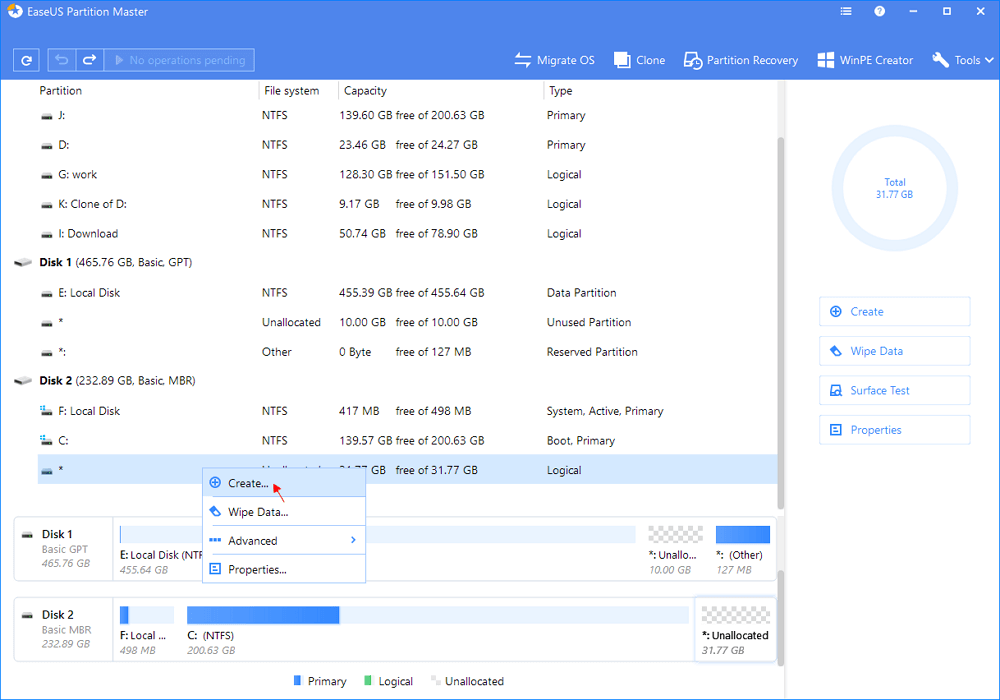 Step 2: Adjust the new partition size, file system, label, etc.
Set the size, partition label, drive letter, file system, etc. for the new partition and click "OK" to continue.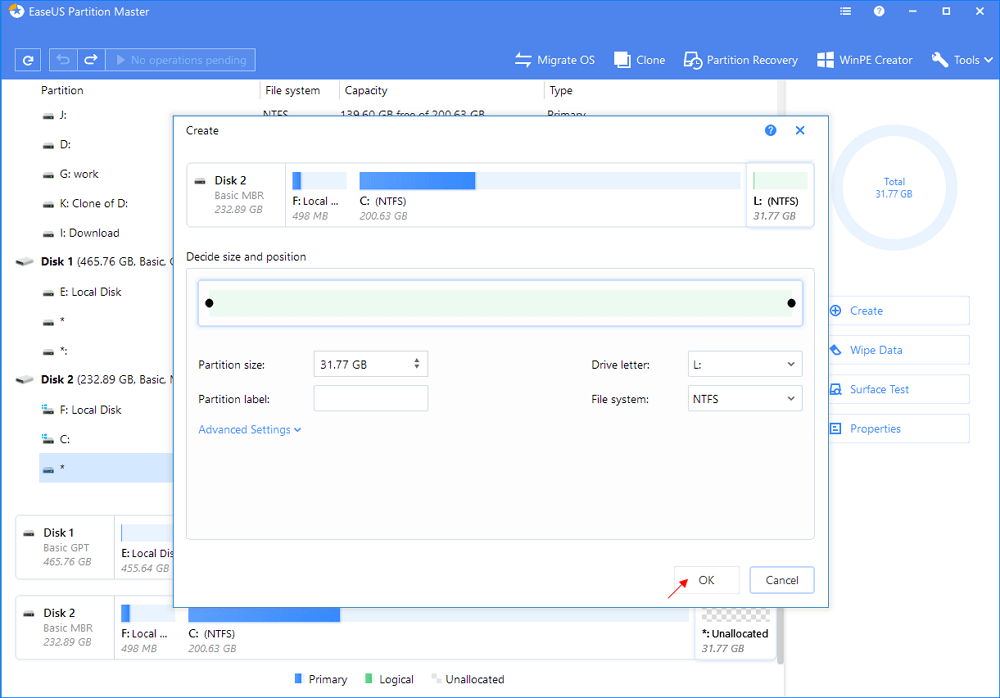 Step 3: Confirm to create a new partition
Guide: Allot Unallocated Space to an Existing Hard Drive Partition with EaseUS Partition Master Free
Step 1. Drag the unallocated space next to an existing partition. For example, if you see low disk space warning on C drive, you can move the unallocated space next to C drive.
Step 2. Next, you got three ways to allot the unallocated space to C drive.
1) Click the C drive and directly put your mouse pointer between the C drive and Unallocated space. When the mouse pointer turns double arrow, drag the end of C drive bar to extend until all the unallocated space has been added to it.
2) Right-click the C drive and choose to Resize/Move partition.
2) Right-click the C drive and choose Merge partitions.
Step 3. Follow the simple wizard to complete the corresponding operation.