Why Did Deleted Files Still Exist in the Hard Drive
When you delete a file, it isn't really permanently deleted – it continues existing on your hard drive, even after you empty it from the Recycle Bin. Though you delete a file, Windows just removes the pointer and marks the sectors containing the file's data as available.
However, until Windows actually writes new data over the sectors containing the contents of the file, the file is still recoverable and allows you and other people to recover the file and you might have the risk of privacy leaking.
In this situation, we need to erase all the data on the hard disk by disk wipe to protect your privacy.
How to Permanently Delete Files
The easiest and most effective way is to use a free tool to delete or wipe the file forever. EaseUS Partition Master provides Wipe data feature to erase all disk data permanently. It is used to completely wipe out all the data and partitions on your hard disk by replacing or overwriting the existing data with a new data.
Once the wipe operation is carried out, the files will not be recovered by any data recovery software. If the number of times to wipe the hard disk is set to 10, the data will never be recovered by any data recovery solution. Following is the step-by-step instructions of wiping a disk with EaseUS Partition Master:
1. Download EaseUS Partition Master and install it. After that, launch EaseUS Partition Master. Select the hard disk which you want to wipe.
2. Select "Disk" -> "Wipe data" on the main menu or right-click the hard disk and choose "Wipe data".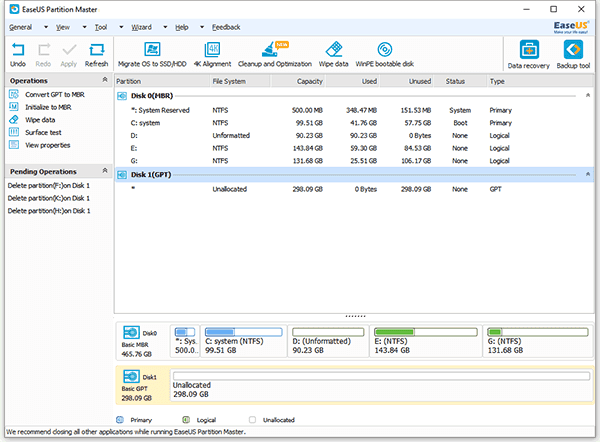 3. Set the number of times to wipe the hard disk. You can set to 10 at most.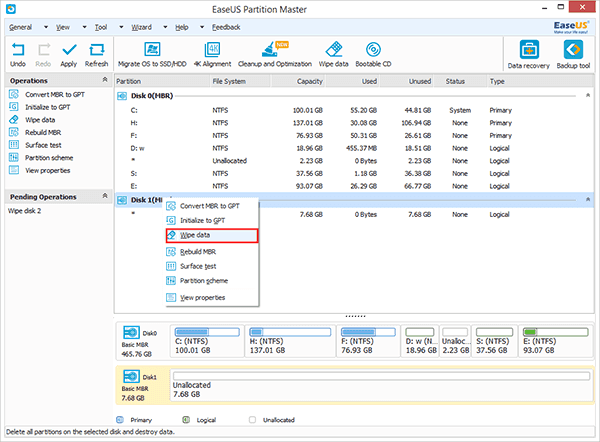 4. Click "OK". If the hard disk contains system partition, your system will fail to boot after wiping the disk.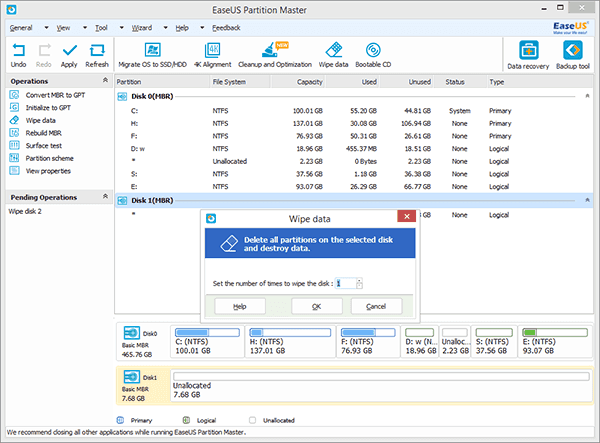 Note: The wipe disk operations cannot be undone after applying the changes. Please be careful that once the operation is carried out by EaseUS Partition Master, the data will not be recovered by any data recovery software!