How to hide a drive or specific partition from other people in Windows 10
"Hi, guys, does anyone know how to hide a particular hard drive partition from other people's prying eyes in Windows 10 computer?
I have some private documents, confidential files saved on my computer that I don't want other people to see these files.
Sometimes, my nephew likes to play my computer, and some files always get deleted by mistake. So I think that if I could hide the entire partition from a second people from the Windows Explorer, not just the partition, nothing will lose by then.
So if you happen to know a way that can help me hide and remove the partition from Windows Explorer without deleting files or making extra changes to the computer, please help me do this. Thank you."
Why need to hide a partition or hard drive
Some of you may have endured unknown file loss error on Windows 10/8/7 etc. hard drive partitions, and you may still don't get why do you need to hide a partition or even an entire hard drive. Right? Here is a list of advantages of hiding partitions or a whole hard drive:
1. Prevent data loss due to deleting, formatting or other reasons on hard drive or partition.
2. Avoid partition loss issue.
3. Protect privacy and confidential files from prying eyes.
...
Hide Hard Drive or Specific Partition from Explorer or Other Users in Windows 10
So how will you hide and protect your hard drive or specific partition from other users in Windows Explorer? You can follow two free methods provided in the below to hide your own private partition hard drive in Windows 10, or Windows 8/7 now:
Method 1. 3 Steps to Hide Specific Partition/Hard Drive from Explorer
Let Free Partition Manager Software Help
If you are not familiar with computer management, or you need a simple and straightforward way to hide the hard drive or specific partition on your PC, free partition manager software - EaseUS Partition Master Free to can do this for you within only three simple steps:
Step 1: Open EaseUS Partition Master, right-click the partition you want to hide, and choose "Hide" from the drop-down menu.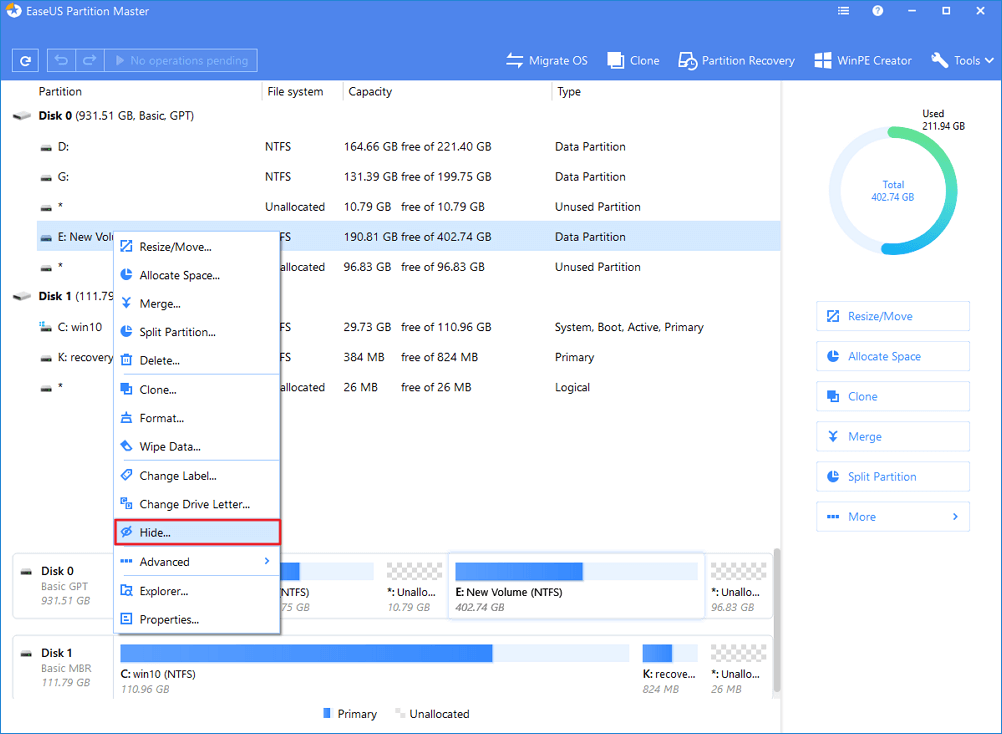 Step 2: Then you will see a window showing the notification. Check it and click "OK" to continue.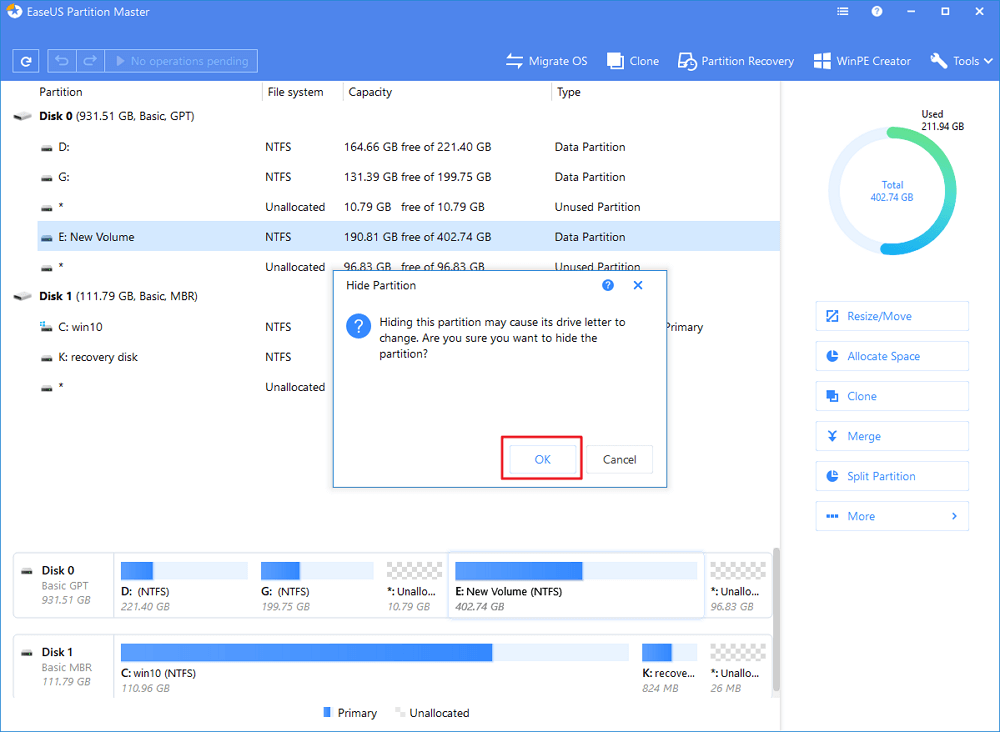 Step 3: Click the "Execute Operation" button in the top-right corner, check the changes, then click "Apply" to hide your partition.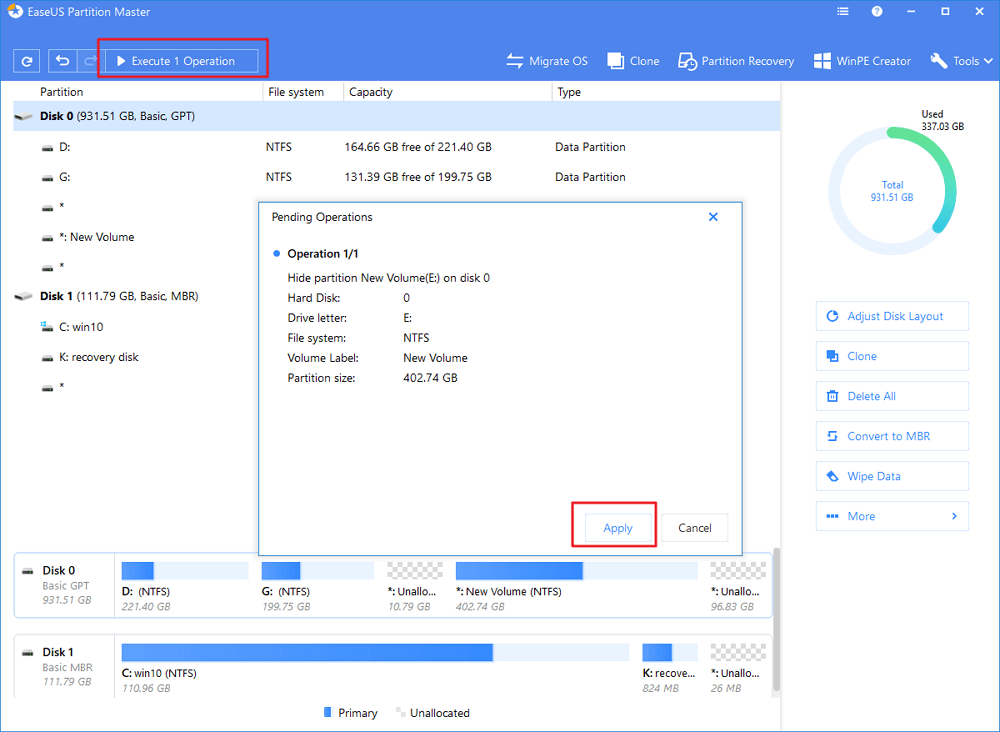 Now that, you won't be able to view or see the partition in Windows Explorer.
PS: If you need to hide an entire hard drive, repeat these steps to hide all partitions on your hard drive in Windows 10 or Windows 8/7.
Method 2. Hide Specific Partition/Drive from Other Users with Disk Management
If you don't want to install or use third-party software on your computer, you can follow tips in the below to carefully hide your partition or hard drive from other people now:
1. Right-click "This PC/My Computer" and select "Manage".
2. Click "Disk Management" in Device Manager.
3. Select and right-click the partition that you want to hide and choose "Change Drive Letter and Path..."
4. Select "Remove" and click "OK".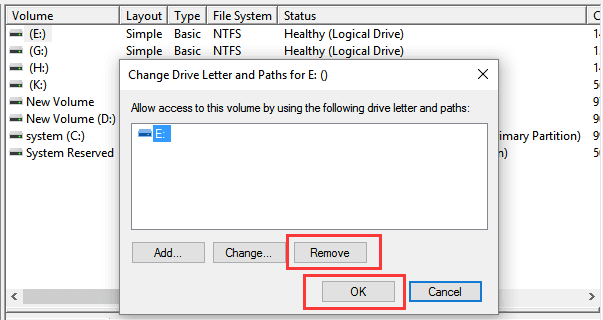 And you can also repeat steps above to hide an entire hard drive. After this, you won't find any traces of your hidden partitions or hard drive.
Note: When you need to use the hidden files or data, refer to how to find hidden partition/hard drive to make your drive or partition visible and show all your files and data on your PC.