Hard Drive Test and Repair Software
When you suspect there may a problem with a hard drive, such as bad clusters, bad sectors or corruption, it's far better than investing a hard drive repair service without knowing exactly what's going on there. So, let's make a wise choice. Pick up some reputable hard drive test and repair software, which is able to identify hard drive problems and correct them.
Indeed, many hard drive related tools are available to use when it comes to checking hard drive errors in your Windows-based operating system, like the Check Disk option under the Properties, Scan and Fix (Recommended) or CHKDSK command. Moreover, some hard drive manufacturers have their own repair toolkits, and Seagate diagnostic and repair software is one of the most famous.
But how to choose a demanding one? We think the following three aspects are worth reading.
No.1 Combining the capabilities of hard drive test and repair
No.2 Ease of use
No.3 Free vs commercial
Taking into consideration the three aspects when selecting an easy-to-use, all-around yet free-of-charge solution for hard drive test and repair, none of the Windows or manufacturer's ways fit the demands. On the one hand, not everyone knows where to access the Windows options and using CHKDSK is so higher leveled. On the other hand, hard drive manufacturer offers the repair toolkits for commercial use only, and believe it or not, the price is not so good.
Do you still have a choice though? Definitely. EaseUS Partition Master Free makes up for the shortcomings you will easily find like we mentioned. It's third-party free partition manager software that is totally free to download. By learning from the following user guide, you'll find how easy and fast for hard drive health test and hard drive errors repair!
Guide: How to Check and Repair Hard Drive Errors?
Download EaseUS Partition Master Free on your computer. If it's an external HDD, USB flash drive or memory card that working abnormally, you should connect the external storage to the computer with a proper cable.
Step 1. Launch EaseUS Partition Master Free. Right-click on the disk partition which you would like to perform a test and choose Check partition.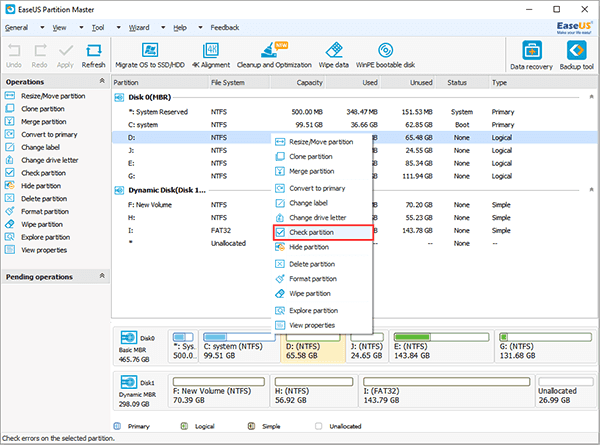 Step 2. On the Check partition window, you got three options to go.
Check Partition Properties: check file system errors.
Call Windows Chkdsk.exe to fix errors if found errors: bring up Windows Command Prompt automatically to fix the hard drive errors it has found. (Only for windows version)
Surface Test: detect a disk partition for sector errors and send errors report.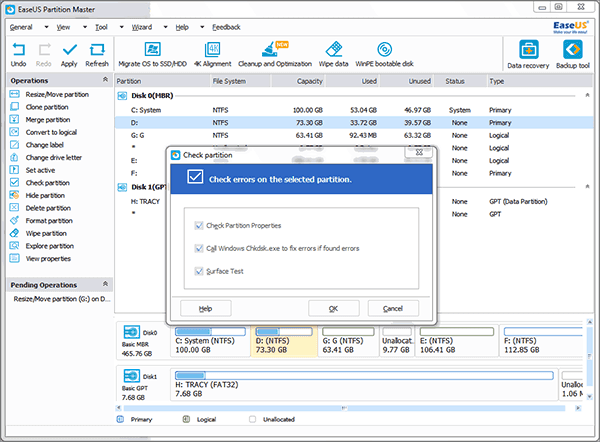 Tick all the three options for a complete hard drive testing and repairing. Click OK.
Only by a few clicks, you can troubleshoot hard drive issues on your own. If check partition fails to repair your hard drive problems by its way, don't give up. In fact, to deal with a hard drive corruption problem, the Format partition feature is very helpful. You can give it a second try if necessary.