"My computer has originally 4 disk partitions (C, D, E, F). I was thinking to shrink drive D in order to give 10 GB to C drive, and I really did by using DiskGenius, some software I heard from my friends. To my huge surprise, it said that shrinking partition is successful, however, the whole D drive space is missing after computer restart! Where did it get wrong? I've been totally lost!"
If your case is much the same as the scenario described here, this page's solution is for you. Carefully follow the troubleshooting tutorial to solve the problem that hard drive space disappeared after shrinking partition.
General issues that cause HDD/SSD space missing after shrinking
Many people had once asked help to find and recover missing space on hard drive, and most of the time space is lost by accidentally deleting on their own. Now we're talking about the other similar topic, only the difference is that it's the shrinking operation that committed the crime.
By shrinking a partition, a chunk or a volume on a specified hard disk, you shall then get an unallocated space on which you can continue to create a new partition for use. Unfortunately, some of you may fail to achieve the goal, instead, none disk space is left after shrinking.
Will you quickly notice where things went wrong? Besides the common factors such as file system error, external hard drive internal error, virus attack or hard drive driver is outdated, this is the one big problem - partition table lost on a shrunken partition! In this regard, you need to immediately repair MBR (Master Boot Record) which keeps the partition table data to restore missing disk space after shrinking.
EaseUS partition manager software can help find missing space back
In order to assist everyone, especially who lacks IT knowledge, EaseUS Partition Master is highly recommended as an essential troubleshooting tool. There are two persuasive reasons you must put it in use. First of all, it's free partition manager software for you to free download and install at no cost; second, multiple useful features are available to fix hard drive issues, mainly with its features of format partition, check partition, create partition and partition recovery.
In order to fix the hard drive space that mysteriously disappeared as soon as you shrink a partition, you should get started to fix corrupted MBR and then recover the missing disk space even with data there.
How to fix corrupted MBR with EaseUS Partition Master?
Step 1. Launch EaseUS partition software, right-click the hard disk where space disappeared after shrinking, choose Rebuild MBR and then choose the proper Operating System version.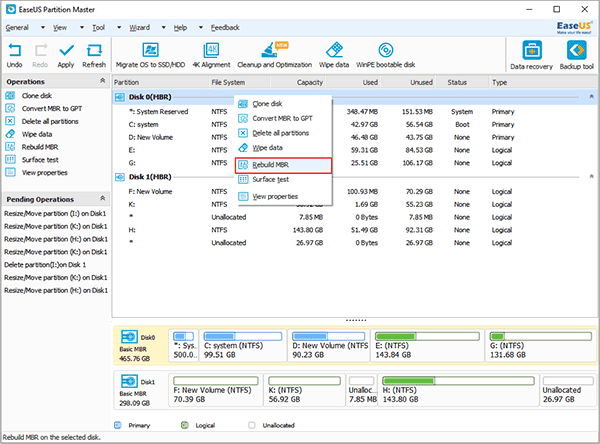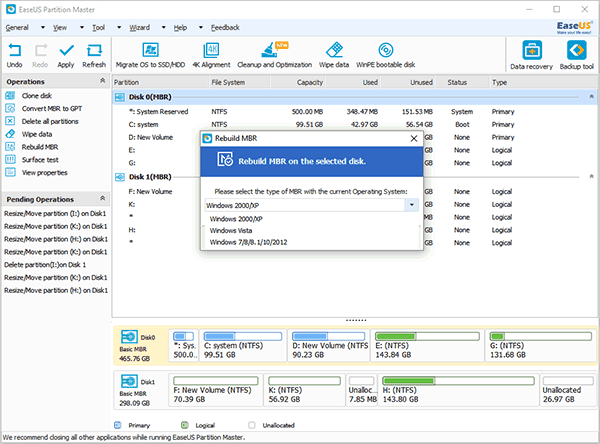 Step 2. Click Apply to save all the changes to fix MBR in Windows 10.
How to recover lost partition on the hard drive with EaseUS Partition Master?
Step 1. Run EaseUS Partition Master. On the home menu, click Wizard> Partition recovery wizard. On the popup, click Next, choose Automatic recovery mode or Manual recovery mode, and click Next to continue.
Step 2. Partition Recovery Wizard will search deleted or lost partitions on the unallocated space of all hard disks. After searching, all the recoverable partitions will be listed, select the partitions which you want to recover and click Next to continue (You can double-click the partition to explore the content to see whether it is the one you want to recover).
Step 3. Here you can see the selected partition is marked with a green dot on the disk map. Just click Proceed and then you can get the lost or deleted partition back in one click.