Hard disk DST short test failure
What is DST short test? Drive self-test (DST) is a test of the physical integrity of a hard drive. Many laptop manufacturers such as HP and Dell are shipped with hard drives integrated with DST short test support, which runs on the drive every time when the computer is trying to boot Windows up. You won't notice the test running until something went wrong with the hard drive, which generates the error showing DST short test failed with a specific error code, like the most frequent ones, 0141, 0142, 0146, etc.
It's not a good sign to see DST short test failed error on your laptops or notebooks, especially those of HP brand. Next, we're going to explain the symptoms and consequences accompanying the failure.
Symptoms
Let's begin to learn what DST short test failure looks like:
"I did a diagnostic on my hard drive that won't boot properly these days, and found that DST short test failed along with a suggested solution: error code 0142, error code 2000-0142, hard drive 0 - self test unsuccessful. Status 79. I have a screenshot of the exact error information."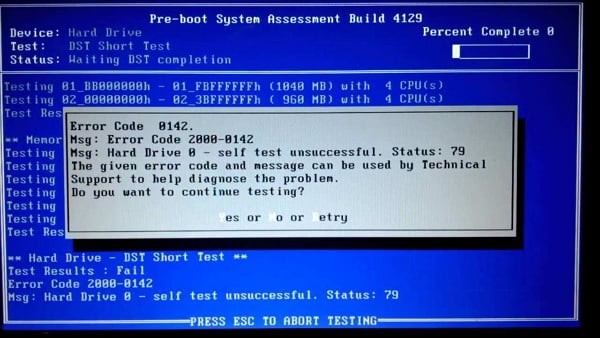 When DST short test failure message prompts, your computer will then start malfunctioning in the following ways.
The computer stops working, with all things become oddly sluggish.
The computer keeps restarting and the hard drive light flashes intermittently.
The computer hard drive won't boot at all, with a blank screen showing up.
Consequences
You can only except bad results from what the DST short test has signaled. Since it failed to test the hard drive's health, your hard disk seems to reach the end of its life. It's time to diagnose and repair hardware issues, or, even worse, replace the hard drive that is failing or has failed.
Care about data so much and need a recovery method to restore data from dead or damaged hard drive? Try EaseUS free data recovery software!
Fixes for hard disk DST short test failed
Let's take some conservative treatment before giving up this problematic hard disk. Apply the troubleshooting solutions below to have a try.
Fix 1: Check and repair hard drive bad sectors
This troubleshooting method will take effect by using a third-party free partition manager called EaseUS Partition Master. Its check partition feature can check and repair the bad sectors on your hard drive, which are the main factors of the hard drive failure.
Step 1: Open EaseUS Partition Master on your computer. Then locate the disk, right-click the partition you want to check, and choose "Check File System".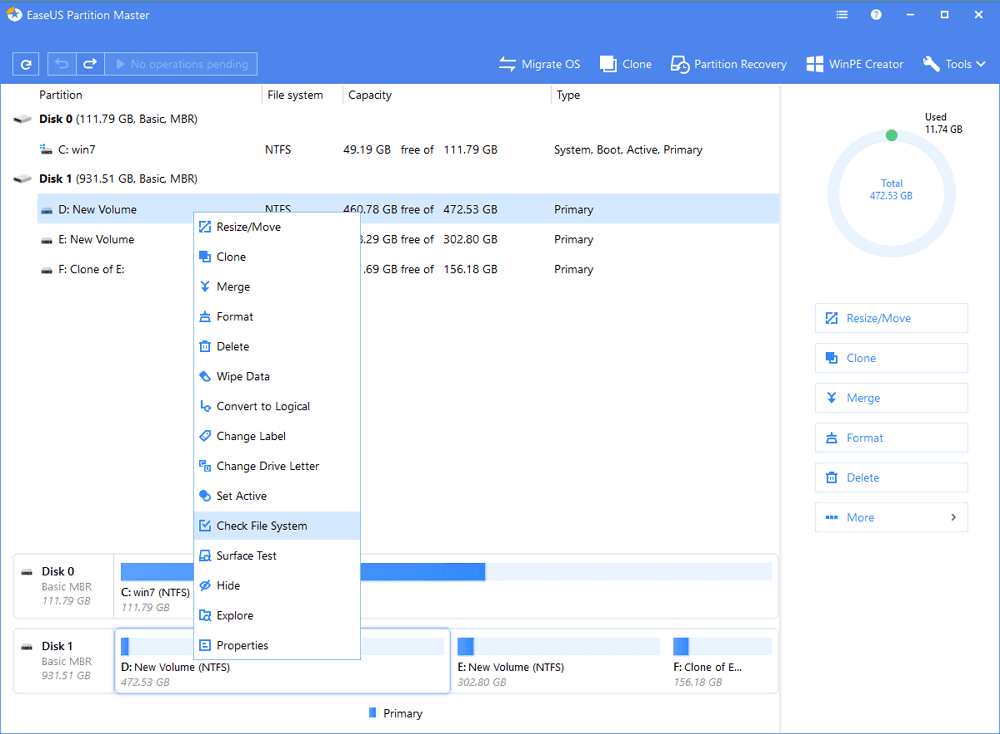 Step 2: In the Check File System window, keep the "Try to fix errors if found" option selected and click "Start".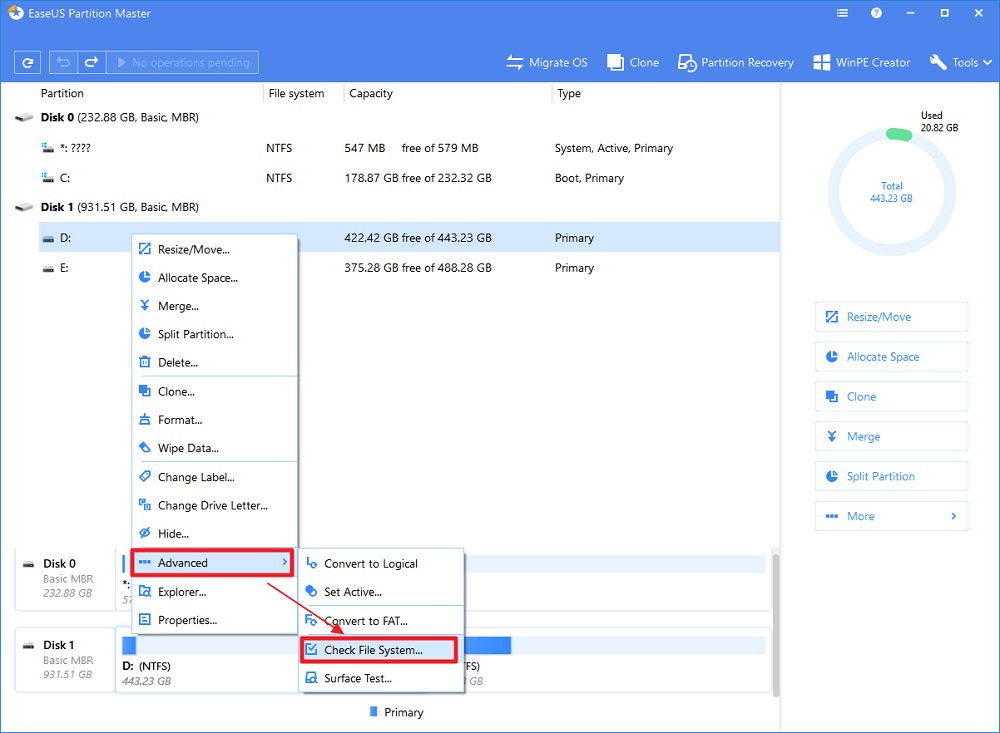 Step 3: The software will begin checking your partition file system on your disk. When it has completed, click "Finish".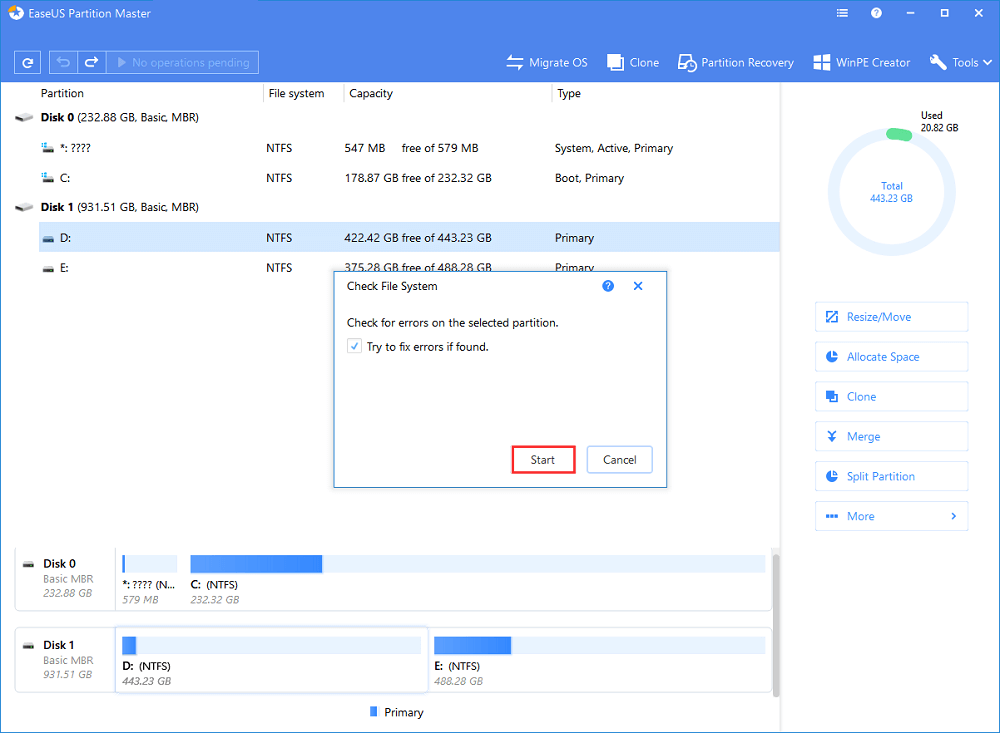 Fix 2: Scan and fix hard drive for errors
You will need a Windows recovery CD or USB drive to perform this fix in the Windows Repair environment.
Step 1: Boot Windows from the recovery drive and press "R" at the repair Windows screen.
Step 2: Run Command Prompt as Administrator. Type chkdsk c:/p/r and press "Enter". This command is for scanning hard drive errors. Type exit when it's done and reboot.
Fix 3: Restore system to an earlier point
Things become harder if you arrived at the third fix. If none of the previous methods helps to get rid oDSTst short test failure due to the system and hard drive corruption, it's time to restore your system to an earlier state point.
 Notice:
For EaseUS free backup software customers, click the link to learn how to restore the system from system backup image. Whereas, for the rest of you who don't use third-party backup and recovery software, do a system restore like this.
Step 1: Navigate to "Control Panel" and open "System".
Step 2: Click "System protection", under "System Properties", click "System Restore".
Step 3: Follow the wizard to select a restore point you prefer. By going to the earlier system state, you should probably fix the dst short test failure issue brought by system issues.
Fix 4: Swap hard drive
Sadly to bring you to the last resort. If all attempts failed, it means that your hard drive has utterly failed and its lifespan ended. Go and pick up another hard drive and replace the failed one.
When installing the new drive on Windows, you need to partition and format the hard drive in order to reinstall the Windows operating system on it. Hope the DST short test always sends a good sign on your new drive.
100% of people found this article helpful.
Frequently Asked Questions
Why Choose EaseUS Partition Master?

"I've used Partition Master Professional many times to create, delete, format, move, rename, and resize partitions." —PCWorld

"Partitioning tools have come a very long since the days of complicated command line utilities and EASEUS Partition Master is one of the most advanced programs available." —TECH ADVISOR

"I love that the changes you make with EaseUS Partition Master Free aren't immediately applied to the disks. It makes it way easier to play out what will happen after you've made all the changes." —Lifewire
Will the "Migrate OS" feature transfer the Windows system files only or the whole C drive?

To ensure that the migrated system will boot normally, the Migrate OS feature will transfer all the files in the system and the boot partitions. Generally, the boot partition is the C drive so the transfer will include all the files in C.
Does EaseUS Partition Master license apply to multiple computers?

The license of Partition Master Professional and Server editions can be used on 1 computer only, while that for for the Technician and Unlimited editions can be used on multiple machines.
What is the difference between EaseUS Partition Master Trial version and the Free version?

Free is for home users only, with most basic functions available such as partition resize and clone. While trial can help you understand how this product works and test what a full license can do on a business or server OS machine.
Will it cause any data loss after resizing the partition in EaseUS Partition Master?

Generally, it will not cause any data loss or boot issue by resizing a partition. However, in order to protect your data, we suggest that you backup the partition before resizing, in case of any unexpected situations such as power outages, computer hardware failures, etc. You can use EaseUS Todo Backup to backup the partition and its trial version is fully functioned for 30 days.
What should I prepare before resizing the partition?

On the partition that is going to be operated, there might be some files being occupied by other programs. To ensure a successful operation, we suggest that you close all the unnecessary software before resizing that partition. Otherwise, EaseUS Partition Master will detect the partition being locked by the other software and require a reboot to resize the partition under boot mode.
About EaseUS Partition Master
All-round disk & partition management software for personal and commercial use. Let it manage your storage drive: resize, format, delete, clone, convert, etc.