PAGE CONTENT:
Part 1: What's Eating Up SSD Space
Part 2: 6 Ways to Free Up SSD Space in Windows 10/8/7
Compared with HDD, SSD enables you to enjoy faster reading and writing speed, better performance and reliability, and stronger durability. However, SSDs often have smaller storage than HDDs. In 2018, SSDs were available in sizes up to 100 TB, but less costly, 120 to 512 GB models were more common. That is to say, the commonly used SSD is 120 to 512 GB. Because of the small size, SSD gets full easily. Most people are looking for ways to free up SSD space. Before you free up space on SSD, find out what's taking up space on your SSD first.
What's Eating Up SSD Space
There's nothing worse than running out of space. The following steps can help you figure out what's taking up space on your SSD in Windows 10.
Step 1. Go to "Start > Settings > Storage".
Step 2. In the Storage window, you'll get a view of the space usage situations on all your drives and partitions as shown in the image below: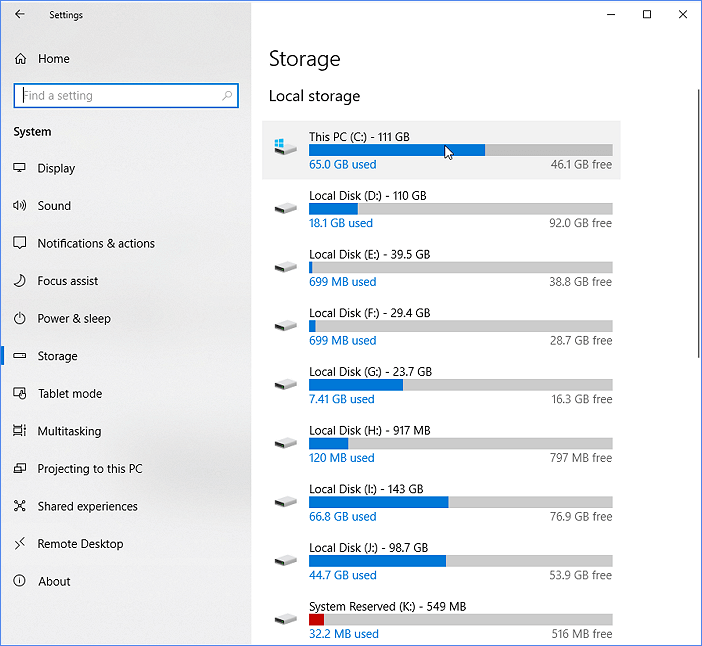 Step 3. Select the SSD, often it includes C drive. Click on it to see what's taking up the most space on the partition.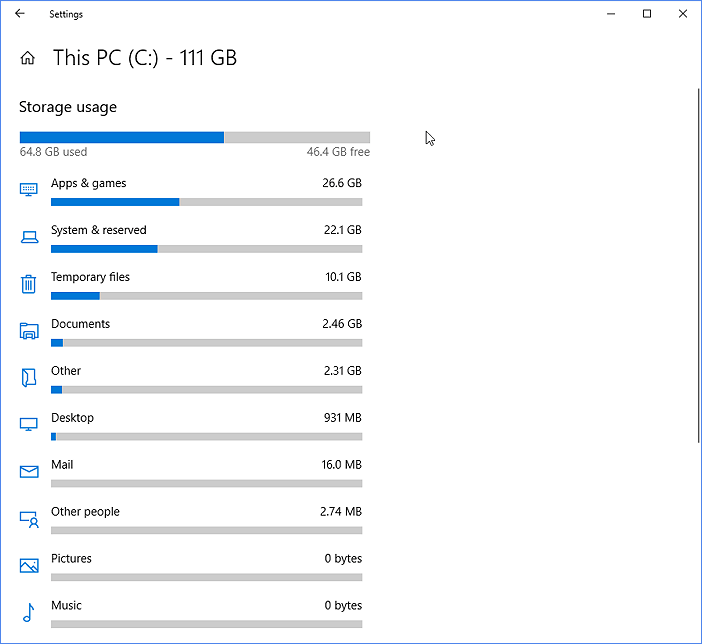 [Top 6 Ways] How to Free Up SSD Space in Windows 10/8/7
You have figured out what's taking up space on your SSD, follow the tried-and-true solutions to free up SSD space.
Solution 1. Clean Up SSD Junk Files in Windows 10/8/7
The easy and fast way to clean up junk files is to use third-party software. With reliable junk file cleanup software, you can easily remove files that are eating up your SSD space in Windows 10/8/7. EaseUS free partition manager software is my recommendation. With this software, you can easily get rid of SSD junk files without any cost. In addition to data cleanup, this software also supports to partition an HDD or SSD, format an SSD and wipe data.
Follow the steps to clean up SSD junk files:
Step 1: Launch EaseUS Partition Master. Select "Tools" and click "System Optimization".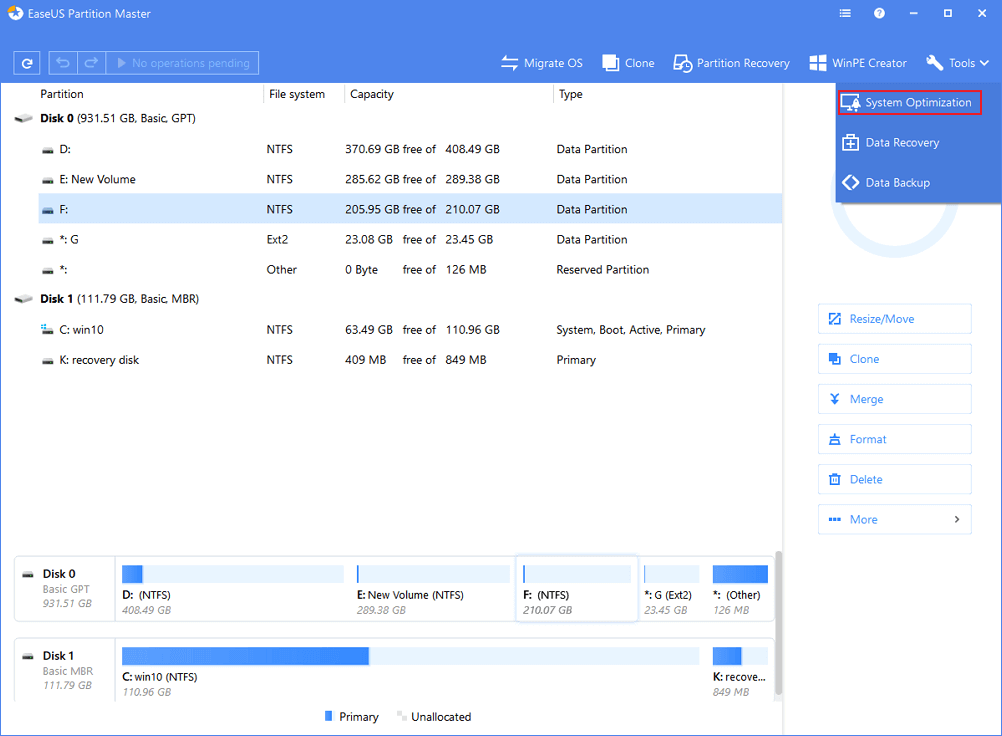 Step 2: Click "Junk File Cleanup". Then you can click "Analyze" to let EaseUS Partition Master find junk files on your PC.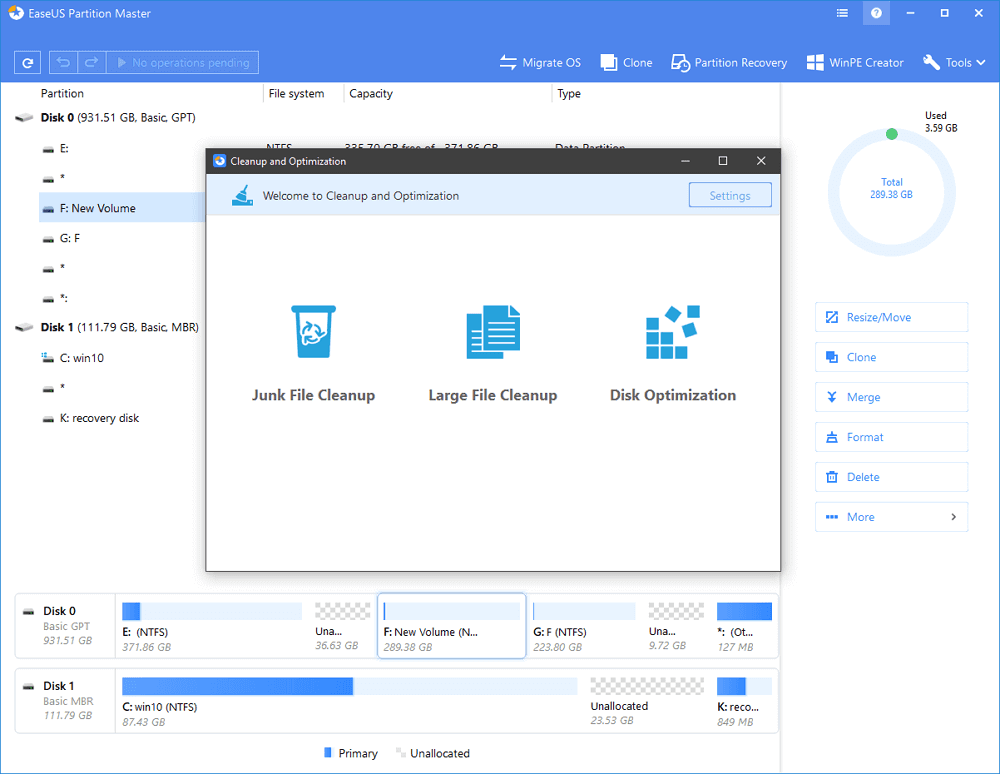 Step 3: You can check and choose junk files and click Clean up. All of the selected junk files will be cleaned and deleted from your PC. Click "Yes" to clean up junk files.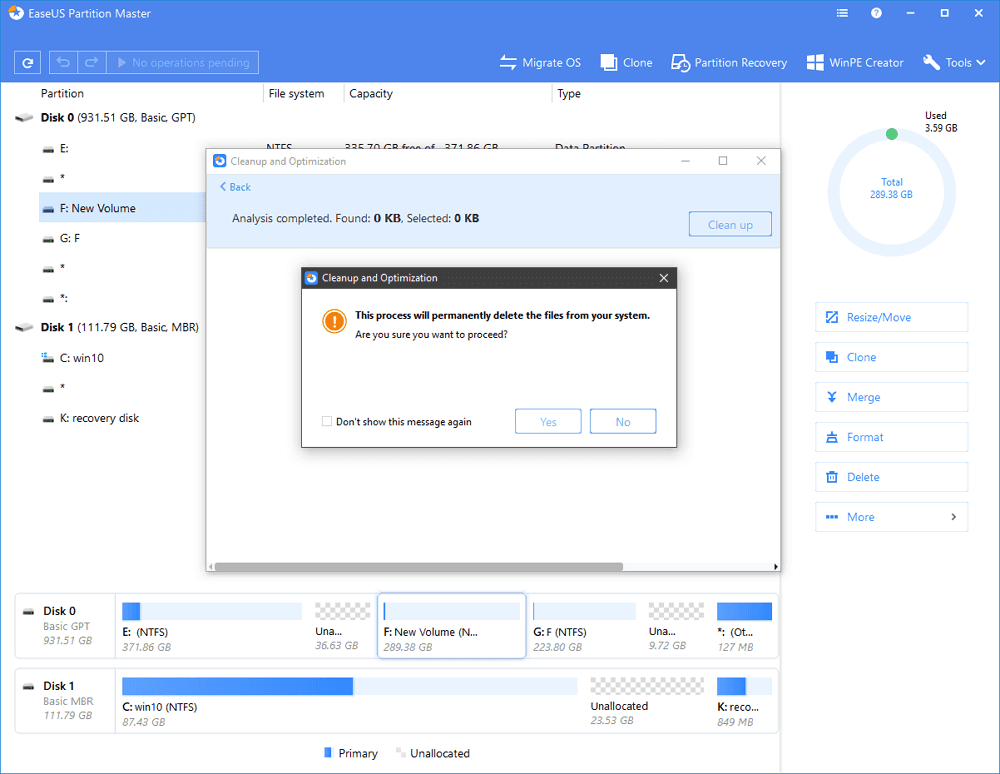 Solution 2. Disable System Restore to Free Up Space
System Restore is a Windows feature that can help fix certain types of crashes and other computer problems. However, it could take up much space and this approach is not very effective. If there is something wrong with your system, a system clone utility is a better choice. Here, I advise you to disable System Restore.
Step 1. Right-click "This PC" and then click "Properties".
Step 2. Select "System Protection" on the left pane.
Step 3. Select the disk you want to turn off System Protection for and click "Configure"
Step 4. Select "Disable system protection", and click "OK".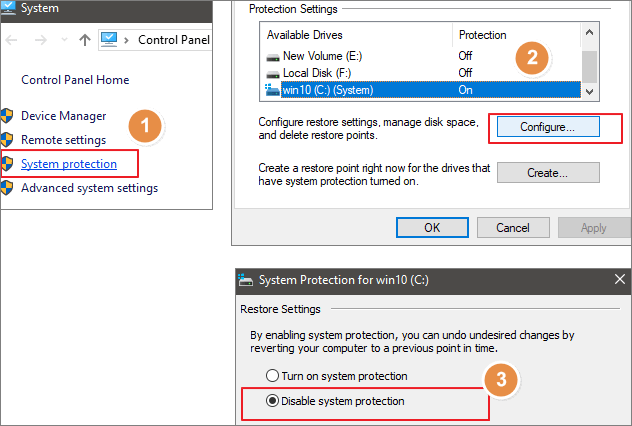 Solution 3. Empty Recycle Bin to Get More Free Space
As a matter of fact, deleted files often go to Recycle Bin. It will remain there until you empty the Recycle Bin or restore the file from it. It's obvious that these files are taking up your SSD and HDD space. To empty a Recycle Bin:
Right-click on the Recycle Bin icon located on your desktop and select "Empty Recycle Bin". You can also create an auto-deletion to regularly empty Recycle Bin:
Step 1. Open Start, do a search for Task Scheduler, and press "Enter".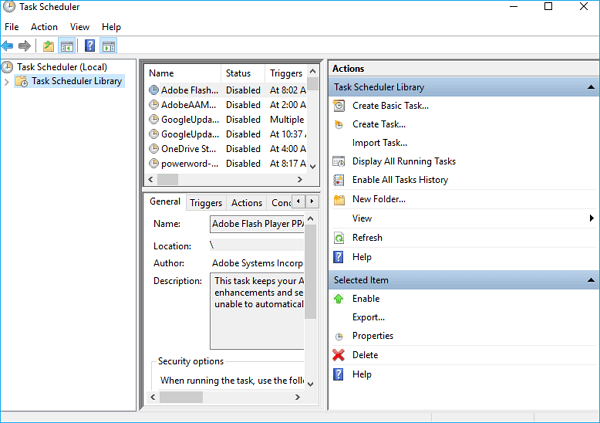 Step 2. Right-click "Task Scheduler Library" and click "New Folder". Name the folder My Tasks or anything descriptive. (You want to do this to keep your tasks organized and separated from the system tasks.) Right-click the newly created folder and select Create task.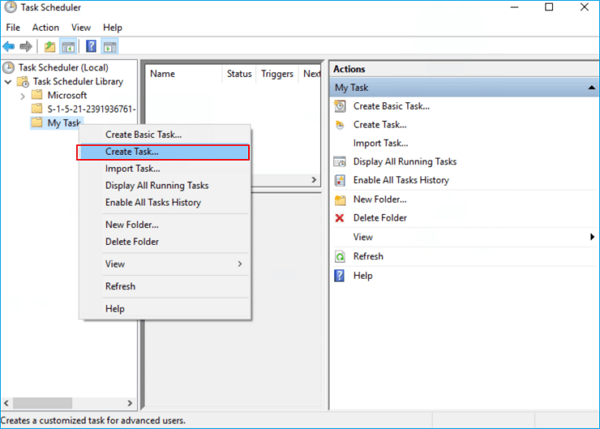 Step 3. On the General tab, enter a name for the task, such as "Empty Windows Recycle Bin".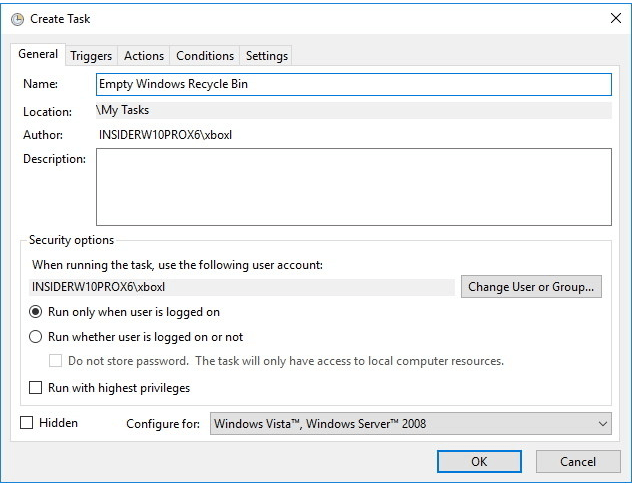 Step 4. On the Triggers tab, click New to create an action that will trigger the task.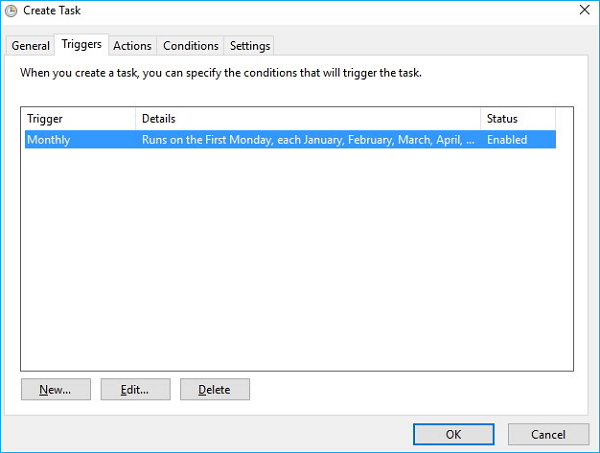 Step 5. For the purpose of this guide, I'll select and configure On a schedule, but you can pick from a number of trigger actions, including At log on, At startup, On an event, and more.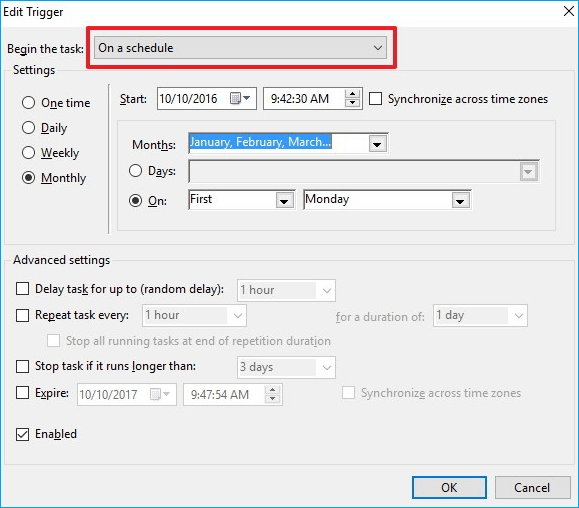 If you're using the schedule option as a trigger, consider using the Weekly or Monthly option, which will give you some time to recover deleted files.
Step 6. On the Actions tab, click "New". Then, follow the steps below: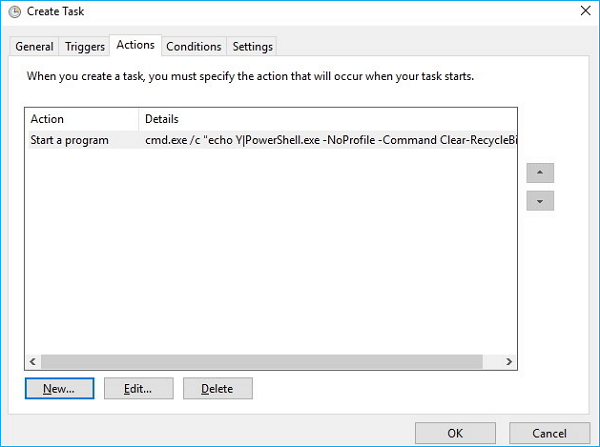 Under Settings, on Programs/script enter cmd.exe.
Under Settings, on Add arguments enter the following argument and click OK:
/c "echo Y|PowerShell.exe -NoProfile -Command Clear-RecycleBin" Then click OK to complete the task.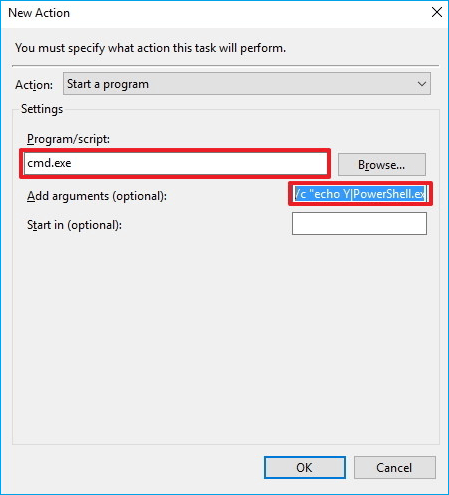 Once you completed the steps, the task will run automatically at the trigger condition you have configured.
Solution 4. Use Disk Cleanup to Delete Temp Files
Temp files could also occupy lots of SSD space. Using Disk Cleanup to delete various temporary files, which are no longer needed is a good idea.
Step 1. Step Open "Start", search for "Disk Cleanup" and select the top result to open the experience.
Step 2. Select files that you want to delete from C drive or other drives. Then, click the "OK" button.
Solution 5. Disable Hibernation in Windows 7
Windows 7 still had the Hiberfil.sys file. The Hiberfil.sys is a hidden system file located in the root folder of the drive where Windows is installed. The Windows Kernel Power Manager creates this file when you install Windows. But it still takes up lots of space. Having Windows 7 installed on an SSD means that it will boot in seconds, so you won't need hibernation anymore. To make hibernation unavailable, follow the steps below:
Step 1. At the start, search for cmd. Right-click "Command Prompt", and then click "Run as Administrator".
Step 2. At the command prompt, type powercfg.exe /hibernate off, and then press "Enter".
Step 3. Type exit, and then press "Enter" to close the Command Prompt window.
Solution 6. Uninstall or Transfer Programs to Another Drive
If some apps or games are taking up too much space, removing apps that you don't need is another way to reclaim additional space on your device. You can uninstall them by the following steps:
Open "Settings > Apps > Apps & features". Select the app or game that you want to remove and click the "Uninstall" button.
There's a better choice, move the apps or games to another drive. You can still keep the programs and free up SSD space at the same time. To easily transfer programs to another drive, download EaseUS Todo PCTrans and follow the steps to move all wanted apps to another hard drive or partitions to save space:
Step 1. Launch EaseUS Todo PCTrans and select transfer mode
On the main screen of EaseUS Todo PCTrans, go to "App Migration" section and click "Start" to continue.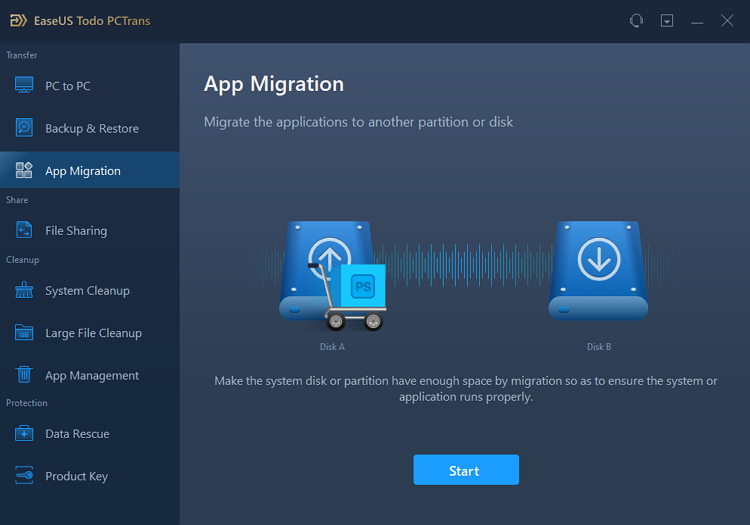 Step 2. Select apps and another drive to transfer
1. Select the source partition and tick applications, programs and software (marked as "Yes") that you'd like to migrate.
2. Click "Browse" to select another drive or disk as your target device and click "Transfer" to start the migration.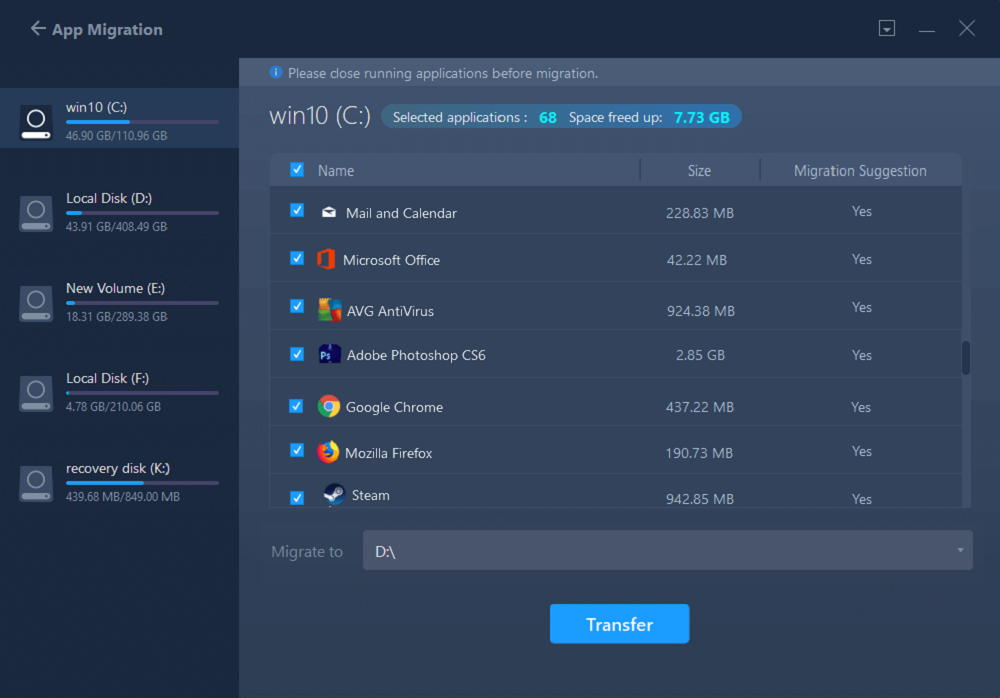 Step 3. Finish the migration process
When the transferring process finishes, click "OK" to complete.
You can restart your PC to keep all the changes, and you should be able to run your migrated apps on the other drive again.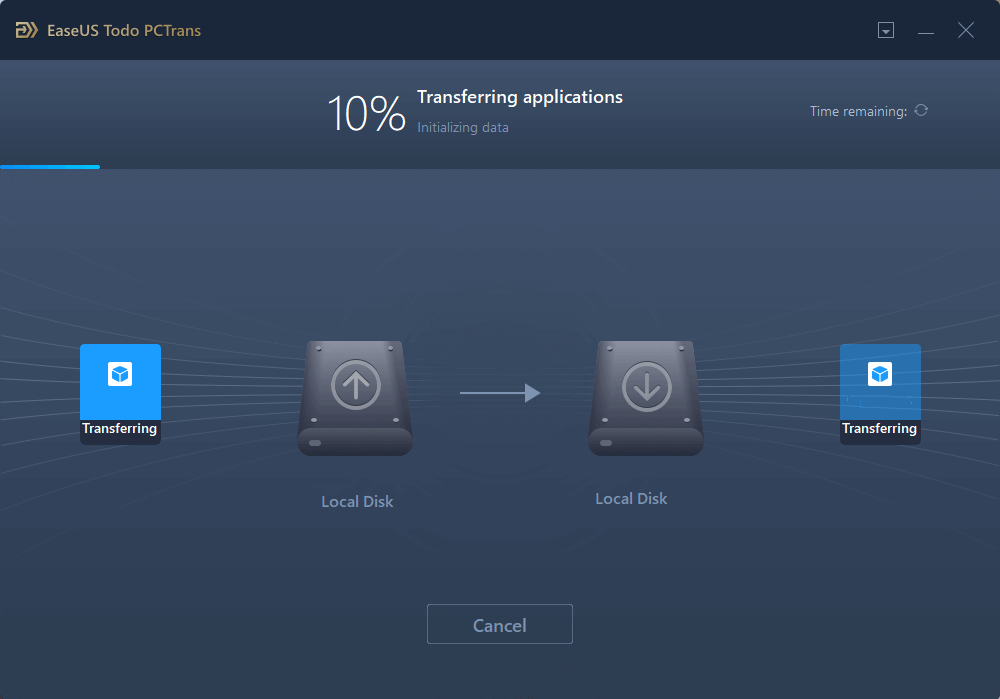 You can also transfer disk space from one partition to another to solve your problem. No matter where are the partitions, you can always add space to SSD. If they are on the same disk, you can easily add space to another drive. If they are not on the same disk, you need to convert the drives to dynamic ones to add space to SSD.
100% of people found this article helpful.
Frequently Asked Questions
Why Choose EaseUS Partition Master?

"I've used Partition Master Professional many times to create, delete, format, move, rename, and resize partitions." —PCWorld

"Partitioning tools have come a very long since the days of complicated command line utilities and EASEUS Partition Master is one of the most advanced programs available." —TECH ADVISOR

"I love that the changes you make with EaseUS Partition Master Free aren't immediately applied to the disks. It makes it way easier to play out what will happen after you've made all the changes." —Lifewire
Will the "Migrate OS" feature transfer the Windows system files only or the whole C drive?

To ensure that the migrated system will boot normally, the Migrate OS feature will transfer all the files in the system and the boot partitions. Generally, the boot partition is the C drive so the transfer will include all the files in C.
Does EaseUS Partition Master license apply to multiple computers?

The license of Partition Master Professional and Server editions can be used on 1 computer only, while that for for the Technician and Unlimited editions can be used on multiple machines.
What is the difference between EaseUS Partition Master Trial version and the Free version?

Free is for home users only, with most basic functions available such as partition resize and clone. While trial can help you understand how this product works and test what a full license can do on a business or server OS machine.
Will it cause any data loss after resizing the partition in EaseUS Partition Master?

Generally, it will not cause any data loss or boot issue by resizing a partition. However, in order to protect your data, we suggest that you backup the partition before resizing, in case of any unexpected situations such as power outages, computer hardware failures, etc. You can use EaseUS Todo Backup to backup the partition and its trial version is fully functioned for 30 days.
What should I prepare before resizing the partition?

On the partition that is going to be operated, there might be some files being occupied by other programs. To ensure a successful operation, we suggest that you close all the unnecessary software before resizing that partition. Otherwise, EaseUS Partition Master will detect the partition being locked by the other software and require a reboot to resize the partition under boot mode.
About EaseUS Partition Master
All-round disk & partition management software for personal and commercial use. Let it manage your storage drive: resize, format, delete, clone, convert, etc.