Windows 10 installation won't erase the old Windows data. Instead, the data is all wrapped in one file folder named windows.old, which takes a certain room. If you are installing the 32-bit version of Windows 10 you'll need at least 16 GB, while the 64-bit will demand a more free space of 20 GB. Therefore, many people who are deciding to upgrade to Windows 10 mostly encounter Windows 10 low disk space warning.
To install Windows 10 data, in case you are reluctant to upgrade a hard drive, you can choose to format hard drive in order to allot enough space for a successful installation. Do you know how to free format a hard drive partition to install Windows 10 on a Windows machine?
Solution 1. Disk Management tool to format partition under 32 GB
This is a fast approach to format a hard drive partition. However, it's not applied to the case if you want to format a volume with more than 32 GB. The built-in disk management utility is available in Windows 7/8/8.1. Go through this pc>manage>disk management and then you can start.
Right click the partition (again, whose size should be under 32 GB) and choose format, then a mini window pops out. You can set the file system and cluster size.
Solution 2. EaseUS Partition Master to format partition with no limit
Warning: formatting partitions will erase all the data on them, if you are not sure with the future usage of these data, please BACK UP the programs and files before formatting.
EaseUS free partition manager can well solve the problem resulted from Disk Management, you can use the freeware to format hard drive partition with no limit.
Steps to format a hard drive partition to install Windows 10
Step 1. Launch EaseUS Partition Master. Select the partition you want to format. Click "Partitions" > "Format partition", you can also choose "Format partition" by right clicking the mouse.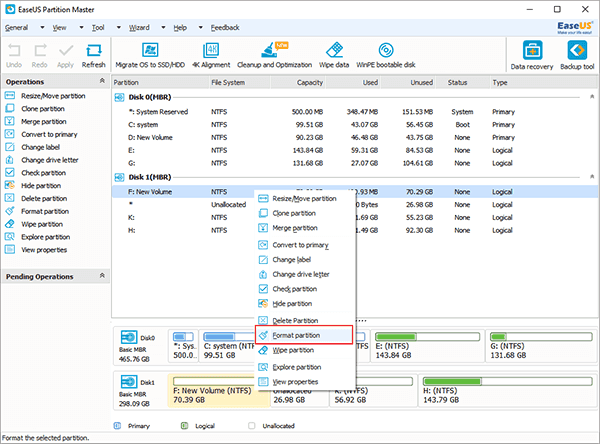 Step 2. Type the label you want in the Partition Label box.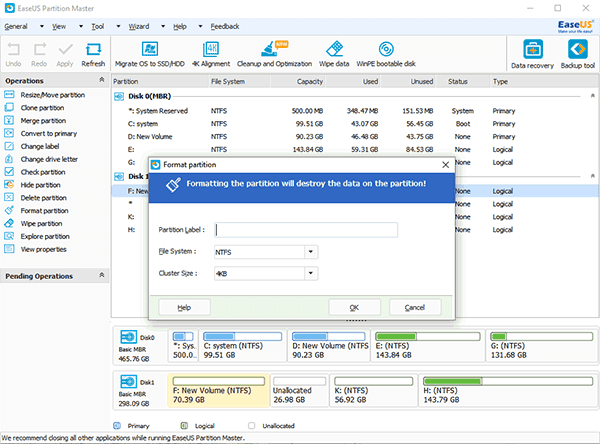 Step 3. Select the file system type to be created from the "File System" drop-down list. (FAT/FAT32, NTFS, EXT2/EXT3). If the partition is larger than 4GB, you can only choose FAT32, NTFS or EXT2/EXT3; if the partition is smaller than 4GB, we can choose FAT, FAT32, NTFS or EXT2/EXT3.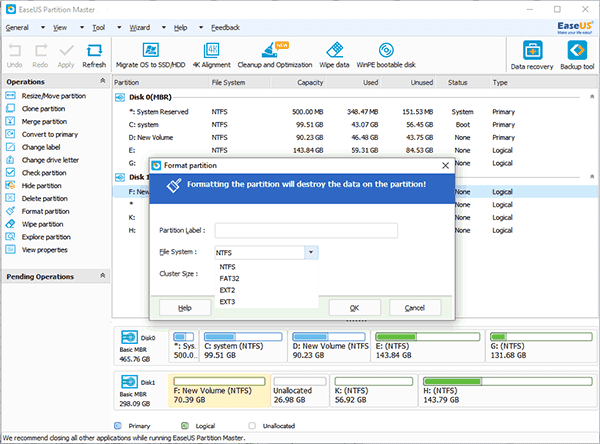 Step 4. Choose the Cluster Size (512 bytes, 1, 2, 4...64KB) from drop-down list and click "OK" and then "Apply". Now you have successfully formatted the partition, which will allow a spacious room to install Windows 10.