If you are facing memory leak with "ntoskrnl.exe" or high CPU usage issue that your computer runs out of space very soon in Windows 10, calm down. You can do something with this problem now. Here the following, EaseUS will offer you detail and effective methods to help you solve Windows 10 system "ntoskrnl.exe" memory leak, Runtime Broker and high CPU usage issue.
Steps to troubleshoot ntoskrnl.exe memory leak and high CPU usage issue
How to fix or troubleshoot "ntoskrnl.exe" memory leak and high CPU usage issue under Windows 10? Before taking action, please do remember to create backups for your system and precious data.
Then you can follow next few steps to solve memory leakage and high CPU usage issues now.
Step 1. Remove malware in Windows 10 to fix ntoskrnl.exe memory leak issue
Malware may infect the upgraded software and slows down system speed, so you are highly recommended to remove malware from your PC. How? You can try some anti-malware tool or software to scan and clean up all malware from your computer.
Step 2. Update outdated or faulty drivers solve high CPU usage and BSOD error
It's reported that outdated or faulty drivers are major reasons which cause memory leak issue in Windows 10. Though Microsoft rolls out automatic updates for all known hardware installed on PC, most basic drivers such as sound, graphics and network drivers etc cannot be updated and are major reasons for memory leaks.
So your second step to fix memory leak issue should to update all your outdated or faulty drivers in Windows 10. It's highly recommended for you to download the latest drives from the OEM or hardware vendors so to solve the CPU high usage error - Windows 10 ntoskrnl.exe memory leak and even BSOD issue.
Step 3. Disable Runtime Broker and fix high CPU and memory usage issue
According to some hot topics on Reddit, it seems that Runtime Broker is one system process which often consumes large portion of CPU cycles. SO if you disable Runtime Broker, high CPU and memory usage issue will be fixed then.
Go to Start > Settings > System > Notifications & Actions > Deselect Show me tips about Windows and reboot computer.
By doing so, Windows 10 will save huge CPU and memory space. To prevent further problems from happening, here EaseUS also suggest users to do two more operations which are to extend system partition space and fix errors in Windows 10. How?
Extra tips: extend system partition and fix errors in Windows 10
To provide enough space for system partition can also sort of help Windows 10 to speed up while starting up and storing necessary software with enough CPU space. And by fixing errors in Windows 10 will effectively solve some unknown reasons for Windows 10 boot issue, allowing Windows 10 to run smoothly. EaseUS Partition Master can do these two complex jobs for you with ease.
Tip 1. Extend system partition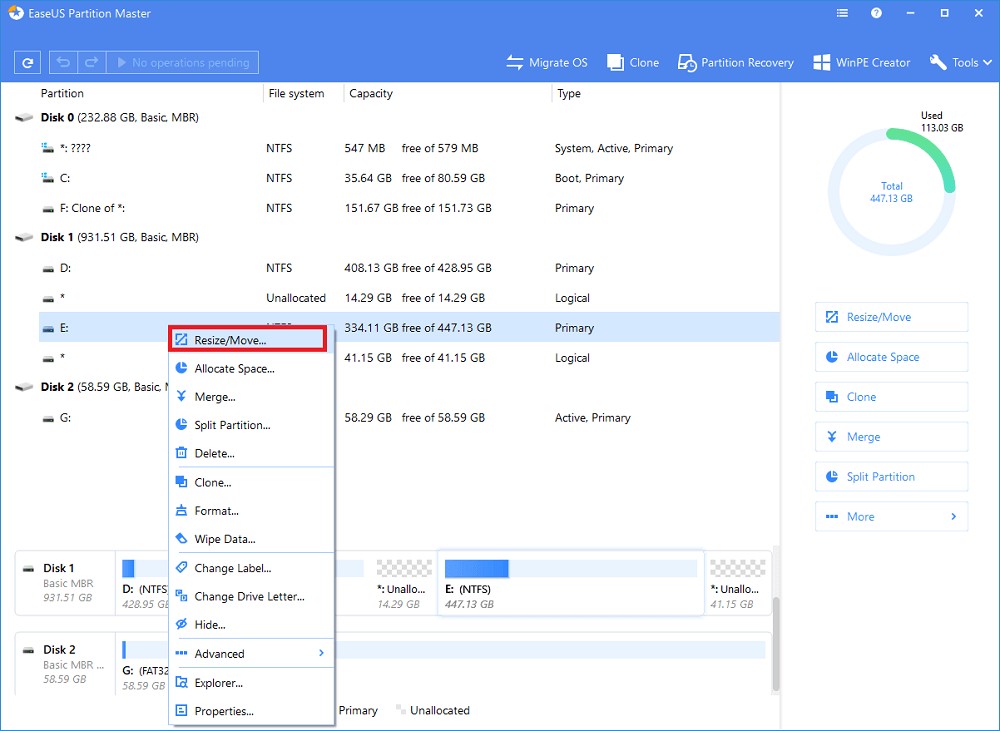 1. Launch EaseUS Partition Master, drag partitions rightwards and leave unallocated space behind system partition.
2. Right-click system partition and choose "Resize/Move partition".
3. Drag the right handle of the system drive rightwards and then add free space to system partition.
Click Apply.
Tip 2. Check and fix errors in Windows 10
1. Launch EaseUS Partition Master and right-click the partition that you want to check by clicking "Check partition".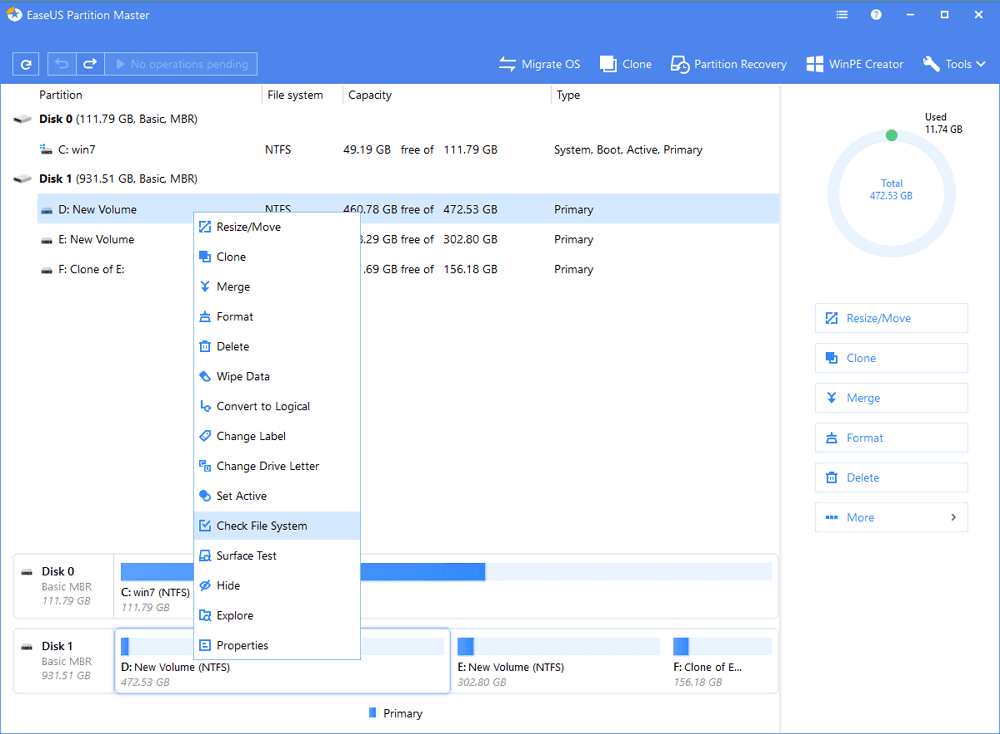 2. Choose the way that you want to use to check partition: Check Partition Properties, Call Windows Chkdsk to fix errors, Surface Test.
Click OK.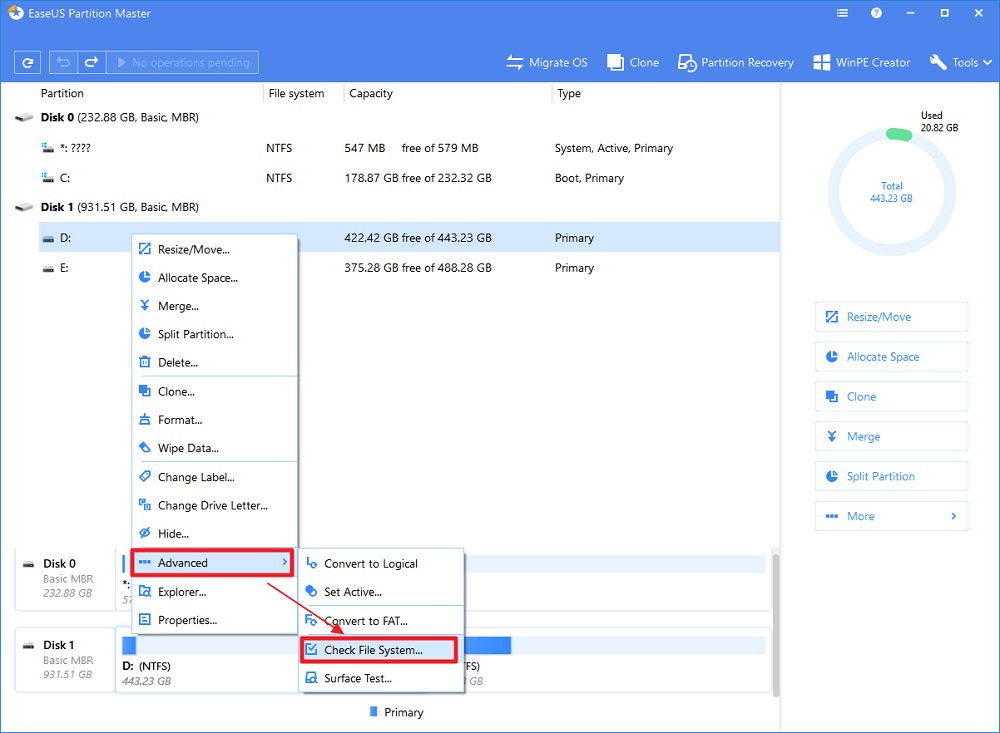 3. Let EaseUS Partition Master automatically check hard disk partition errors and repair errors for you. Click OK to finish the process.