PAGE CONTENT:
Invalid Partition Table Error, How Do I Fix It

What Does Invalid Partition Table Mean

What Causes Invalid Partition Table Error

How to Fix Invalid Partition Table Error in Windows 10/8/7

How Do I Avoid Invalid Partition Table Error
This page includes complete solutions to help you get rid of the "invalid partition table" black screen error while booting up Windows OS. If you are having the same issue, follow this page to remove this error, making your Windows 10/8/7 work again.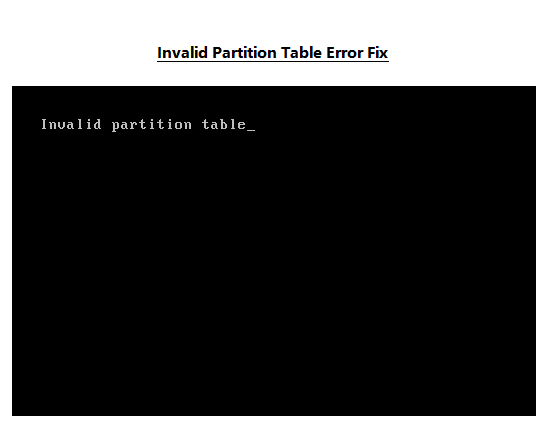 Invalid Partition Table Error, How Do I Fix It
Quest 1. Getting Invalid Partition Table notice on Dell laptop
"Does anyone have a solution to remove the 'Invalid Partition Table' error on Dell laptop?
My Dell Latitude with Windows 10 doesn't boot anymore after a sudden shutdown. When I rebooted the computer, it prompted an error message with invalid partition table. How do I get rid of this issue?"
Question 2. Invalid partition table after Windows 7 update to Windows 10
"I recently updated Windows 7 to Windows 10 on my old computer. The computer was working fine with Windows 7.
After the update, two error messages popped up - 'Invalid Partition Table' and 'Unable to reset your PC. A required drive partition is missing'. How do I fix this issue, making the computer run up again with Windows 10?"
Some of you may don't even know what is invalid partition table and what causes this error, right? Read on, and on the following, you will learn the content of Invalid Partition Table error, the causes, and the solutions toward this issue.
What Does Invalid Partition Table Mean
To understand what is invalid partition table, you should first understand the usage of the partition table. A partition table, practically, is regarded as a table for saving properties and information of each partition, helping the operating system to access partitions.
When the partition table corrupted, damaged, or becomes invalid, the system will not be able to locate and access the partition.
The Invalid Partition Table is an error that mostly occurs on the operating system partition, which usually comes up with a black screen, disallowing users to boot up the PC.
When there is invalid information in a system or boot partition table while powering on a computer, Windows will show up this error. This error may also happen while fresh installing Windows OS or booting a functioning OS.
What Causes Invalid Partition Table Error
To find the right solutions toward this issue, the first thing that you should do is to find the causes of Invalid Partition Table.
Thus, you can obtain the right solutions to specific situations. Here are the common causes that stop your computer from booting up with a black invalid partition table screen:
Damaged (MBR) Partition Table: The MBR (Master Boot Record), which contains information to load system partition and data partitions on hard drive, is corrupted.
Incorrect BIOS Boot Sequence: When Windows is not set to boot in the right sequence, this will result in an unsuccessful boot of computer.
Two or More Active Partitions: Where there are two or more partitions are marked as active on the system disk, Windows won't be able to load. To be more specific, only the boot (loader) one with BOOTMGR and BCD on it should be flagged as "Active".
Bad Sectors: When the system partition or the boot partition contains bad sectors, the partition table cannot be loaded, which as a result, would be regarded as an invalid partition table, disallowing you to startup the Windows system.
So how to get rid of this error, making Windows OS running smoothly without any issue again? Continue reading, and you will find the best way toward this issue.
How to Fix Invalid Partition Table Error in Windows 10/8/7
Here in this part, you will find five solutions to remove the invalid partition table error from your computer disk, making Windows running again.
Fix 1. Rebuild MBR with EaseUS Partition Master
EaseUS Partition Master is a reliable disk management software that enables you to efficiently manage partitions, make full use of disk space, check and repair disk errors immediately.
To repair the corrupted or invalid partition table, you may use the Rebuild MBR feature in EaseUS Partition Master.
Go through below two steps and let EaseUS Partition Master rebuild the MBR partition table, making your computer bootable again:
Step 1. Create a WinPE bootable disk.
Download and launch EaseUS Partition Master on a new PC which runs the same system as yours.
Click "WinPE Creator" on the toolbar. And select to create the bootable disk on a USB drive. If your computer has a CD/DVD drive, you can also create the bootable disk to CD/DVD.
Click "Proceed" to finish the process.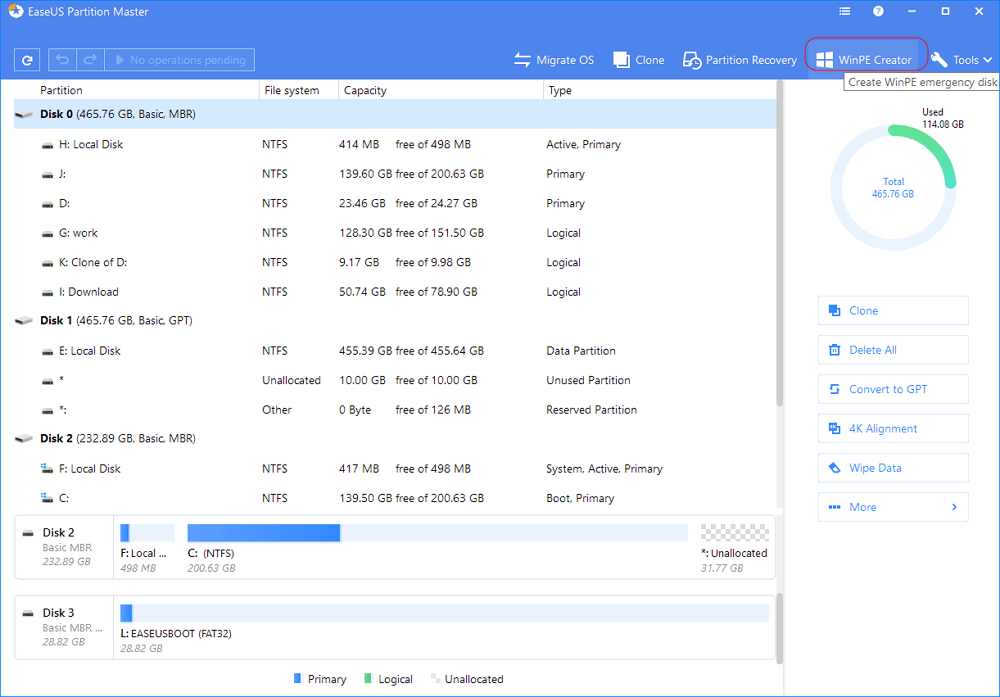 Step 2. Rebuild MBR.
Connect the bootable USB or CD/DVD to your PC.
Press "Del" when you are restarting the computer. Boot your computer from "Removable Devices" or "CD-ROM Drive". And then EaseUS Partition Master will run automatically.
Right-click the disk whose MBR is damaged. Choose "Rebuild MBR" to continue.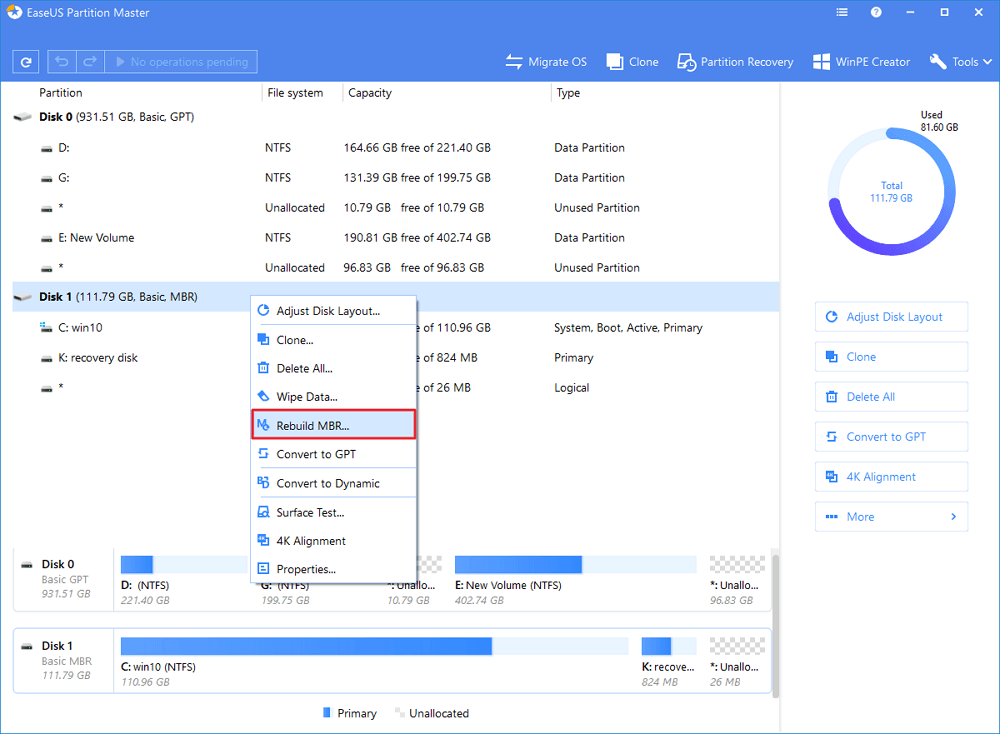 Select the type of MBR with the current operating system. Then, click "OK".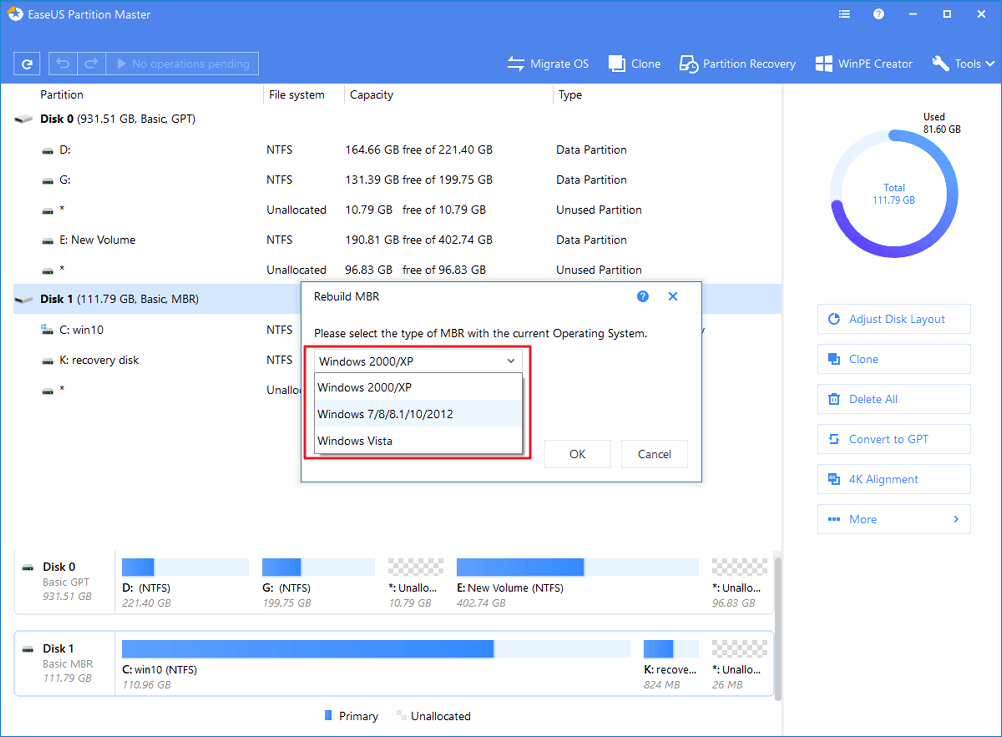 Click the "Execute 1 Operation" button at the top-left corner and click "Apply" to build the MBR. After that, your computer can boot normally again.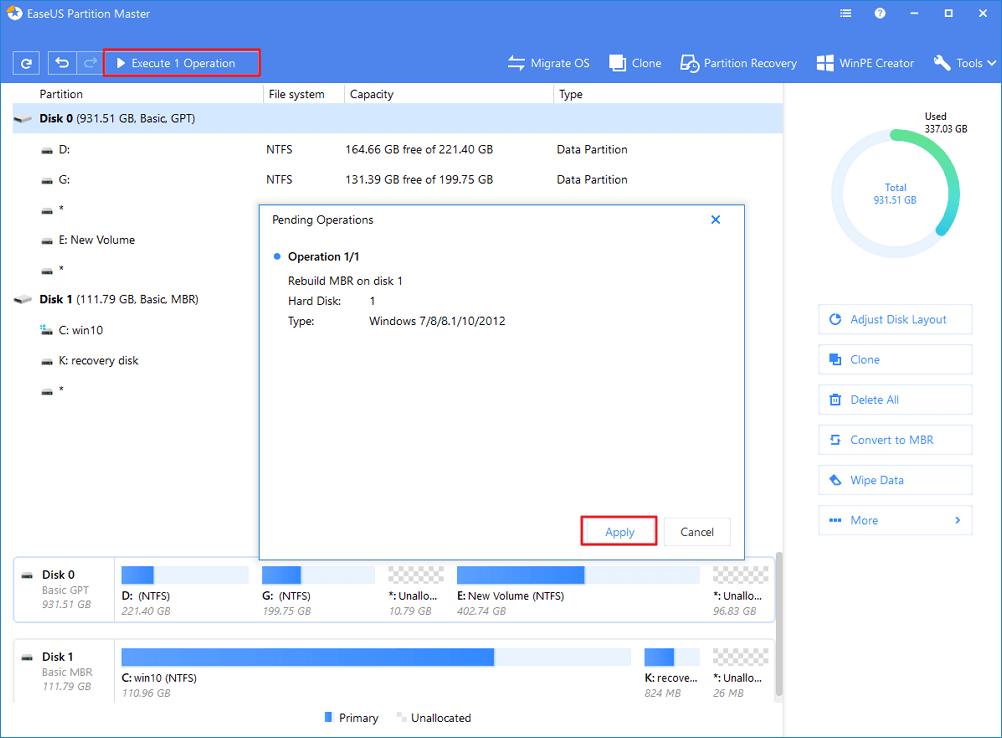  Tip

Suggestion from EaseUS Partition Master Experts:
Besides MBR corruption, Partition Table Error, RAW partition error, and other issues may also cause the Invalid Partition Table issue.
If you fail to fix this issue using EaseUS Partition Master, you may click the link to ask for a 1-on-1 remote assistance.
Fix 2. Manually Repair MBR with CMD
Another way to resolve the invalid partition table issue is to repair the corrupted or damaged MBR partition table on your computer by using CMD command.
To do so, you'll need an original Windows installation DVD or Windows Installation Media on USB for help.
Here we will take Windows 10 as an example to show you how to repair MBR via CMD command manually:
Step 1. Reboot Windows from the installation disk and select "Repair your computer" on the welcome screen.

Step 2. When Command Prompt appears, enter the following lines and press Enter after each line:
bootrec.exe /rebuildbcd
bootrec.exe /fixmbr
bootrec.exe /fixboot
In some cases, you may need to run some additional commands.
bootsect /nt60 SYS or bootsect /nt60 ALL
Step 3. Press Enter after each command and wait for each operation to finish. Exit and now go ahead and reboot your system.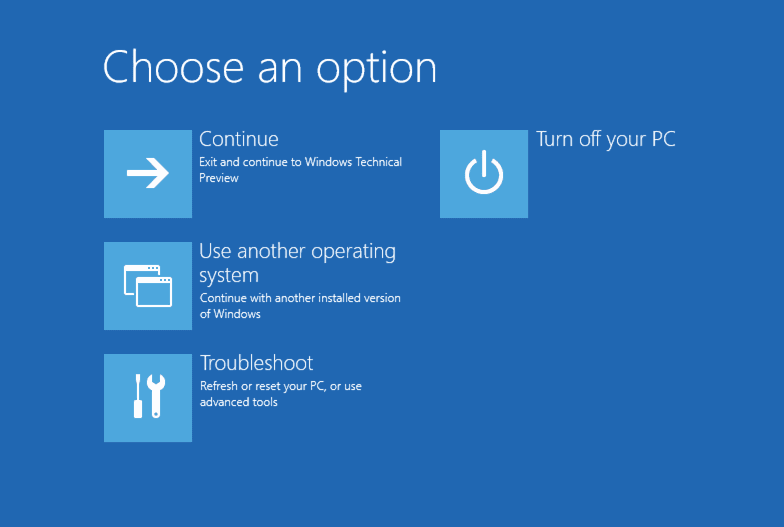 Fix 3. Reset BIOS Boot Sequence
Step 1. Try to restart PC and press DEL/F11/F12 to enter BIOS.
Step 2. Go to the Advanced BIOS feature, select "Hard Disk Boot Property".
Step 3. Check if BIOS is set to boot from the right disk. If not, change it and reset the computer to boot from the correct drive.
Save all the changes and restart the computer to see if the problem has been resolved.
Fix 4. Inactivate Partition with DiskPart
To do so, you will also need Windows installation disk to help you bring up the Windows repair window with below steps:
Step 1. Reboot Windows from the installation disk and select "Repair your computer" on the welcome screen.
Step 2. On the pop-up window, click Troubleshoot > Advanced options > Command Prompt, type: disk part, and hit Enter.
Step 3. Tyle below command in DiskPart and hit Enter each time:
Replace D with the partition label which you would like to set it inactive.
Step 4. When the target partition is selected, type: inactive and hit Enter to execute the operation.
Step 5. Type: exit to finish the process.
After this, you can restart the computer to see if the problem has been removed.
Fix 5. Check and Fix Bad Sectors
As most of you may have known that once a hard drive contains bad sectors, it would affect the disk performance, stopping it from functional and working.
So far, there is no 100% working tool that can fully repair the corrupted or bad sectors on a storage device.
To do so, we suggest you follow the guidelines below to finish the bad sector testing and fixing process:
Phase 1. Test disk surface and replace the hard drive
Run EaseUS Partition Master from a previously created bootable disk and test disk:
Step 1: Download EaseUS Partition Master and install it. Right-click the disk that you want to check, and then click "Surface test".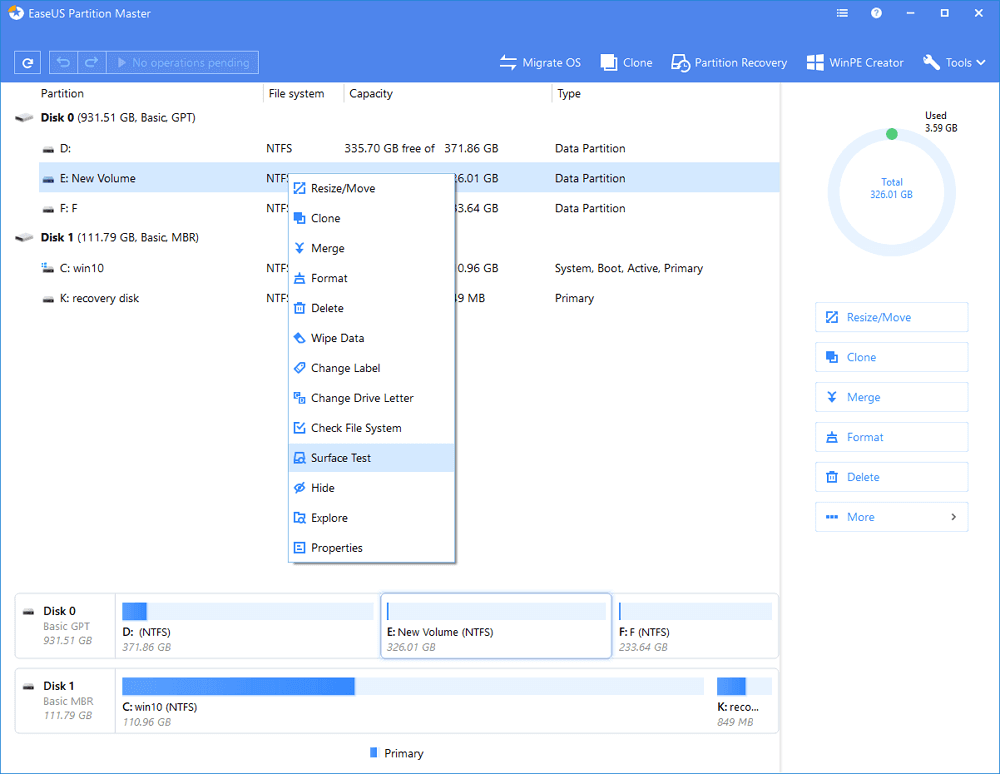 Step 2: The operation will be immediately performed. Bad sectors will be marked as red.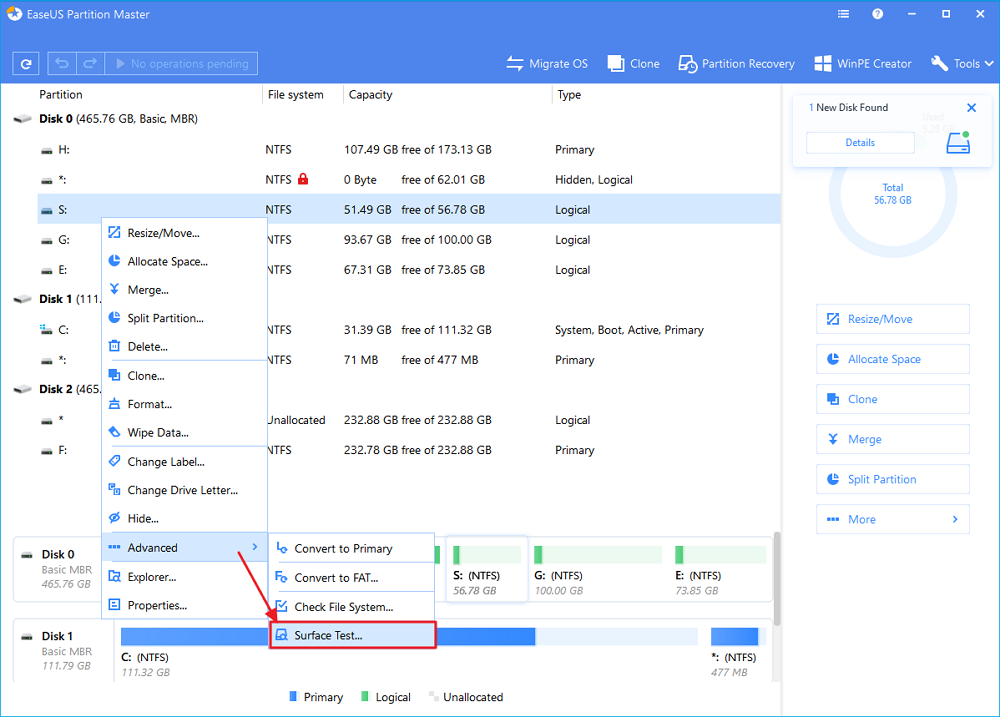 Phase 2. Take actions to fix bad sectors on the target disk
Once bad sectors are detected, take action immediately to prevent bad sectors from further damaging your drive.
To do so, you how to options:
If there are only a few bad sectors detected, you can run a third-party bad sector repair tool to block them. You may search online to find such a tool for help.
If there are too many bad sectors on your disk, we suggest you replace the old disk immediately.
Your data and system are more valuable. Here you may refer to this link to clone and replace a hard drive with bad sectors.
How Do I Avoid Invalid Partition Table Error
Some of you may also want to know how to prevent this error from happening on your computer, right? There is no exact method that can avoid this issue.
However, here are some tips that you may still have a try to protect your computer disk:
Make sure the BIOS is set to run from the right drive.
Run partition manager tool like EaseUS Partition Master to check and fix disk file system or other errors regularly.
Don't casually active partitions on the system disk.
Conclusion
This page explains what invalid partition table, the causes, and the solutions to get rid of this error from Windows computers are.
However, as many reasons may cause this issue, the provided methods may not be able to resolve all the specific problems that cause this error on your PC.
If you need remote assistance, you can also consult our EaseUS Partition Master experts for help by visiting this page: https://www.easeus.com/support/remote-assistance.html.
Therefore, we suggest you follow the suggestions in the last part to prevent this issue from your computer as soon as possible.
100% of people found this article helpful.
Frequently Asked Questions
Why Choose EaseUS Partition Master?

"I've used Partition Master Professional many times to create, delete, format, move, rename, and resize partitions." —PCWorld

"Partitioning tools have come a very long since the days of complicated command line utilities and EASEUS Partition Master is one of the most advanced programs available." —TECH ADVISOR

"I love that the changes you make with EaseUS Partition Master Free aren't immediately applied to the disks. It makes it way easier to play out what will happen after you've made all the changes." —Lifewire
Will the "Migrate OS" feature transfer the Windows system files only or the whole C drive?

To ensure that the migrated system will boot normally, the Migrate OS feature will transfer all the files in the system and the boot partitions. Generally, the boot partition is the C drive so the transfer will include all the files in C.
Does EaseUS Partition Master license apply to multiple computers?

The license of Partition Master Professional and Server editions can be used on 1 computer only, while that for for the Technician and Unlimited editions can be used on multiple machines.
What is the difference between EaseUS Partition Master Trial version and the Free version?

Free is for home users only, with most basic functions available such as partition resize and clone. While trial can help you understand how this product works and test what a full license can do on a business or server OS machine.
Will it cause any data loss after resizing the partition in EaseUS Partition Master?

Generally, it will not cause any data loss or boot issue by resizing a partition. However, in order to protect your data, we suggest that you backup the partition before resizing, in case of any unexpected situations such as power outages, computer hardware failures, etc. You can use EaseUS Todo Backup to backup the partition and its trial version is fully functioned for 30 days.
What should I prepare before resizing the partition?

On the partition that is going to be operated, there might be some files being occupied by other programs. To ensure a successful operation, we suggest that you close all the unnecessary software before resizing that partition. Otherwise, EaseUS Partition Master will detect the partition being locked by the other software and require a reboot to resize the partition under boot mode.
About EaseUS Partition Master
All-round disk & partition management software for personal and commercial use. Let it manage your storage drive: resize, format, delete, clone, convert, etc.