PAGE CONTENT:
Extend Android storage space with memory card

Clean up useless apps, history or caches to increase Android internal memory

Transfer data to Cloud storage or PC to extend Android storage space

Expand Android storage with USB OTG

Increase Android internal memory with Terminal Emulator/INT2EXT/Mounts2SD apps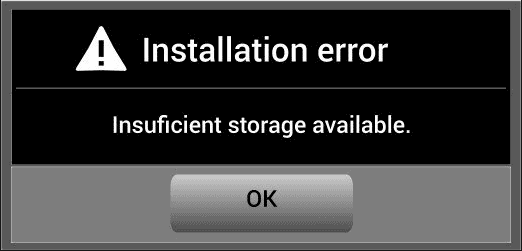 Are you having insufficient storage available error on your Android phone? Thinking that your Android phone can no longer meet your demand for big storage space for saving more wonderful data such as photos or videos? Here in this article, you'll find several methods showed to fix "insufficient storage available" error on your Android phone and extend Android internal storage space with ease.
If you are not quite familiar with Android phone management jobs, Method 1, 2, 3 shall be your top choices. Now you may selectively choose any one offered methods to fix "Insufficient Storage Available" error and expend Android storage space with a faster running speed.
Method 1. Extend Android storage space with memory card
Adding memory card into an Android phone will surely help to expend Android storage space. According to follow below steps, you'll get a new way to borrow space from memory card and increase internal memory space on an Android phone.
Just follow below 2 steps to extend Android internal memory space with a new memory card now. You may select a memory card with enough space such as 32GB or 64GB etc to add to your present Android phone internal memory.
1. Partition memory card
Download and install partition manager software - EaseUS Partition Master for free on your PC and connect the memory card which you want to add space to Android internal memory with your PC.
The memory card will become unallocated and then you need to create 2 partitions - a Fat32 primary partition and an Ext2/3/4 primary partition on the SD card.
Step 1: Launch EaseUS Parition Master
On the main window, right-click on the unallocated space on your hard drive or external storage device and select "Create".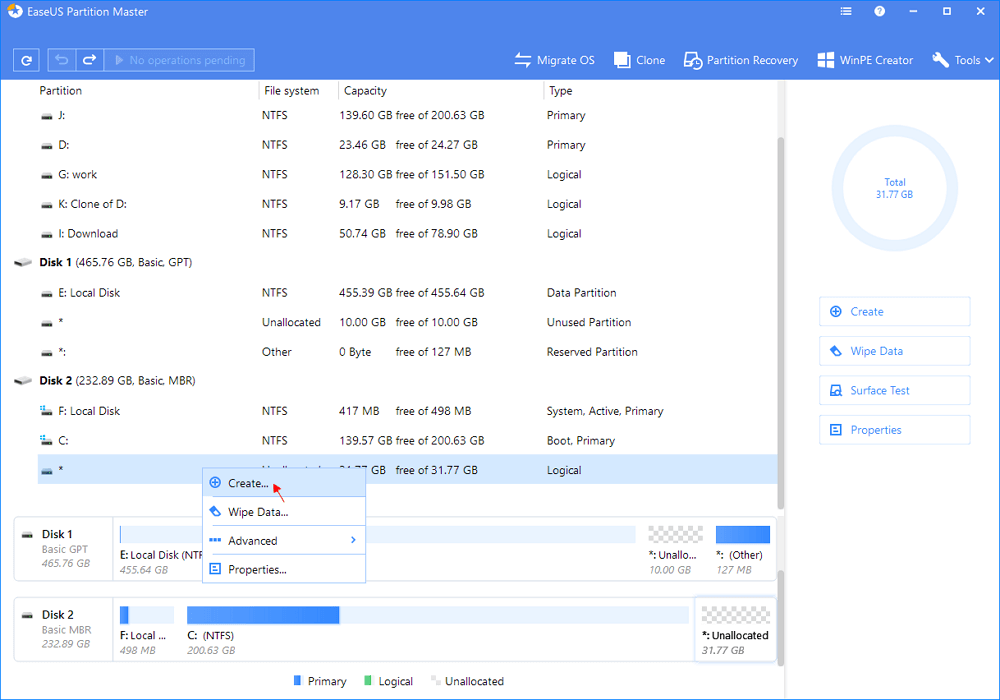 Step 2: Adjust the new partition size, file system, label, etc.
Set the size, partition label, drive letter, file system, etc. for the new partition and click "OK" to continue.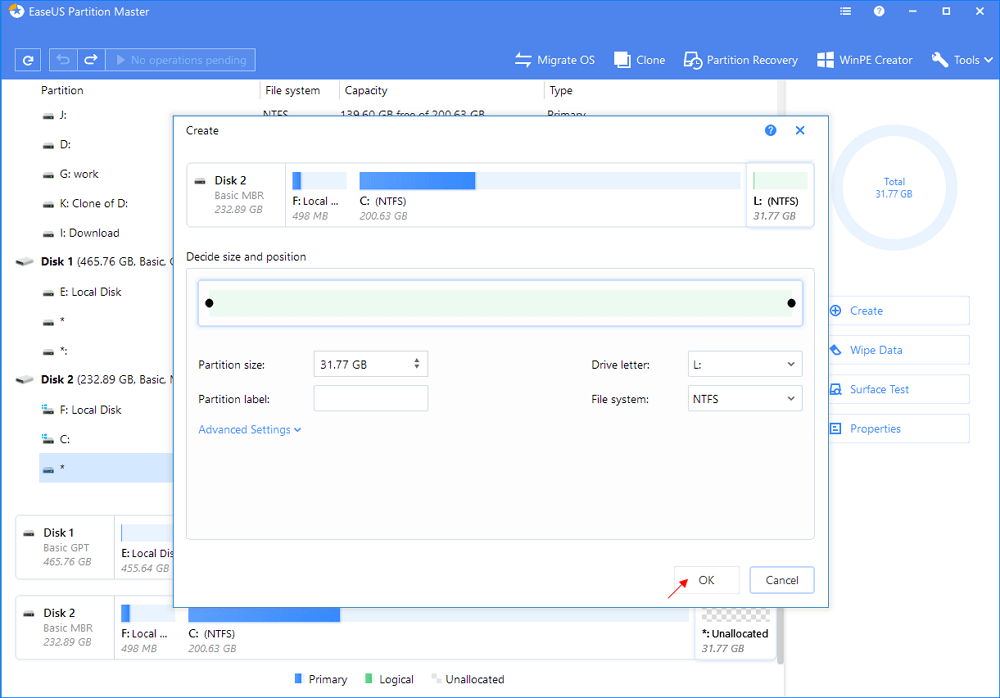 Step 3: Confirm to create a new partition
2. Increase Android internal memory by Link2SD
After creating needed partitions in the memory card, you can then add the second Ext2/3/4 partition to increase internal storage space on Android phone with the help of Link2SD. Here are the details:
Insert memory card to Android phone and download Link2SD app on Android phone;
Do remember to root the phone in advance so to allow Link2SD to get access to your phone.
Run Link2SD and select the file system of your SD card's second partition: "Ext2", "Ext3" or "Ext4" and click "OK".
Reboot device and run Link2SD again, click Settings > Check the "autolink" to move apps upon installation.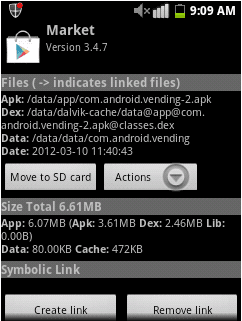 If you already have some apps, select "Create" link.
Check memory and select "Storage Info" to see the current internal memory status.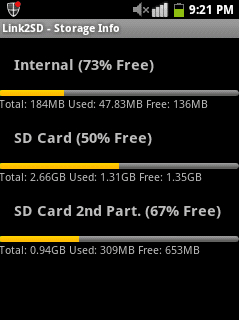 Now that the second partition has been added into Android as internal memory and you can save and install as many apps and files as you want.
Method 2. Clean up useless apps, history or caches to increase Android internal memory
Sometimes, Android apps will take up quite a lot of space in Android phones with browsing history and caches. As time goes by, every app on users' phone will be filled with cached files. Therefore, cleaning up useless apps, history or caches will surely save more useful space and extend Android internal memory.
1. Delete or clear useless apps history
Go to "Settings" > Tab "Apps" > Choose useless apps or unwanted app and select "Uninstall" or "Clear Data".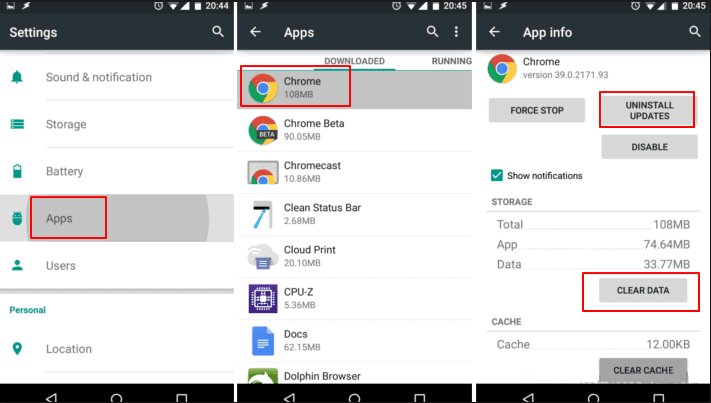 2. Clean up app history or caches
Go to "Settings" > "Storage" > Click "Cached data" > You'll receive a message showing "This will clear cached data for all apps", click "OK".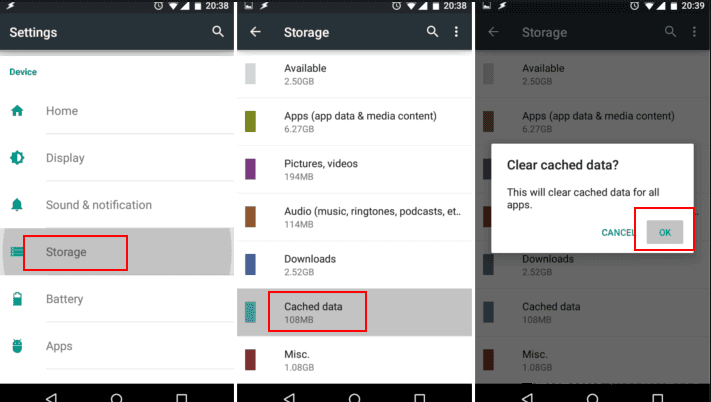 You may also try to delete some useless programs to release some space. But some programs may take very little free space. You may try Method 3 to transfer important data to Cloud or PC so to save Android memory space.
Method 3. Transfer data to Cloud storage or PC to extend Android internal storage
If you have a Cloud account such as Google Drive for your Android phone, it will be a good way to save Android phone storage space by transferring data to Cloud storage. Wonderful photos, videos or other files can be upload to Cloud so to save more free space on Android.
If you don't have a Cloud account, you may choose a PC or tablets or other external storage devices to save internal memory on the Android phone. You can try to export rarely used data to PC and delete them on your phone.
If you don't want to move your Android data or files out and save in Cloud or PC, you can also try to add memory so to increase internal memory on Android with USB OTG. Detail steps will be listed in Step 4.
Method 4. Expand Android storage space with USB OTG
USB OTG allows users to plug in peripherals such as storage devices - USB etc and add more space to Android phones.
If you don't know whether your phone supports USB OTG or not, you can download USB OTG Checker app to test.
USB OTG will help you to increase Android internal storage space by adding an external hard drive or USB drive etc to phone with OTG adapter.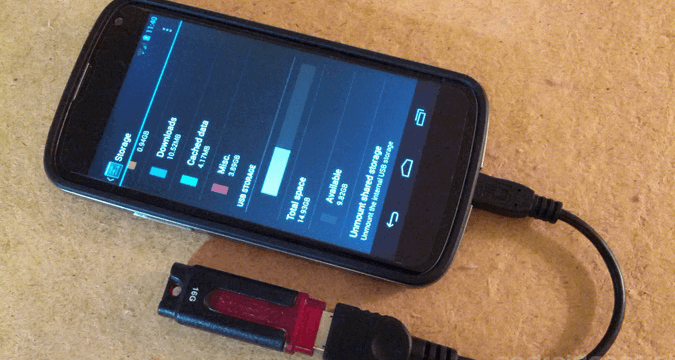 Method 5. Use Terminal Emulator/INT2EXT/Mounts2SD apps for help
Other known apps such as Terminal Emulator, INT2EXT or Mounts2SD can also help to add SD card space to an Android phone so to increase Android internal memory with ease. You may selectively try any one of these apps and apply to increase your Android internal storage space then.
100% of people found this article helpful.
Frequently Asked Questions
Why Choose EaseUS Partition Master?

"I've used Partition Master Professional many times to create, delete, format, move, rename, and resize partitions." —PCWorld

"Partitioning tools have come a very long since the days of complicated command line utilities and EASEUS Partition Master is one of the most advanced programs available." —TECH ADVISOR

"I love that the changes you make with EaseUS Partition Master Free aren't immediately applied to the disks. It makes it way easier to play out what will happen after you've made all the changes." —Lifewire
Will the "Migrate OS" feature transfer the Windows system files only or the whole C drive?

To ensure that the migrated system will boot normally, the Migrate OS feature will transfer all the files in the system and the boot partitions. Generally, the boot partition is the C drive so the transfer will include all the files in C.
Does EaseUS Partition Master license apply to multiple computers?

The license of Partition Master Professional and Server editions can be used on 1 computer only, while that for for the Technician and Unlimited editions can be used on multiple machines.
What is the difference between EaseUS Partition Master Trial version and the Free version?

Free is for home users only, with most basic functions available such as partition resize and clone. While trial can help you understand how this product works and test what a full license can do on a business or server OS machine.
Will it cause any data loss after resizing the partition in EaseUS Partition Master?

Generally, it will not cause any data loss or boot issue by resizing a partition. However, in order to protect your data, we suggest that you backup the partition before resizing, in case of any unexpected situations such as power outages, computer hardware failures, etc. You can use EaseUS Todo Backup to backup the partition and its trial version is fully functioned for 30 days.
What should I prepare before resizing the partition?

On the partition that is going to be operated, there might be some files being occupied by other programs. To ensure a successful operation, we suggest that you close all the unnecessary software before resizing that partition. Otherwise, EaseUS Partition Master will detect the partition being locked by the other software and require a reboot to resize the partition under boot mode.
About EaseUS Partition Master
All-round disk & partition management software for personal and commercial use. Let it manage your storage drive: resize, format, delete, clone, convert, etc.