Overview of hard drive format stuck issue
Disk formatting can be applied to fix disk errors, bad sectors or raw issues, change the file system, remove unknown virus, etc. But in some case, the formatting process stuck at various percentages like 0%, 54%, 51%, 70%, 99% for hours and never move on. It can happen unexpectedly at any time while you are trying to format external hard drive, SSD, USB, SD card or some other devices in Windows10/8/7 or other previous versions using Disk Management tool. Now, this issue is no more a problem. Here we created a step-by-step tutorial that shows you how to fix format stuck error.
What will you need to fix disk format stuck?
As there is a long list of reasons that might cause format stuck issue, it is difficult to figure out the reasons why your device is refused to format. But it doesn't matter. Even format stuck issue occurs in Windows disk management, you can easily fix it and finally get your hard drive, USB drive, SSD or memory card formatted successfully by finding a reliable third-party format tool. Here, EaseUS partition software is recommended for its powerful disk formatting feature and intuitive interface. And with a lot of other disk management features, the program can help you deal with other disk-related jobs after solving disk format stuck error.
To fix format stuck issue, follow these steps:
Step 1. Connect the device you want to format to PC and launch EaseUS partition tool, right-click the disk and choose "Format partition".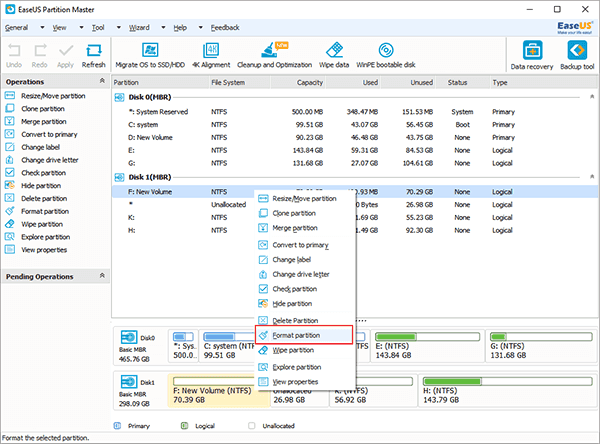 Step 2. Configure the label you want in the Partition Label box and then select a file system in the "File System" drop-down list for the disk.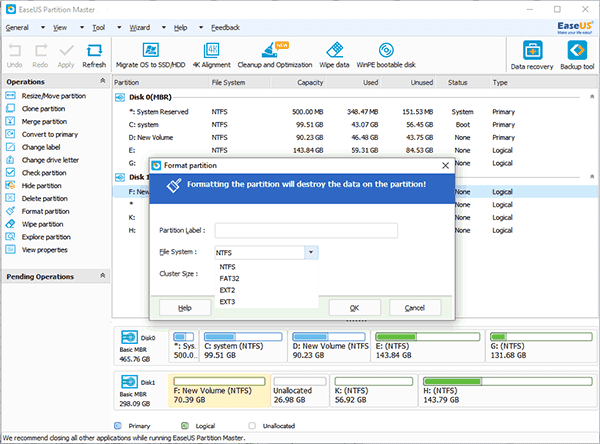 Step 3. Choose the Cluster Size (512 bytes, 1, 2, 4...64KB) in the "Cluster Size" drop-down list and click "OK" to continue.
Step 4. Click "Apply" to save all the changes to format the external hard drive, SSD, USB, SD card or some other devices.