Your new computers are running like an old PC with newly updated Windows 10/8? It turns out that the system drive is running at 100%! It seems that the drives are being over worked, which cause the system slows down. So how will you to fix the disk 100% used issue and speed up the PC? Here EaseUS will provide you comprehensive & free solutions to fix 100% disk usage issues and optimize Windows with ease.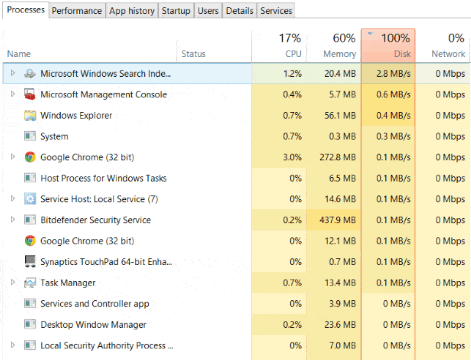 PC works slow? Check the disk usage!
When you feel that your new computer or newly updated Windows 10/8/7 still works slow, you should check the disk usage situation firstly. Sure, you can also diagnose it by checking the free space left in your computer hard drive partitions. But by checking the disk usage will surely be more accurate. Follow the below steps to see how to check disk usage situations now:
Press CTRL+ALT+DEL > Right-click Taskbar > Select Task Manager > Tap Processes
Then you can view and check out the disk usage situations in the Disk column.
Tip 1. Fix system errors, cleanup disk junk files and optimize disk
Usually, when some system errors happen to PC or the system disk is stuffed with junk files, or useless software, the computer will be slowed down. So when your computer disk is 100% used or nearly full, please check and fix the system error, clean up useless junk files so to optimize the system disk firstly.
Here you may try a free but professional partition manager software which allows you to effortlessly check and fix system errors with ease. And the junk file clean up feature also allow you to thoroughly find and clean out all useless files. You can free download EaseUS Partitoin Master Free and follow below steps to fix system error, clean up junk files and optimize PC now:
Check and fix system error
1. Launch EaseUS Partition Master Free and right-click the partition(system partition for preventing system errors) that you want to check by clicking "Check partition".
2. Choose the way that you want to use to check partition: Check Partition Properties, Call Windows Chkdsk to fix errors, Surface Test.
Click OK.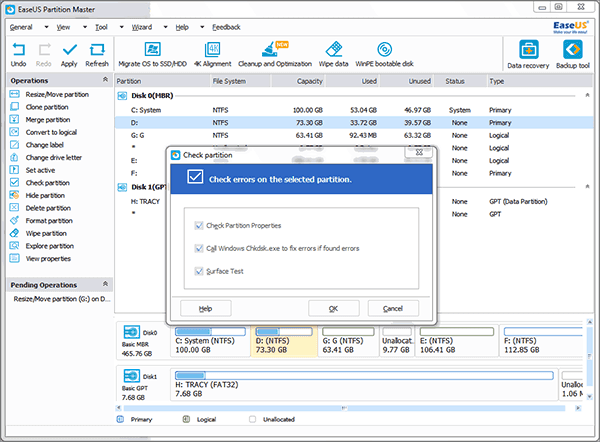 3. Let EaseUS Partition Master Free automatically check hard disk partition errors and repair errors for you. Click OK to finish the process.
Clean up junk files and optimize Windows
You can use the Cleanup and Optimization feature in EaseUS Partition Master to effortlessly clean up all useless junk files and even optimize disk with ease.
Tip 2. Chance settings in Chrome and Skype to fix 100% disk usage issue
Sometimes some frequently used software or browser such as Skype or Google Chrome may also cause 100% disk usage issue. Here the following, you'll see how to fix 100% disk usage issue on Chrome and Skype.
Change Chrome settings to fix 100% disk usage problem
Open Google Chrome, go to Settings > Show Advanced Settings > Privacy > untick Prefetch resources to load pages more quickly.
Change Skype settings to solve 100% disk usage issue
Make sure that the Skype in your PC is not running.
Open Windows Explorer > go to: C:\Program Files (x86)\Skype\Phone\ > Right-click Skype.exe and click Properties > Open Security and click Edit > Highlight All APPLICATION PACKAGES > Tick Write and click Apply > click OK twice.
After this, you'll see that the Task Manager no longer shows 100% disk usage.
Tip 3. Disable Windows Search for Improved Disk Performance
When Windows Search gets a bug in Windows 8 or Windows 10, sort of "search loop", it will surely increase the system drive load. To stop this, please follow below steps:
1. Press Windows + R > Enter services.exe and hit Enter > Find and double-click Windows Search > Open Windows Search Properties.
2. Select Disabled under Startup type > Click Stop to abort the service > Click OK.
Tip 4. Disable Superfetch Service
It seems that Superfetch service will surely sometimes cause disk performance issues in Windows 8 and Windows 10. Therefore, it will help fix the Windows disk performance issues:
Open Command Prompt > Enter net.exe stop superfetch
Then you can run Check Disk and type chkdsk.exe /f /r to see whether problem has been solved or not. After all this, you can close all applications and then reboot the PC again.
If you are facing 100% disk usage issues in your PC, follow the above tips and fix this problem on your own now.