Computer Runs Slow After Installed Games
"As a game lover, I often use my PC or laptop to enjoy the newest games. Whenever I have time, I'd like to play games with my friends. But recently, I find that my computer runs very slow, but the internet speed shows favorable. Do you know the most effective way to speed up Windows 10 for gaming without buying any SSD or HDD?"
Effective Ways to Speed Up Windows 10/8/7 for Gaming
Computers running slow indeed bothers us a lot and many people have this unhappy experience that computers run slow when playing games. Here we have 2 ways to speed up the pc to improve game performance without buying any SSD or HDD.
Method 1. Speed up Windows 10/8/7 for Gaming by Cutting the Fat
Every time you surf the Internet or play online games, there are lots of trash left on your computer. It is really necessary to get rid of this trash and cut the fat if you want to speed up your PC for gaming or make computer faster for gaming! Here is the detail:
Step 1. Click Start menu
Step 2. Type Disk Cleanup. This opens the trusty Disk Cleanup utility that's been part of Windows for several generations of the OS.
Step 3. Disk Cleanup finds unwanted junk and files such as temporary files, offline Web pages, and installer files on your PC and offers to delete them all at once.
There are also lots of other easy and useful ways to clean up your Windows 10/8/7 like:
We recommend EaseUS Partition Manager to help you clean up your Windows 10/8/7, and it will be mentioned in the next method.
After cutting the fat, getting rid of the trash in your PC and uninstalling useless programs, you can run your games again to check whether it becomes faster or not. If this does not show any obvious change, try the next method: adjust your disk space.
Method 2. Enlarge Disk Space to Speed up Windows 10/8/7 for Gaming
Limited computer space can also limit your gaming speed. Increasing your hard drive space to speed up Windows then improve game performance is indeed reliable and effective.
Most of us installed our programs on C drive, and C drive always seems out of space. Increasing C drive space and speed up your Windows for gaming seems urgent. You may ask "How to increase C drive space?" Here are the specific steps.
#Option One: Increase C Drive Space to Speed up Windows 10/8/7 With CMD
1. Input "Diskpart" in the Search Bar, and click "OK" to enter the Diskpart utility.
If there is a contiguous unallocated space behind system drive, you can follow below steps:
2. Input "list disk" command, and press "Enter". Then, all of the disks will be listed.
3. Input "select disk x" command to select the target disk, and then press "Enter".
4. Input "list partition" and press "Enter". Then, all the partitions will be listed. Select the partition needs to be extended by inputting "select partition x" and pressing "Enter".
5. Input "Extend" command, and press "Enter".
6. Input "Exit" to leave the Diskpart window.
#Option Two: Increase C Drive Space to Speed up Windows 10/8/7 With Partition Tool
Using CMD has a lot of limitations and it is really hard to follow the difficult steps. Here we suggest partition freeware help you.
Just follow the easy steps!
Step 1. Download and launch EaseUS Partition Master.
Step 2. Use "Resize/Move partition" to shrink partition the partition to make unallocated space for partition C: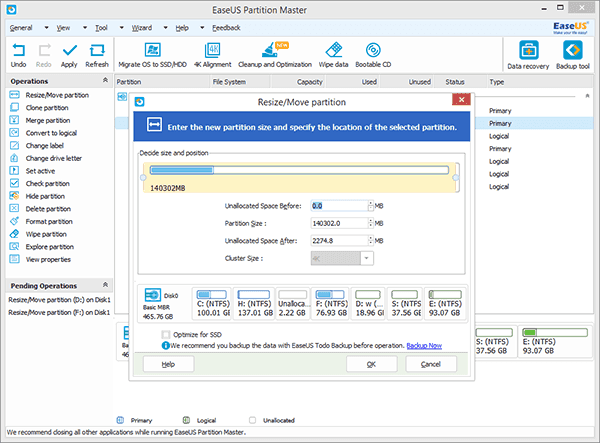 Step 3. Increase C: drive with "Resize/Move partition" function.
Step 4. Click Apply.