What is ext3 or ext2
EXT2, or second extended file system, is a file system for the Linux kernel. It was the first commercial-grade filesystem for Linux.
EXT3, or third extended filesystem, is a journaled file system that is also used by the Linux kernel. It used to be the default file system for many popular Linux distributions. Its main advantage over ext2 is journaling, which improves reliability and eliminates the need to check the file system after an unclean shutdown. Its successor is ext4.
How to extend or shrink the ext3 or ext2 partition
"I have a laptop with 1TB hard disk space. It contains windows 10 and boss Linux in three partitions. The partition containing boss Linux has 200GB itself. However, I'm running Windows 10 right now. I want to shrink that partition to 10GB. Is there any way to do this? Thank you."
As we all know, we can resize the ext4/3/2 partition using GParted or LVM in Linux environment. However, do you know how to extend or shrink ext3/2 partition in Windows 10/8/7? Luckily, among all the Linux based file systems (EXT2/EXT3/EXT4/Swap), EaseUS Partition Magic software allows resizing the ext3/2 partition.
The steps below is about resizing ext3 partitions without losing data. It shows the way to shrink and enlarge existing ext3 partitions. This can be quite useful if you do not use LVM and you realize that your existing partitioning does not meet your actual needs anymore.
Get Ready:
1. Download.
To shrink or extend the ext3/2 partition, download the partition software. EaseUS Partition Master not only allows to extending or shrinking the ext3/2 partition but also supports creating ext2/ext3 Linux partitions in Windows. So download it and resize your Linux partition right now.
2. Connect.
Connect the hard drive that contains the ext3/2 partition you want to shrink or extend to a Windows computer.
Details:
Step 1: Launch EaseUS Partition Master.
Step 2:Extend or shrink the partition.
Position the mouse pointer on the partition that you need to resize and drag the handle to adjust its exact size.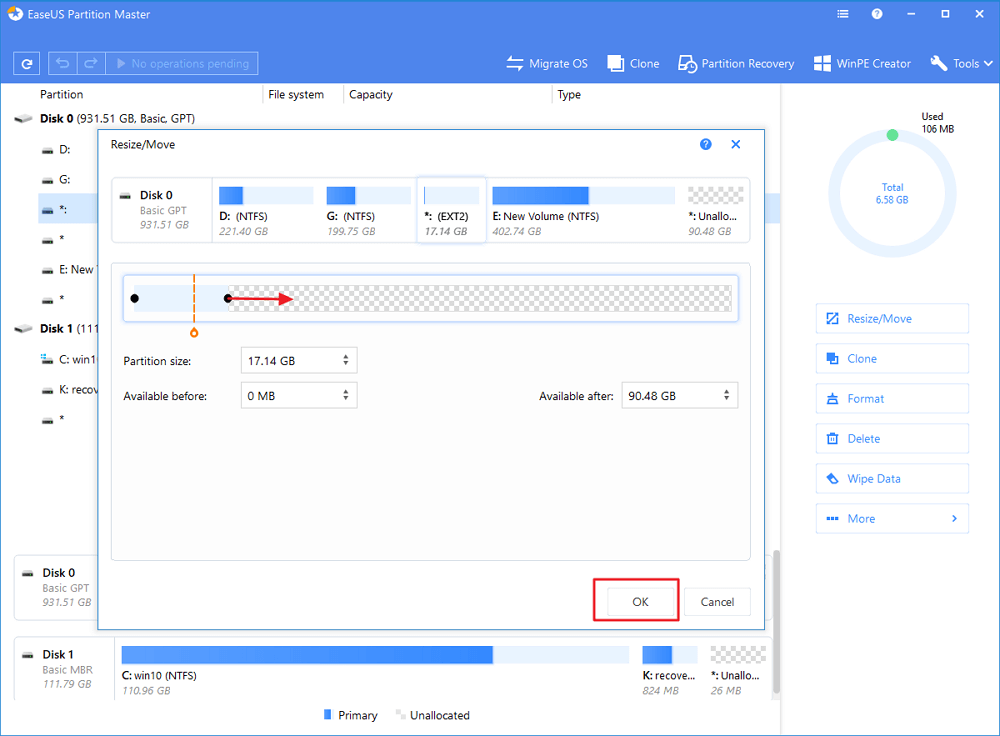 Step 3: Click "Apply".
Sometimes the unallocated space is on the left of the partition you want to extend, just drag the left partition handle leftwards to the size you want.
For more detailed information, please visit resizing and moving partitions.