Copying files very slow on Windows 10, how to fix it?
"My computer becomes slower than before after installing the latest Windows 10 update. Moreover, I also notice that the file copying or moving speed also slows down.
I didn't take much notice on this issue at the very beginning until this morning. This morning, I planned to transfer 2GB videos and images from my Windows 10 computer to an external hard drive to free up more space on the computer. The whole process was estimated to complete within 20 minutes, but it didn't finish after 2 hours. So I have to stop the process and find a way to resolve this problem.
If anyone of you knows how to resolve the 'Windows 10 slow in copying files' issue, please help me."
'Windows 10 slow in copying, moving or transferring files' issue has caused significant inconvenience to a huge number of Windows 10 users. According to the Google search result and Windows forum, it seems that copy speed very slow issue also exists on Windows 8 and Windows 7 PCs. If you are looking for a solution to resolve this issue, just follow the tips below to improve your computer performance and speed up for copying files now.
Tip: Backup files or data before removing 'Copy files slow' issue in Windows 10
To avoid data loss issue while fixing this error on Windows PC, we recommend you backup important files on Windows 10 before resolving this issue.
Professional Windows backup and recovery software - EaseUS Todo Backup can help you backup Windows 10 for free within 30 days.
Fix 'Copy Files Very Slow' Issue In Windows 10 with Free Partition Manager Software
Many reliable ways can help resolve the 'Windows 10 very slow copying files' issue, such as to turn off the Auto tuning feature or disable the Remote Differential Compression.
Here we'd like to provide a quick and efficient solution to remove the 'copy file very slow' issue from your PC by applying the best free partition manager software - EaseUS Partition Master Free for help. You can just download and install this software on your Windows 10/8/7 PC for free and follow the guidelines below to remove this error now:
Step 1. Cleanup and optimize Windows 10 disk to remove 'Copy file very slow' issue
If the Windows system disk has a large number of useless junk files or large files, it will slow down the computer. And EaseUS Partition Master Free can help you speed up the computer and remove 'copy file very slow' issue on your PC with its Cleanup and Optimization feature.
1. Launch EaseUS Partition Master and click Cleanup and Optimization. Then choose Junk File Cleanup or Large File Cleanup.
2. Then you can click Analyze or select the disk and click Scan to let EaseUS Partition Master find junk files or large files on your PC.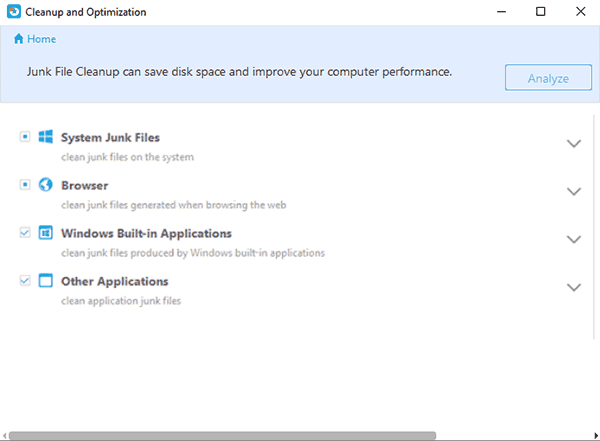 3. You can check and choose junk files or useless large files and click Clean up.
All selected junk files will be cleaned and thoroughly deleted from your PC then.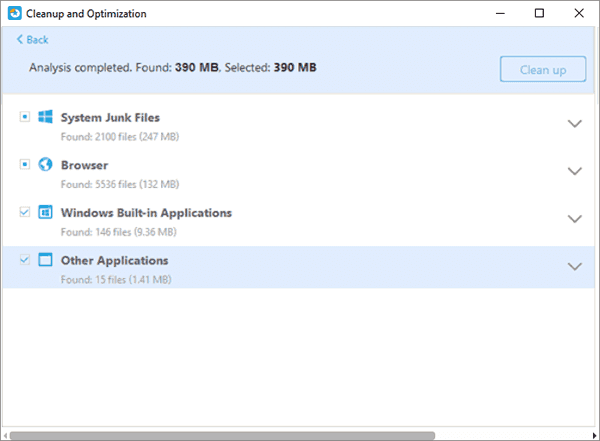 You can also select to optimize PC disk so to optimize your Windows 10 computer performance with these guidelines below:
1. Launch EaseUS Partition Master and click Cleanup and Optimization.
2. Choose specific partition on PC such as system(C:) and click Optimize.
3. Repeat the process to finish optimizing all computer disk partitions.
Step 2. Repair bad sectors or corrupted system file that cause Windows 10 slow in copying files
If there are bad sectors or corrupted system files existing on your computer hard drive, the file copying or transferring speed may get influenced. So your next step is to repair corrupted system files and bad sectors on your Windows 10 hard drive:
1. Launch EaseUS Partition Master and right-click the partition(system partition for preventing system errors) that you want to check by clicking Check partition.
2. Choose the way that you want to use to check partition: Check Partition Properties, Call Windows Chkdsk to fix errors, Surface Test.
Click OK.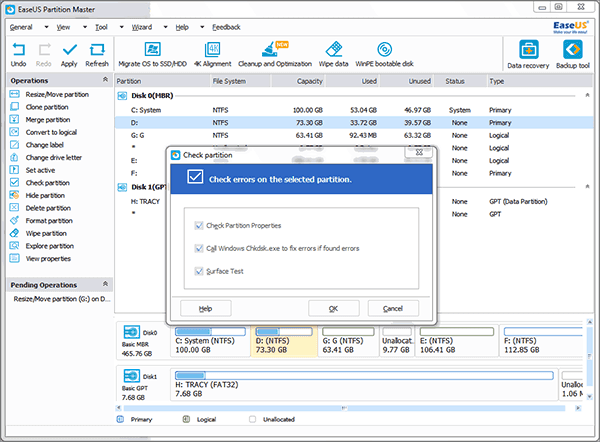 3. Let EaseUS Partition Master automatically check hard disk partition errors and repair errors for you. Click OK to finish the process.
Extra Tips to Resolve Windows 10 slow copy file speed issue
Here below are some extra tips that may also help you resolve the Windows 10 extremely slow copying files issue:
1. Format Windows 10 hard drive partition and target storage device.
2. Run Windows System Maintenance Troubleshooter.
3. Disable Remote Differential Compression.
4. Extend System C drive with more free space.