FAT32 and NTFS are two options for file systems which may be used on a Microsoft Windows hard disk partition.
NTFS provides a number of improvements over FAT32, including:
Second copy of boot sector for improved reliability.
Compression.
File permissions.
Improved recoverability.
Improved performance on large volumes.
Improved efficiency in disk space utilization.
Improved fault tolerance.
If you have a FAT32 partition, you may wish to convert FAT 32 to NTFS System. You can do as following:
Convert FAT32 to NTFS in Windows 2000, XP, 2003 Server, Vista and Windows 7
These instruction will assist you in converting the C: partition from FAT32 to NTFS. If you wish to convert another partition instead, just use that drive letter instead of C: while following these instructions.
First, back up your data. The conversion process almost always works flawlessly, but there is no point in taking the risk.
Click the button.
Click .
Enter "cmd" into the text field labeled "Open".
Click the button.
Enter the command "vol c:" to find the volume label for the C: partition.
Enter the command "convert c: /fs:ntfs" to convert the C: partition from FAT32 to NTFS.
When prompted, enter the volume label for the partition.
Convert FAT32 to NTFS by EaseUS Partition Master
With EaseUS partition magic software, you can use the "Convert to NTFS" function to convert a partition from FAT32 to NFTS file system without data loss.
1. Download EaseUS Partition Master and install it. After that, launch EaseUS Partition Master and then select a FAT12/16/32 partition.
2.Right click the partition and then select Convert to NTFS.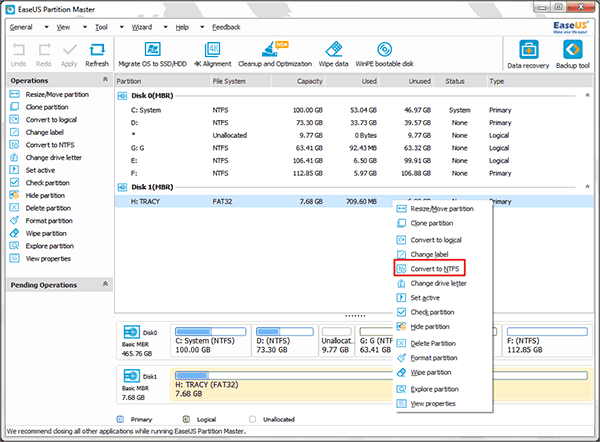 3. The pop-up dialog box will show the source and destination file system, click "OK" to continue.
4. Click Apply to execute the operation.
Convert FAT32 to NTFS in this way is easier than by command prompt. Even common computer users can convert partition without any help from an expert since all the operations can be finished by just right clicks. Moreover, besides the basic function of convert FAT32 to NTFS, it can also resize, copy, format, create, delete, explore and hide partition on your hard disk.