Your computer is stuffed by quite a lot useless junk files or some unknown files? And your system works slower than before? Don't bother for having no method to clean up junk files in Windows 10/8/7 anymore. Here effective solution from EaseUS is ready to help you optimize computer and delete/move all junk files from Windows 10/8/7 and other systems now.
Do you know how to thoroughly clean up junk files in Windows 10/8/7?
Are you being troubled by the useless junk files which take a large space in your computer? Do you have any ideas about how to delete or move junk files in Windows 10/8/7? Here we have found some major methods to delete or move junk files for computer:
1. Delete junk files manually.
The first method requires users to be very careful when they are trying to delete or move junk files in their computers. And if you want to delete or move junk files manually, you have to be very careful to identify whether files are junk files or not. It's quite easy to delete useful files by mistake.
2. Use system cleaning software.
Though system cleaning software does work to clean useless files, virus or other junk files in PC, it sometimes may also wipe out some files or documents which are not used frequently. The software will mark those files useless while cleaning computer and clean all those files, which will cause serious data loss issues for you.
Except these two methods, do you know any other ways to clean up junk files in Windows 10/8/7? Here we recommend you to try professional partition manager software - EaseUS Partition Master which offers Junk File Cleanup feature to allow users delete and move all useless junk files.
Solution: clean up junk files in Windows 10/8/7 with EaseUS Partition Master
EaseUS Partition Master 11.0 newly added Junk File Cleanup feature together with Large File Cleanup and Disk Optimization to support ordinary users thoroughly erase and clean up useless junk files, delete large files or optimize disks to improve computer performance.
And the newly added features are all free. Therefore, if you don't want to pay for EaseUS Partition Master but still want to thoroughly wipe out all junk files so to save more space on computer disk, you can try the free version - EaseUS Partition Master Free. It's fully compatible with Windows 10/8/7 etc. Free download this software and start to cleaning junk files now.
Free clean up junk files within 3 steps
After installing EaseUS Partition Master Free in your computer, please do remember to create a backups for all important data on your PC. Then you can follow next steps to free clean up junk files in Windows 10/8/7 within only 3 steps:
1. Launch EaseUS Partition Master Free and click Cleanup and Optimization. Then choose Junk File Cleanup.
2. Then you can click Analyze to let EaseUS Partition Master to find junk files in your PC.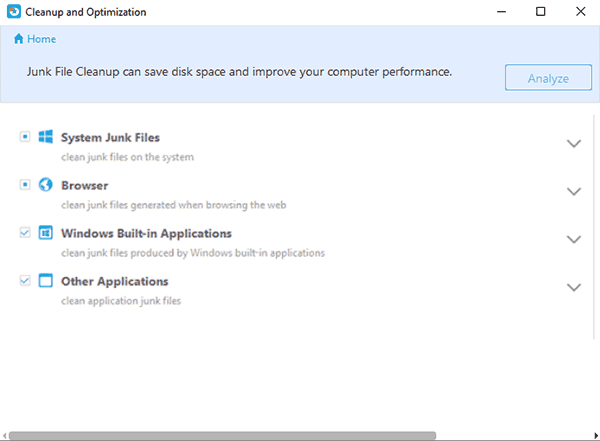 3. You can check and choose junk files and click Clean up.
All selected junk files will be cleaned and thoroughly deleted from your PC then.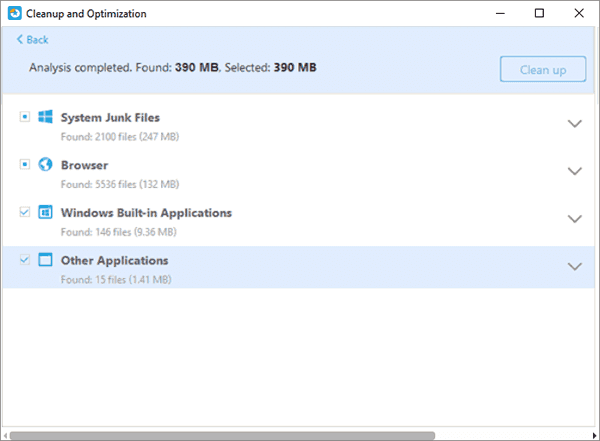 If you are trying to find an effective method to clean up all useless junk files from your PC under Windows 10/8/7 etc, let EaseUS Partition Master help. Other partitioning issues such as convert disk, clone disk, wipe or erase data, resize partition etc can also be simply done by this software.