ChkDsk Stuck at 10%, How Long Does ChkDsk Take
"I started running chkdsk/r on my Windows 10 PC about two hours ago. But now, it just says 'Scanning and repairing drive D: 10% complete.' and never move on. How long does ChkDsk usually take? Is ChkDsk frozen or stuck?"
Overview of ChkDsk Stuck or Frozen Issue
When your PC is getting slower and slower, you may run ChkDsk to check and repair disk errors or corruption for better performance. But unfortunately, sometimes, the disk check can fail because the ChkDsk command line get stuck at ChkDsk stuck at particular percentages for example 10%, 11%, 12%, 27%, 100% or hangs at some Stage. If it happens, try the following methods to fix the issue in Windows 10/8/7 and get the disk scanning and repairing stuck process completed successfully.
Fixes for ChkDsk Stuck or Frozen on Windows 10/8/7
Method 1. Check and Repair System File
1. Restart your computer, by pressing the power button.
2. During the next boot, press the Esc, Enter or the appropriate key to stopping the running of ChkDsk.
3. Run Disk Cleanup utility to clear your junk files.
4. Open an elevated CMD type sfc /scannow and hit Enter to run the System File Checker. Once the scan is completed, restart your computer. Remember to exit ChkDsk during boot.
5. Next, again open CMD as admin type Dism /Online /Cleanup-Image /RestoreHealth and hit Enter to repair the Windows image.
6. Run ChkDsk again and check if it can complete the scan.
Method 2. Use a Third-Party Alternative Disk Repair Tool
At most times, the above steps can help to fix ChkDsk frozen or stuck issue in Windows 10/8/7. But if it fails to help, try EaseUS partition tool, a popular third-party alternative software to manage the disk scanning and repairing job.
Step 1:

Download EaseUS Partition Master and install it. Right-click the disk that you want to check, and then click "Surface test".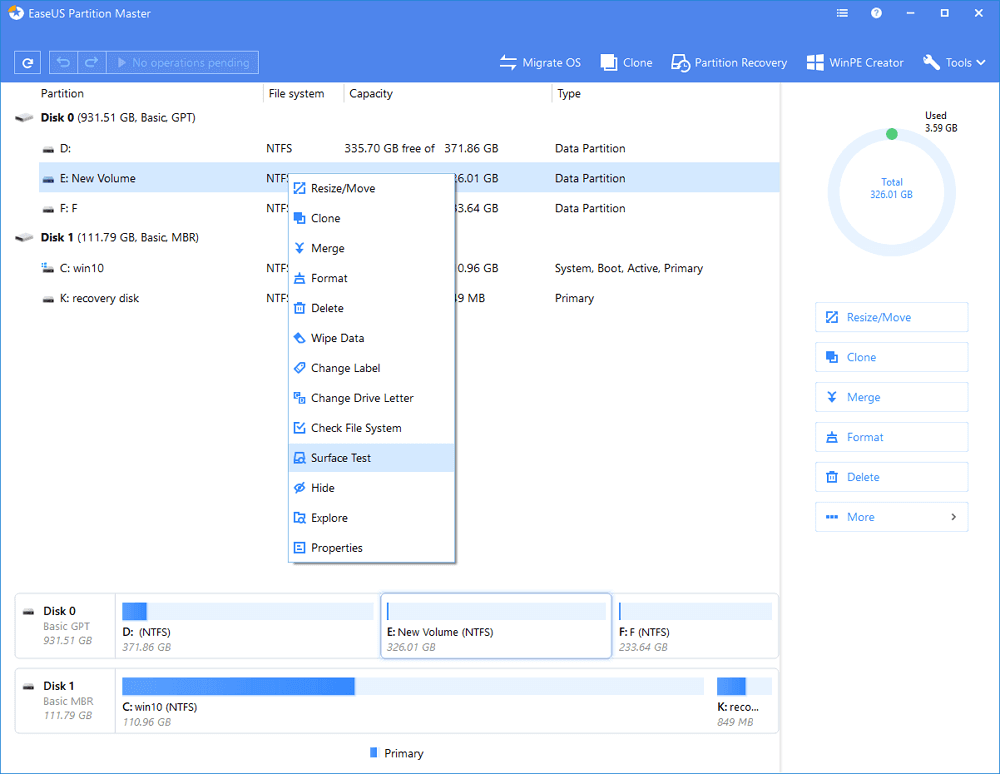 Step 2:

The operation will be immediately performed. Bad sectors will be marked as red.