CHKDSK hangs and gets stuck while scanning, how to fix it?
"Hi there, do you know how to fix the problem that CHKDSK got stuck while scanning and repairing disk errors in Windows 10? My computer got stuck for hours after running the CHKDSK command.
I was planing to check and repair disk errors with CHKDSK command but it seemed that the computer died. CHKDSK command hangs at 11% and then nothing changed ever. I want to know how to stop the process and what can I do if I get stuck again with the disk check command line?"
CHKDSK stuck at particular % or hangs at some stage etc errors indeed had causes some problems to Windows users. So how to stop CHKDSK from hanging and make it work for checking and repair file system errors again? Right here in this article, we'll provide you a reliable method to guide you repair and fix CHKDSK stuck at 11% or 10% error in Windows 10/8/7 within 3 simple steps. Just follow to see how to repair and fix this issue right now.
Step 1. End CHKDSK repair command
When CHKDSK hangs or stuck on your PC while scanning or repairing disk errors, you can directly apply Task Manager to end its progress:
Press Ctrl + Alt + Del keys at the same time and click Task Manager;
Enter Task Manager, find and select CHKDSK command at Processes tab, and click End task to stop CHKDSK from working anymore.
Step 2. Check and repair disk errors with CHKDSK alternative tool/freeware
The second step is to continue check and repair disk errors that stop your computer or drive from working properly. Here you may try CHDKSK alternative tool or software to scan and repair all errors on your PC.
Here we'd like to recommend you try free CHKDSK alternative software - EaseUS Partition Master Free which supports you to free check and repair disk errors in 3 simple steps under Windows 10/8/7:
1. Launch EaseUS Partition Master Free and right-click the partition or hard drive by clicking "Check partition".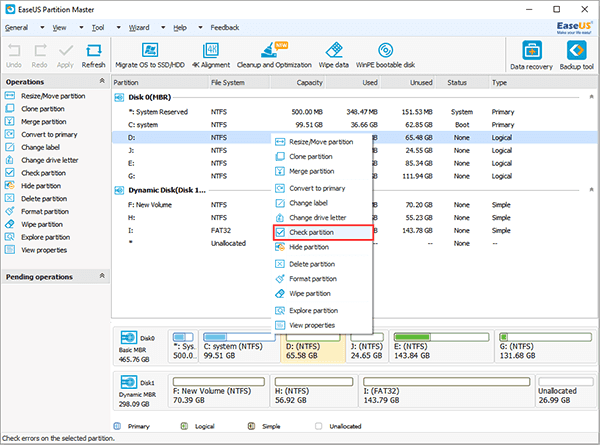 2. Choose the way that you want to use to check partition: b>Check Partition Properties, Call Windows Chkdsk to fix errors, Surface Test.
Click OK.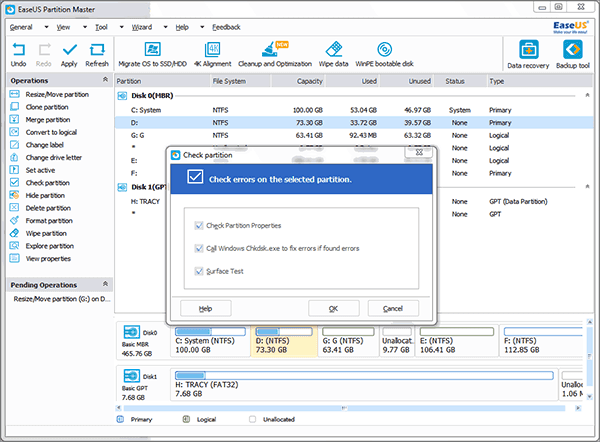 3. Let EaseUS Partition Master automatically check and repair file systems errors on selected devices. Click OK to finish the process.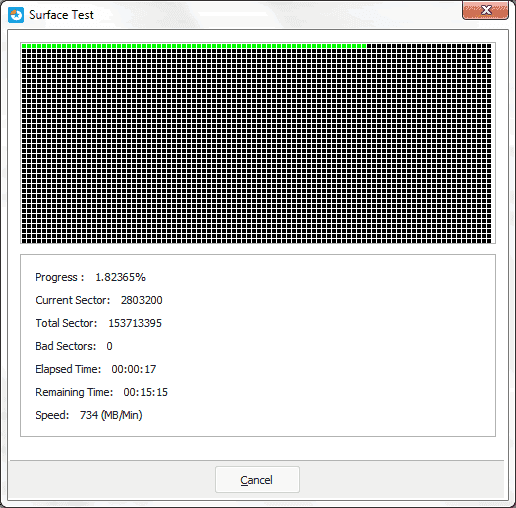 Now all existing file system errors or hard disk bad sectors have been repaired and you can continue following Step 3 to fix CHKDSK stuck issue and make disk error check command work again.
Step 3. Repair and fix CHKDSK stuck error in Windows 10/8/7
Here we'll show you how to repair and fix CHKDSK command stuck issue with Windows Recovery Drive in Windows 10/8/7:
1. Create a Windows Recovery Drive with a CD or USB drive, reboot PC;
2. Run cmd by pressing Shift + F10;
3. Type: regedit and click OK to open Register Editor;
4. Go to: HKEY_LOCAL_MACHINE > File > Load Hive;
5. Go to: C:\Windows\System32\Config > System;
If it prompts a name, enter: DiskCheck and hit Enter to confirm;
6. Go to: DiskCheck \ControlSet001\Control\Session Manager and select BootExecute;
7. Change the autocheck: autochk * /r\DosDevice\C: to autocheck autochk *;
8. Go to the DiskCheck folder, select Unload Hive and exit the Registry Editor;
9. Then type: chkdsk c: /r in Command Prompt;
After this, the computer will work normally again and you can use CHKDSK command to check and repair disk errors, file system errors or bad sectors in Windows 10/8/7 again.