Why you need to change partition size in Windows 10?
Usually, your Windows 10 computer hard drive has divided into several partitions so that you can save your operating system, personal data, program and other stuff separately. But sometimes, one of the partitions might be out of space because you have saved more and more data on it. And other partitions might have enough free space. At this moment, you need to change the partition size to make full use of your computer hard drive. But how can you manage it? Here a professional Windows 10 partition free tool will be greatly helpful.
What tool can free change partition size in Windows 10 with least efforts?
A powerful Windows 10 partition tool can save you much time and efforts if you plan to upgrade to Windows 10. So before starting the partition resizing job, the most important thing for you is to find a reliable tool. But which one is the best choice? EaseUS Partition Master Free is strongly recommended. The program is designed for partition management. It allows you to free create, delete, extend, downsize, merge, split partition easily without data loss in all Windows versions including the latest Windows 10.
Steps to free change partition size in Windows 10 with EaseUS partition tool
The intuitive and user-friendly interface of EaseUS partition tool is very easy to understand. It enables you to free change partition size in Windows 10 in only a few simple clicks. Now just follow the step-by-step guide to start your partition resizing job.
1. Launch EaseUS partition tool. Choose the partition you want to change and select the right option to extend, shrink, move, copy or merge the partition.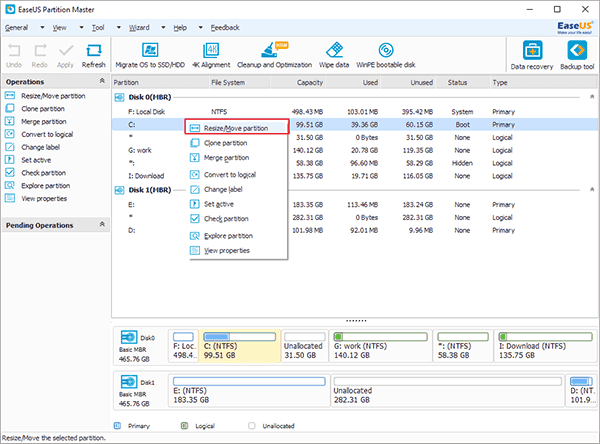 2. Drag the arrow towards right hand to resize the partition.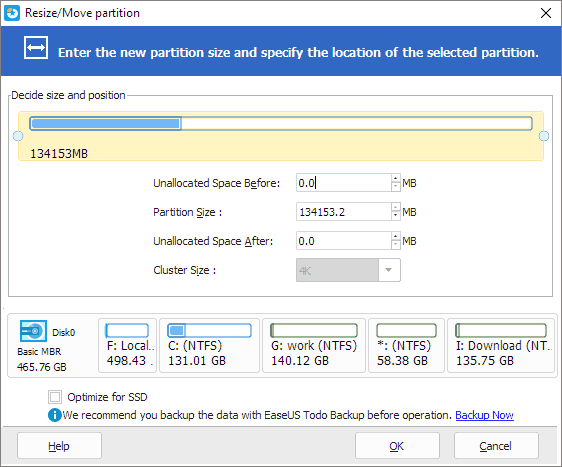 3. Then click Apply to confirm all your operations.