Can't create system repair disk, help!
"I tried to make a system repair disk in Windows 7 but it kept warning me that System repair disk could not be created the parameter is incorrect (0x80070057). I updated all drivers in my PC but still not work. How to create the system repair disk then?"
"I planned to create a Windows system repair disk so that I can create a system restore point with my Windows file backup. But I failed. The Windows will not allow me to create a system repair disk. I don't know why. Does there exist any alternative methods to solve this problem?"
The reasons why Windows system won't or fail to create recovery disk or system repair disk are enormous. But this doesn't mean that there will be no solution to fix such a problem. Here below, you'll find effective methods to solve Windows cannot create system repair disk error. Follow and find the solutions now.
Note: create system backup image firstly
In order to avoid unexpected system error while you are trying to fix Windows cannot create system repair disk error, please do create a system backup image firstly.
A professional Windows backup software will work and you may try EaseUS Todo Backup to free backup system with ease.
Method 1. Use partition manager software to fix Windows can't create system repair disk error
Professional partition manager software can be an alternative method to help you create a system bootable disk which works the same as a system repair disk. System repair disk is also called system bootable disk. Therefore, when you cannot directly create a Windows 10/8/7 system repair disk, you can directly apply a partition manager software to create the bootable disk.
EaseUS Partition Master will make it easy and simple for you to fix this error. Free download it and follow below steps to create a Windows system bootable disk now:
1. Download and launch EaseUS Partition Master. Click Tool and choose "Create WinPE bootable disk".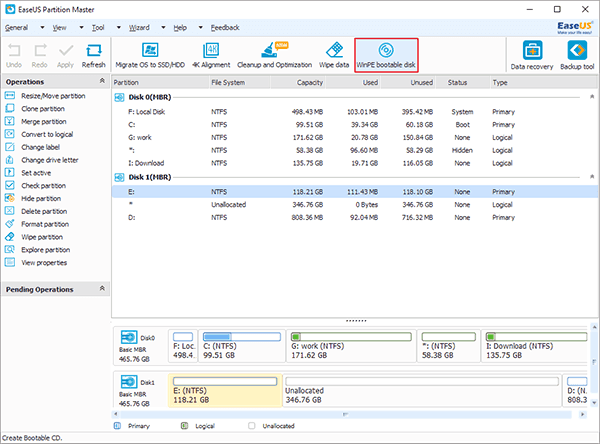 2. Then you can choose to create the bootable disk on USB, CD/DVD or Export ISO.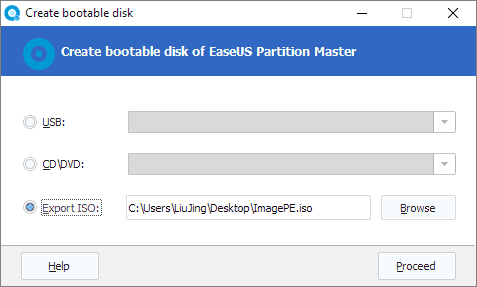 3. Click "Proceed" to finish all process.
Now you've successfully created a system recovery disk (WinPE bootable disk) for your present system - Windows 10/8/7 etc.
Method 2. Run SFC command to repair system files
When system files corrupt or unexpected errors occurred to system files in Windows, you may not be able to manually create a system repair disk then. Here now you may try to run sfc command:
Press Windows + R to open Command Prompt;
Type: sfc /scannow and hit Enter;
Leave the Command Prompt window open until the command completes. This may take some time and then you'll see the message "Windows Resource Protection did not find any integrity violations." Then you can retry to make a Windows recovery drive in your PC.
Method 3. Create system recovery disk from Windows installation disk
This requires you to have a Windows installation disk firstly and you shall be very familiar with Windows system operation. Now let's see how to do the job now:
Connect Windows installation disk with PC and boot PC from the disk;
In the startup window, click Repair and select Command Prompt from the Repair menu;
Type: recdisc in Command and hit Enter;
Select which drive letter to create the Recovery disc to;
You can also choose a clean DVD or USB drive to create and click Start.
Then you'll be able to get a system repair disk created in your Windows 10/8/7 PC.