Updated: For those who are looking for a specialized disk space cleaner for the 100% disk usage fix in a Windows computer, guess what, you may be on the wrong way. Simply cleaning the disk space wouldn't decrease the high disk usage for good, you need advanced solutions on the linking page to solve the problem better.
The Best Storage Cleaner for PC - EaseUS Partition Master Free

The picture shows the state of the disk space usage in a Windows 10 computer. As you can see, my C drive is almost full, and it's red-colored. In this case, my computer is definitely under a slow performance, whether when it's on a startup or opening a program.
What's the first thought that strikes your mind? Of cause freeing up some disk space because nothing is going to work without leaving enough disk space for it.
On this topic, EaseUS Partition Master Free is recommended as the best disk cleanup and optimization software for all Windows computers. You need the best storage cleaner for PC to solve problems of disk space always running at 99 or 100, low disk space warning, too many duplicate files, junk files, large system files, restore points, temporary files and everything that clutters up your hard disk.
To download the free partition manager and enjoy all the disk cleanup and system optimization features for free, we feel grateful to have your valid email address so that we can keep improving the product quality and keep you informed in the first time.
Now follow the steps to free up disk space and get enough storage for programs and files. We set the junk file cleanup as an example.
Step 1: Launch EaseUS Partition Master. Select "Tools" and click "System Optimization".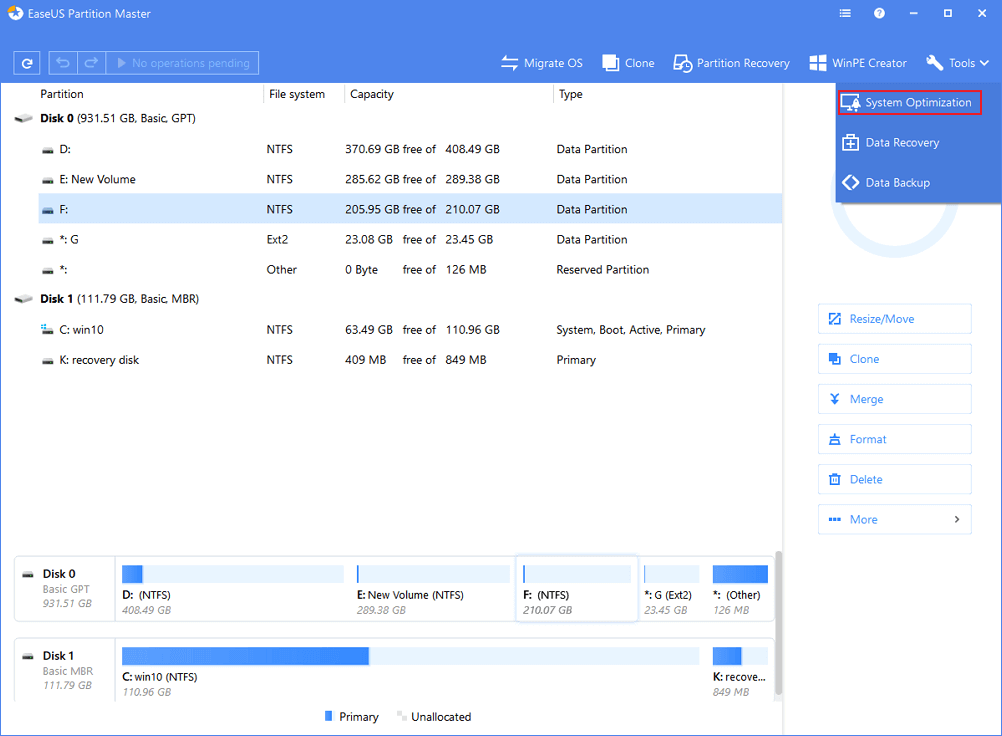 Step 2: Click "Junk File Cleanup". Then you can click "Analyze" to let EaseUS Partition Master find junk files on your PC.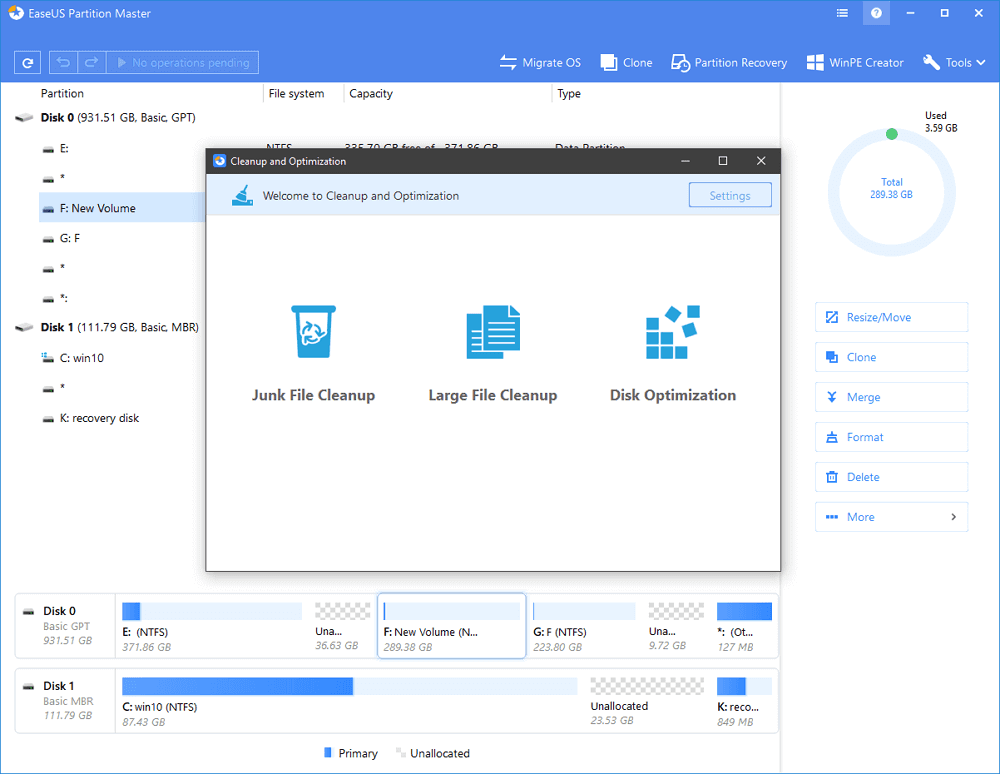 Step 3: You can check and choose junk files and click Clean up. All of the selected junk files will be cleaned and deleted from your PC. Click "Yes" to clean up junk files.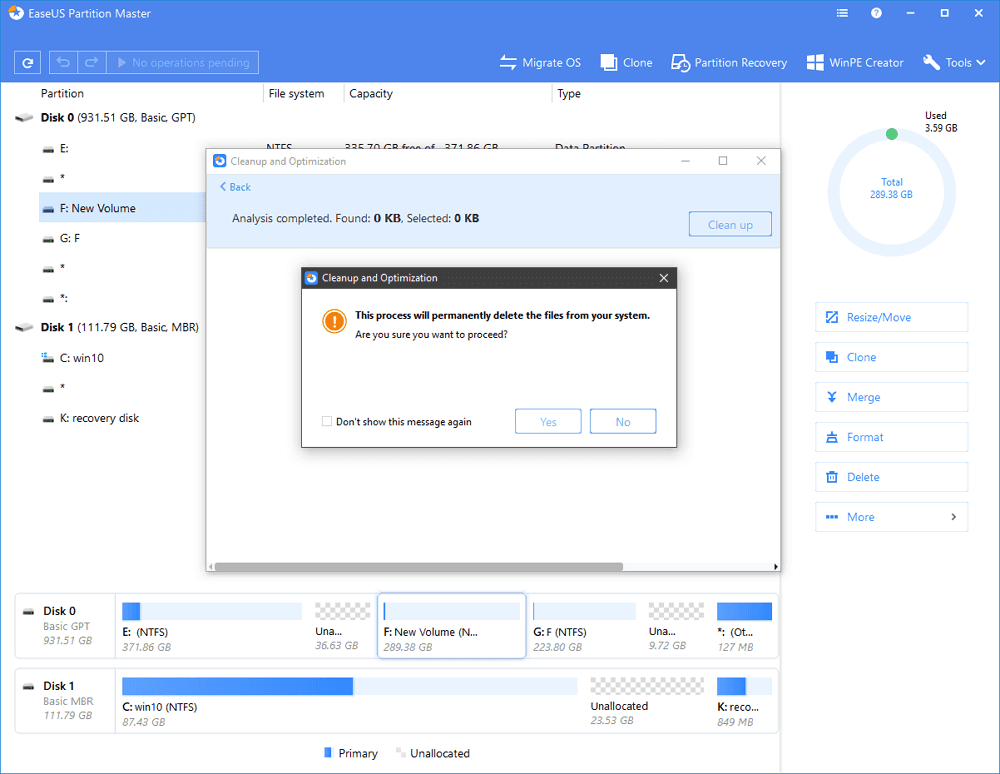 Another two cleanup options are:
Large File Cleanup: Clean up large files at least once.
Disk Optimization: Disk optimization can optimize your drives to improve system performance. Use this feature as you wish, especially when you see Windows 10 slow boot after update.
After applying each operation among "junk files", "large files" and "disk optimization", your hard drive storage should be significantly released. We suggest you do the cleaning every once a week if you prefer a manual disk cleanup way with EaseUS Partition Master. Or perhaps you can set a schedule for an auto cleaning every time you launch the software after the computer startup.
What's the Other Way to Clear Your Computer Storage Space
Next to the "Cleanup and Optimization", it's the "Wipe data" option. When you want to erase hard drive storage without recovery, for example permanently, you abandoned an old hard drive or computer, planning to sell the goods on a second-hand market, but meanwhile, don't want to expose your privacy. The "Wipe data" feature is designed for you.
 Warning

This way of storage cleanup makes the cleared data unrecoverable, copy a partition to make a backup if necessary.
Now follow the steps to wipe hard drive storage with EaseUS Partition Master.
Step 1: Install and launch EaseUS Partition Master. Select the HDD or SSD which you want to wipe. And right-click to choose "Wipe Data".
Step 2: Set the number of times to wipe data. You can set to 10 at most. Then Click "OK".
Step 3: Check the message. A message tells you that the computer would restart after disk erase is recommended. Then click "OK".
Step 4: Click "Apply" to apply the changes. Click "Execute the operation" and then click "Apply" to start wiping data.
By doing this step, your disk data cannot be restored by any means, and you will get back the total number of disk storage as new.
Looking for the storage cleaner software for Mac? You should download EaseUS CleanGenius for Mac instead.