Windows 10 will finally face the public on 29 July, 2015. Have you prepared yourselves for a totally different experience with the innovative OS? I believe if you manage the Windows 10 computer in a clean and logic way, you'll be amazed at its improved user's experience. In order to achieve the terrific experience, you need the best partition software Windows 10 to help.
What is the best free Windows 10 partition software like?
To make the most use of Windows 10 computer, you need take the most care of hard drive partitions where your data is kept. There are plenty of disk and partition software in the market, so what's the standard to judge which one is the best?
Here are some criteria we made after browsing thousands of users' comments on a number of partition software.
Since most computers users are not experts that they have little technical background or knowledge, managing Windows 10 partitions has to be handy, easy and intuitive. The best Windows 10 partition software, in this case, should be designed with organized user interface, step-by-step guidance and clear display of features so that users won't feel confused about where to start or get interrupted during the partitioning process.
Most of the time, users won't easily try something that they are not familiar with. They fear the potential danger brought by the program. So the best Windows 10 partition software ought to take data security as the first priority, it should not be infected by viruses and keep reminding users constantly what should not perform to avoid data loss.
Partitioning hard drive is not only about reallocating disk space, such as extend/shrink/move/delete/merge partition, it can do more. The best Windows 10 partition software will allow users to hide or wipe partitions to protect privacy. Moreover, it should offer a boot manager that helps operate and manage Windows 10 operating system.
Best free partition software Windows 10 - EaseUS Partition Master
Concluding from the listed factors above, it's easy to draw a conclusion. The best partition software for Windows 10 shall go directly to EaseUS Partition Master Free. Apart from these mentioned advantages, it is also free of charge, which helps it win the campaign largely.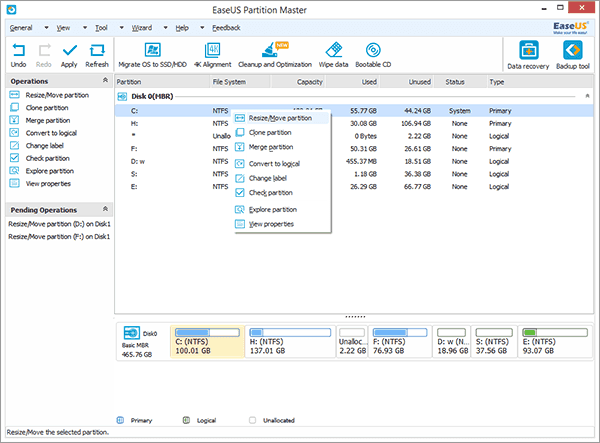 EaseUS software has recently released the latest version EaseUS Partition Master 10.5. This new version program copes perfectly with Windows 10 operating system. You can go to EaseUS Partition Master User Guide to learn how to use it to do Windows 10 partition.