Windows 10 Backup Not Enough Space
Have you ever met the problem that backup failed because of low disk space? As you know, a one-time backup will not take too much space. What if you have to backup terabytes of data every month or even every day! You certainly will
be faced with this low disk space issue.
Once you meet such a problem, you may search it online to look for the solutions. Among the searched results, you will find that the tried and true solutions in this post. Now follow those solutions below to solve the "backup failed because of low disk" issue.
How to Fix "Windows Backup Failed Not Enough Disk Space" Issue
In order to solve this issue well, we have two ways to solve your problem: extend the storage partition and clean up junk files to get more space.
Quick access to the two solutions:
Solution One. Extend the Storage Partition
If the destination like your D drive or F drive doesn't have enough space, you can extend this partition to fix the low disk issue for backup in Windows 10. In order to solve this issue well, it is suggested to extend the storage partition with a third-party software.
Here is a recommendation - EaseUS free partition software. It can easily extend partition by its "Resize/Move partition" feature.
Step 1. Download and launch EaseUS free partition tool. Right-click the D: drive or F: drive and choose "Resize/Move partition" to carve up free space for the storage partition(E: drive).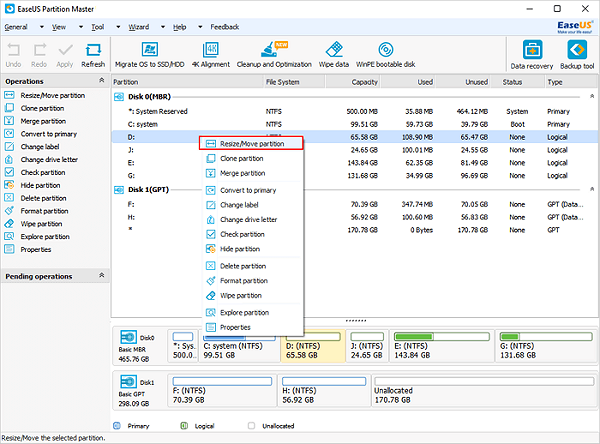 Step 2. Position the mouse pointer on the partition that you need resize and drag the handle to adjust its exact size.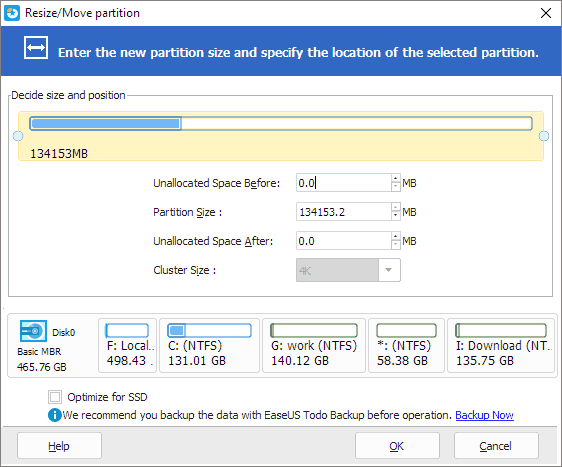 Tips: Sometimes the unallocated space is on the left of the partition you want to extend, just drag the left partition handle leftwards to the size you want.
Step 3. Click "Apply". You can successfully expand partition and get a bigger partition.
Solution Two. Clear the Junk Files
Two many junk files will also take up much space and cause the backup failure. Of course, you can simply use a cleanup software to finish this work. If you need professional help, you can also turn to this page: Clean Up Junk Files in Windows 10.
If you still have the backup failure, you'd better change your backup tool and set the backup mode as an incremental backup instead of a full backup.