In general, you need to resize dynamic volume when:
You find your data volume is running low disk space, you want to increase more free space for it.
You want to stripe a volume to span multiple hard drives because striping volume can improve the read/write speed of data for all files and data are read from and written to simultaneously multiple hard disks.
You want to resize a striped volume, mirrored volume or RAID-5 volume on your dynamic disk while Windows disk manager cannot resize them except for simple volume and mirrored volume.
To deal with all the tasks mentioned above, sometimes you are also required to remove GPT dynamic disk so that you can resize it. Partition manager software - EaseUS Partition Master can resize (shrink and extend) and remove 5 type GPT dynamic volumes: simple volume, mirrored volume, striped volume, spanned volume and RAID-5 volume.
To extend and resize GPT dynamic volume, follow these steps:
1. Launch EaseUS Partition Master and right-click on the volume that you want to move and select Resize/Move volume;
2. Drag the dynamic volume and move it rightward and leave the unallocated space to the left;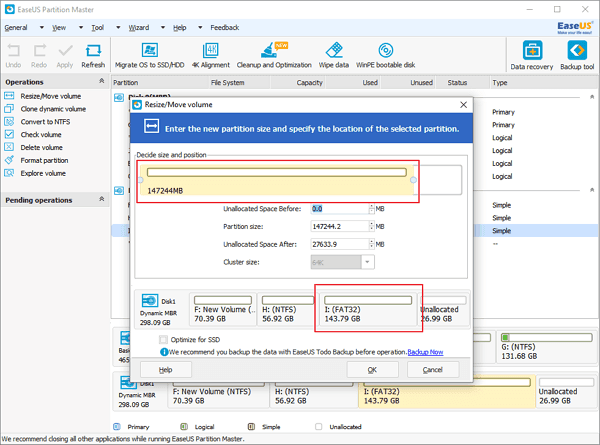 3. After this, you've successfully moved the location of dynamic volume. Click OK to finish the process >Applyto keep all changes.
If you want to move other volume location on dynamic disk, you can repeat the above steps.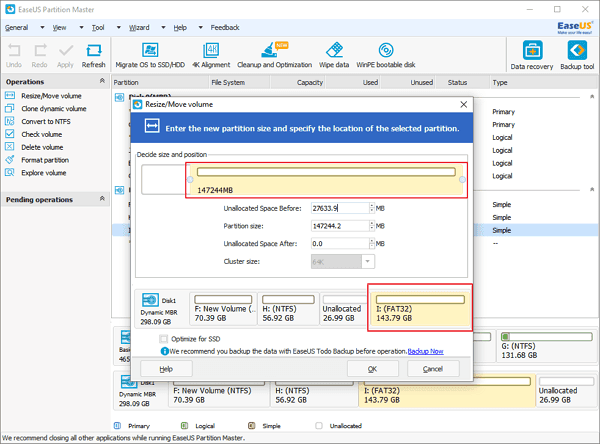 4. If you need to extend or shrink the partition on the GPT dynamic disk, right-click the volume and select Resize/move volume > Drag the right handle of the GPT dynamic volume rightward to extend the volume with unallocated space > Click OK and Apply to complete the process.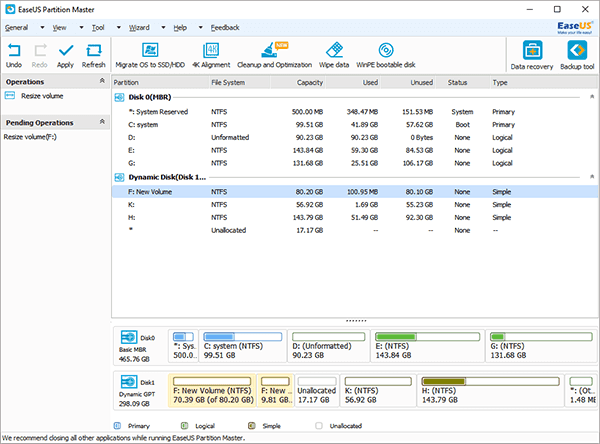 Tips: Resize GPT dynamic volume feature is not available in EaseUS Partition Master Free Edition.