How can I recover photos lost during data transfer? I have taken many beautiful pictures using my camera and last night I tried to transfer them to my computer, but somehow these photos "disappeared". I really wondered how it could happen and wanted to know the easiest way to recover camera data on computer.
For many users have encountered the similar problem, today we will talk about this topic and try to find a complete solutions to help you recover your cut photograph from your camera easily.
When losing photos on the camera after data transfer, please search it immediately in both the camera and the computer first. If you previously chose to 'Cut' the photo but failed to 'Paste' it on the computer, you may try pasting it again (paste in a place where there is enough space). If the photos can be pasted again, congratulations, your picture are back. Otherwise, you need use a data recovery software to retrieve the lost camera photos.
Steps to Recover Photos Lost During Data Transfer on Mac
A professional Mac data recovery software from EaseUS Software, EaseUS Data Recovery Wizard for Mac is greatly helpful for you to retrieve your lost camera data on computer. The software is available for both Mac and Windows users. With it, you can easily handle multiple data loss accidents. Next, we will teach you how to use it get back your lost pictures from digital camera within simple clicks.
Step 1. Scan the camera to find lost pictures
Launch EaseUS Data Recovery Wizard for Mac. Then select the file types you want to find and next choose the camera(you should connect it to your computer) where you lost your data. Then click "Scan" to only browse the selected partition to find the lost photos.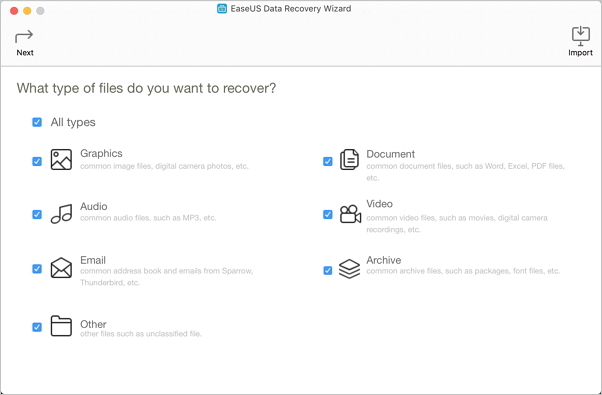 Step 2. Preview and recover lost photos from camera
After scan, all the lost files will be found and displayed on the left side. You can choose to list them according to path, types or create time, then it is easier for you to find and preview the recoverable pictures you want to retrieve. Finally, mark those files and click "Recover" to selectively get them back.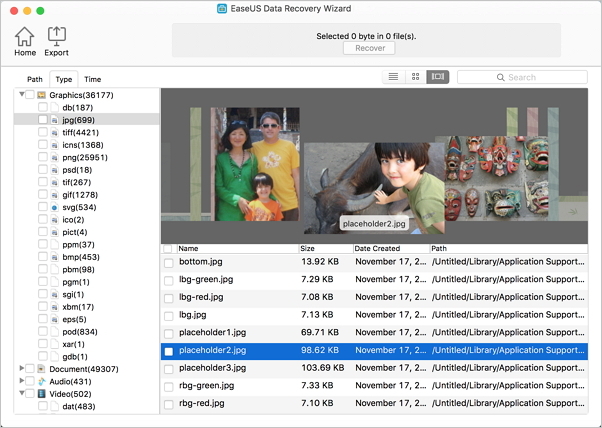 See? Only using 2 simple steps, you can recover lost photos using Mac photo recovery software. There is no other easier way. So just follow the above guide step by step, then you will surprisedly find that you recover photos lost during data transfer successfully within several minutes.