Unmountable Mac Volumes Trouble under Mac OS X
To recover unmountable Mac volumes under Mac OS X sounds complex and troublesome to me. Have you ever been troubled by unmoutable Mac volumes on your Mac computer? Take me myself for instance, I started my Mac Mini this morning and it suddenly stoped running, telling me an unmountable error happened to my Mac volume. I can't get access to this volume and I got quite a lot important data and files in there.
How can I recover unmountable Mac volume under Mac OS X? I do need a solution to do Mac data recovery and get my data back.
Overview of Mac Volume Unmountable Trouble
Usually Mac volume unmountable trouble may occur while booting up Mac computer. During the booting process, Mac OS X will mount local file system adn read data on Mac volumes. Then when Mac OS X could not get access to the volume or file system, then an unmountable trouble occurs.
It may also caused by virus/malware infection, files system corruption, OS malfunction and all data stored on Mac volumes will be inaccessible due to Mac volume unmountable trouble. Fortunately, now these troubles could be directly settled by using a professional Mac data recovery software - EaseUS Data Recovery Wizard for Mac.
Note: Once you lose important data on your Mac volume, stop using it and storing new data into it again. Or the chances for finding lost data back will be minimized extremely.
How to Recover Unmountable Mac Volumes under Mac OS X?
EaseUS Data Recovery Wizard for Mac provides users three simple steps to recover unmountable Mac volume under Mac OS X. It is capable to settle troublesome data lost cases like how to recover Mac hard drive. It's 100% clean and secure for helping users to solve all Mac data problems with full solutions for Mac hard drive recovery.
Steps to Recover Unmountable Mac Volumes:
Step 1: Download and launch EaseUS Data Recovery Wizard for Mac on your Mac.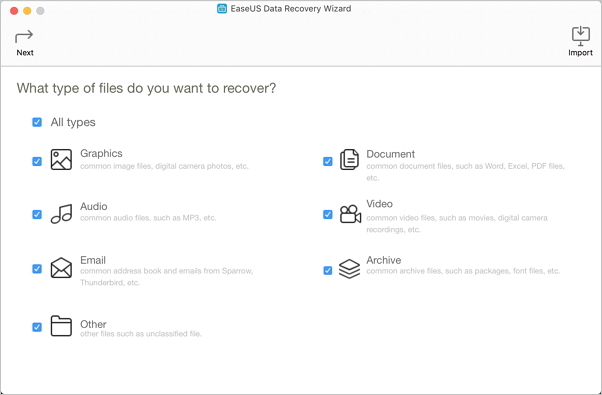 Step 2: Select file types you want to recover and choose volume where your memory stick is.
The program will automatically scan the selected volume and search lost data for you. The whole process will not last long.
Step 3: Found data will be displayed on the main window of this software.
Then you can choose wanted data and save them into a safe space by clicking "Recover".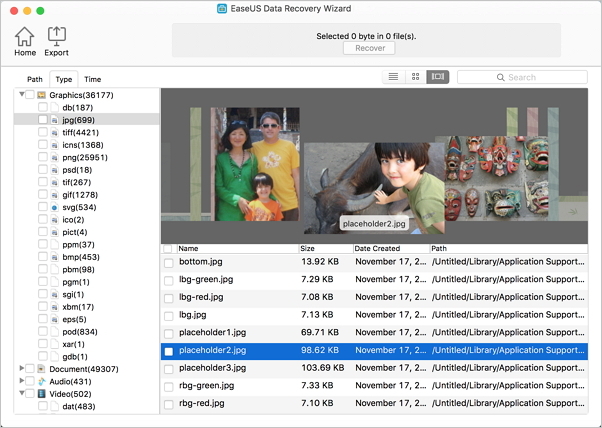 EaseUS Data Recovery Wizard for Mac provides great Mac users simplified operating steps and solves troublesome data cases for users with advanced technology. It will make data recovery simple and easy for users.