Learning how to recover deleted files or folders on Mac is greatly meaningful to protect your data. For at many times, it is quite easy and possible for you to lose some files or folder on the Mac. For example, you may delete the whole folder by mistake when you want to remove only a single file, which is not desired in most of the cases. That's when you need to perform data recovery on your Mac.
Method 1. Recover Deleted Files/Folders on Mac from Trash
The simplest case could be that you deleted the items using "Delete", "Command + Delete", or just by dragging them to the Trash Bin, in which you can recover your deleted files or folder using one of the three options below:
Open "Trash" > drag the items out
Go to "Trash" > select the items > click "File" > choose "Put Back"
Open "Trash" > choose the items > tap "Edit" > choose "Copy [filename]" > paste the items to elsewhere
It's really quick and easy to recover deleted folders in this way, but it's not always the case. Many users find their need is to recover data after emptying the Trash Bin. If you get your data lost by emptying the Trash or using "Comand + Shift + Delete", you can only recover your deleted files using a professional data recovery tool or from Time Machine backup on condition that you have enabled the option before the data loss.
Method 2. Retrieve Deleted Files/Folders on Mac with Data Recovery Tool
To find a reliable data recovery tool for Mac, you need to learn several tips. At first, the software should be 100% secure. Second, the software should be efficient enough to fully find and recover your deleted folders on Mac. Third, the software should be easy to operate. Then you can use it do Mac deleted folder recovery by yourself. The Mac data recovery tool - EaseUS Data Recovery Wizard meets all the requirements perfectly. The effectiveness of using has been proven by many of its users. With this tool, you can choose to recover your deleted folders from your Time Machine or directly from your Mac when there is no backup available.
Steps to recover deleted files/folders on Mac
Step 1. Select the location where your important data & files were deleted and click the "Scan" button.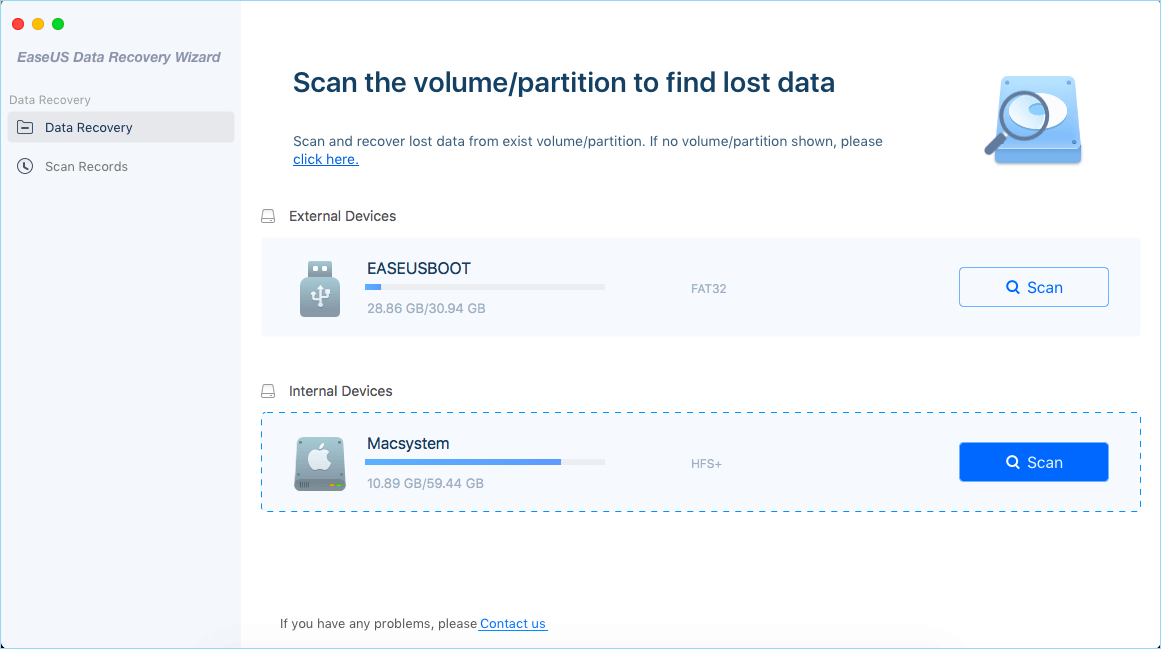 Step 2. The software will run both quick scan and deep scan and work hard to find as many deleted files as possible on the selected volume.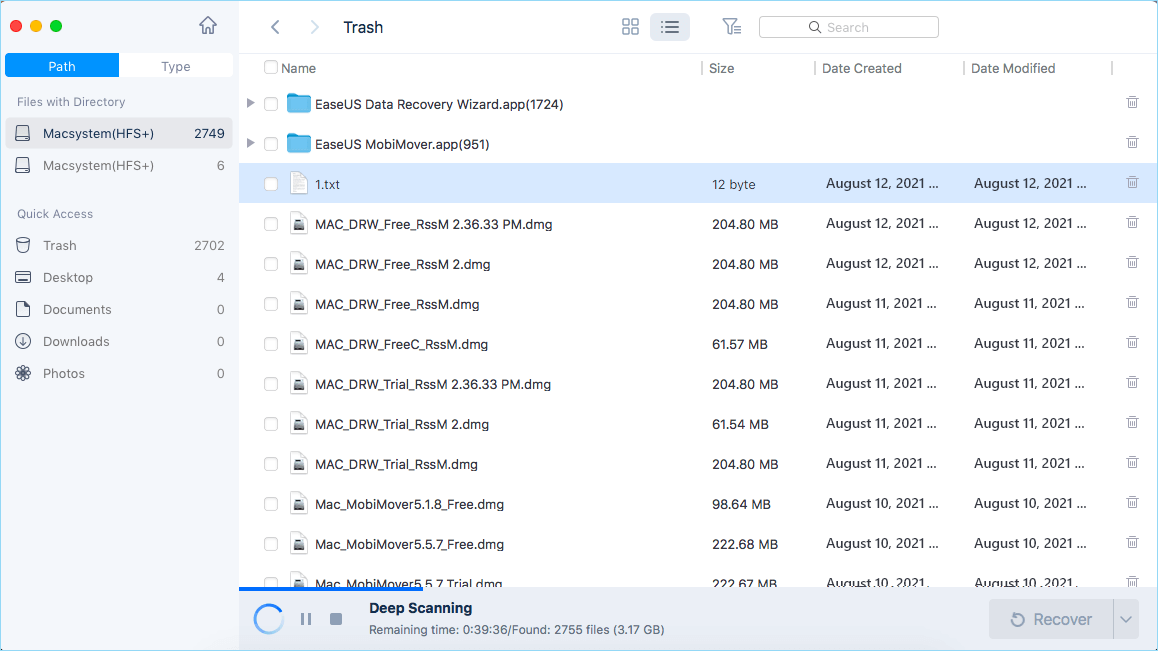 Step 3. The scan results will be displayed in the left pane. Just select the file(s) and click the "Recover Now" button to get them back.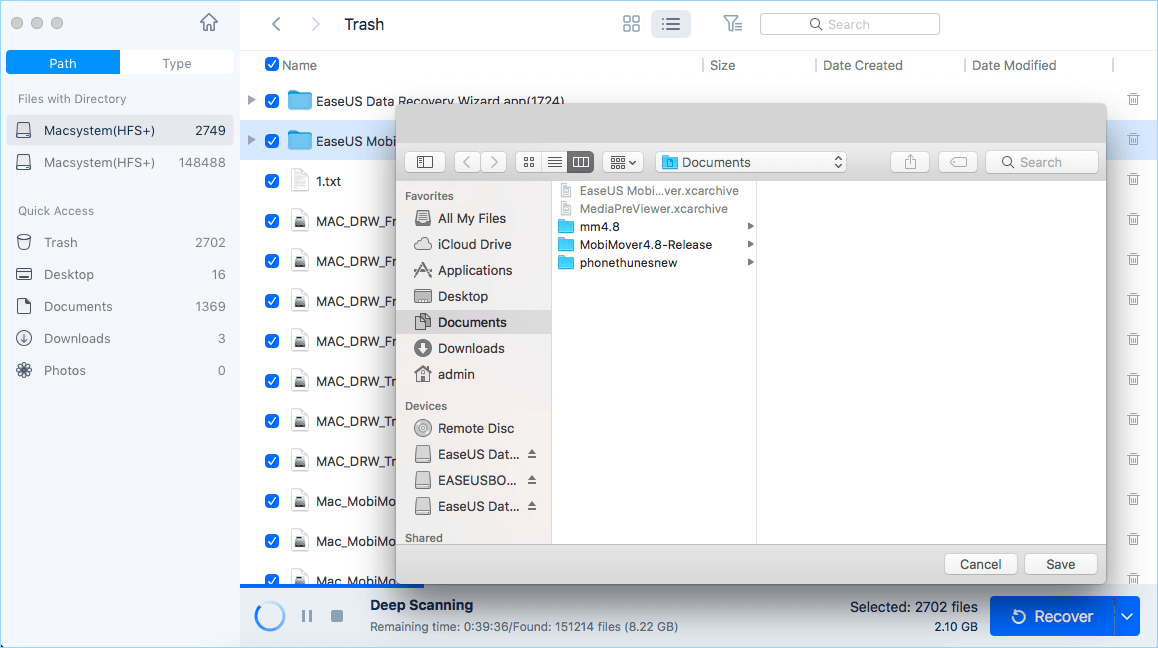 It's no doubt that EaseUS Data Recovery Wizard can help you get back your files in such simple data loss situation. EaseUS don't overstate the "Wizard" part of the product name. Being versatile and powerful, EaseUS data recovery software enables you to:
Retrieve over 200+ file types from various Macs and conventional storage devices
Create a bootable USB drive that will be of great help to restore data when your Mac won't boot
Monitor your disk status and recovery data in a fast-ever speed with the data protection feature
...
To prevent complete data loss, you can either grow a habit of backing up your files on Mac or learn how to perform data recovery on your computer. Equip your computer with such an accomplished tool is always a good choice for you.
Method 3. Restore Deleted Files/Folders on Mac from Time Machine
If you have turned on Time Machine and back up your Mac to an external hard drive regularly, you can recover your deleted folders on your Mac in this way:
Step 1. Connect your backup disk to your Mac.
Step 2. Open "Finder" and choose "Enter Time Machine"
Step 3. Find the item you want to recover and press "Space" bar to preview and see whether it's the one you want.
Step 4. Click Restore to restore the selected file.