When a file is deleted from your computer, its contents aren't immediately destroyed. Computer simply marks the hard drive space as being available for use by changing one character in the file table. If you manage to start an undelete process before that part of hard disk being overwritten with new files. You can set that flag back to "on" and get your file. First of all, do not save any new information. This could prevent any kind of recovery from happening at all.
EaseUS Data Recovery Wizard for Mac is highly capable of doing the file recovery on the Mac based computers as it is intended to do so. To use this software you need Mac OS X. It is award winning software therefore don't doubt on the performance of this software and go for it to smart recovery. The Features of EaseUS Data Recovery Wizard for Mac are:
Recover photos, videos, music and other multimedia files from both Mac hard drive and other portable storage devices (Support HFS+/FAT/ NTFS/NTFS5 file system)
Recover recent deleted files with original name and path, supporting HFS, HFS+ and FAT file system
Use RAW searching technology that scans your files sector by sector to make sure that all the possible files can be retrieved. It is highly recommended that you try this when other recovery module doesn't work (RAW Recovery)
It uses a few different methods to search for deleted, lost data on your drive. If the file's listing in the main directory and the journal has been deleted, you can use signature search to find your deleted file. Each individual file has a specific signature that this search option scans to find. In some cases, it may only find parts of the file, but you can also use its Intelligent Scan, which searches for other file attributes, in addition to file signature, to locate your lost data.
Quick Recovery tutorial
1. Launch EaseUS Data Recovery Wizard. It displays the file types that you can recover.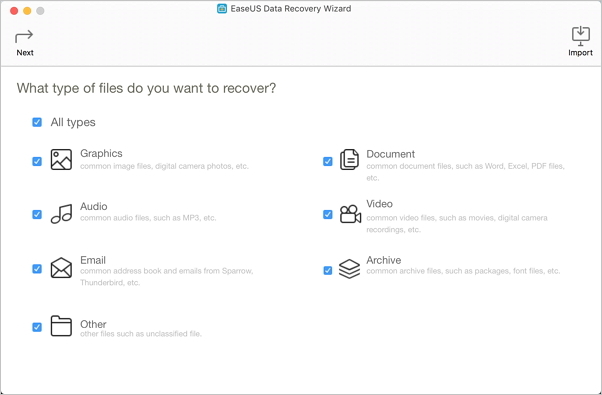 2. Choose the location where data loss happens.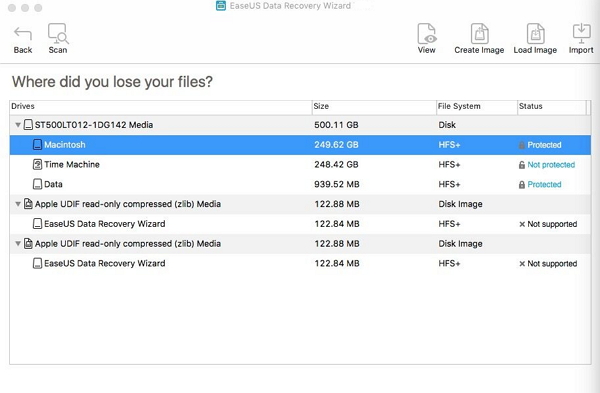 3. Let our program to scan for lost files. If the the normal scan can not find the lost files, you can try "Deep scan"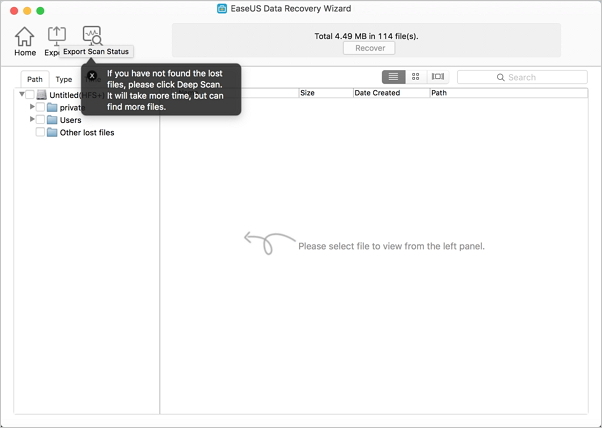 4. You can press the space key or double-click the picture and then come up with a separate previewer, which size is flexible adjusted to the original size of the picture.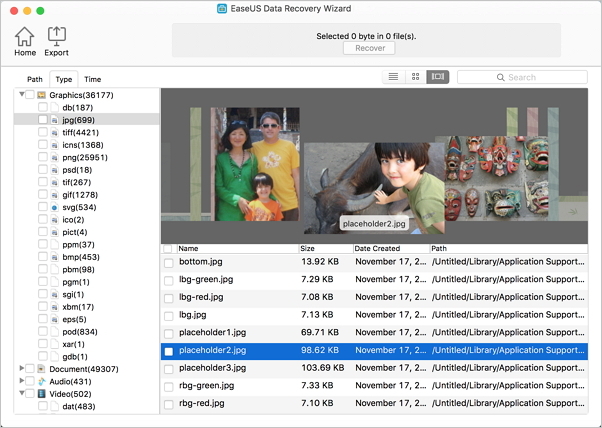 Try EaseUS Data Recovery Wizard for Mac to recover all deleted types of files.