Nokia Lumia 1020 photos lost trouble on Mac
My brother called me last night, asking me how to restore lost photos from Nokia Lumia 1020 on Mac. He recently bought a Nokia Lumia 1020 which meets my brother's need for taking highly qualified photos. He inserted a 64G sd card in his new phone as as to expand the storage capacity of this phone and save the phone space. Last December he took quite a lot beautiful photos on Christmas day.
Then last night he planned to transfer those photos into his iMac but he happened format his sd card in Nokia Lumia 1020 on his computer. When he realized that it was too late and he found quite a lot photos were gone. That's why he called me and he need an effective way for Mac deleted recovery. But the problem is that that I also have no clear idea of helping him. Thus, if you have great solutions, please help us. Thank you.
Overview
Nokia Lumia 1020 is highly praise when it firstly come to the market and get a warm welcome for those who are strict with taken photos. And the camera of this smartphone is able to capture extremely high-resolution images with fine detail, and puts creative control at users' fingerprints.
All these excellent quality make Nokia Lumia 1020 an ideal choice for ordinary users. And it becomes a new hot start for those Nokia samrtphone users. But sometimes trouble may happen unavoidably like the above trouble. Then is there any possibility for ordinary users to solve the problem and get lost photos back easily? Now this problem could be done easily by using EaseUS Data Recovery Wizard for Mac - a professional Mac data recovery software for dealing with complex data lost troubles.
How to restore lost photos form Nokia Lumia 1020 sd card on Mac?
EaseUS Mac data recovery is a wonderful software which indicates to solve troublesome data lost cases with professional solutions. All ordinary users can perform this software to solve all the data lost issues on their own including how to restore lost photos from Nokia Lumia 1020 sd card on Mac.
1. Launch EaseUS Data Recovery Wizard for Mac on Mac computer and connect Nokia Lumia 1020 sd card with the computer. Select file types.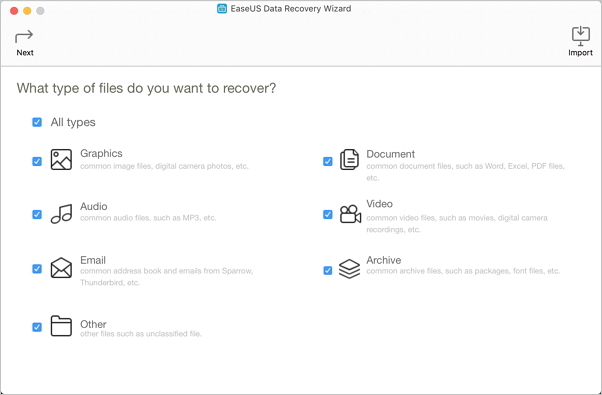 2. Choose volume where the photos were. And click "Scan" to continue the process.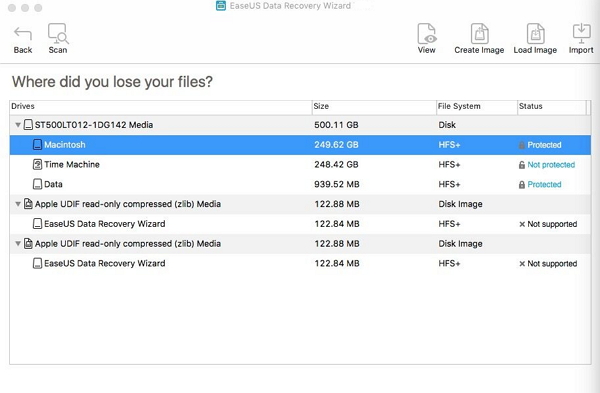 3. The found photos will be displayed and you can get a preview of them. Then select wanted movies and click "Recover" to save on Mac.