
Table of Contents

About the Author

Reviews and Awards

Best Data Recovery Software
Workable Solutions
Step-by-step Troubleshooting
How to Update macOS

1. Update macOS with Software Update...Full steps
2. Update macOS Using App Store...Full steps
3. Update old Mac to OS X 10.11 First...Full steps
Usually, in June and September every year, Apple will launch a new operating system, the latest operating system in 2021 is macOS 12.0, also known as macOS Monterey. Some users may be curious, what does the system update do? My computer is working fine, what will happen if I don't update it?
What Comes with macOS Update?
Mac system updates usually include performance optimizations, bug fixes, and the addition of new features. Sometimes macOS updates are accompanied by the release of new technologies, for example, Apple's APFS (Apple File System) file system was released with macOS 10.12. APFS has made a lot of targeted technological innovations for SSDs, changing the traditional concepts of "replication" and "backup". Starting from macOS 10.12 and iOS 10.3, after updating the system, users will find that the available storage space of the device has increased, which is due to the application of the APFS file system.

File System Format Comparison: ExFAT vs Mac OS Extended
Every external storage device has a file system format. On macOS, the compatible formats include FAT, ExFAT, APFS, and Mac OS Extended. For some users, it's difficult to choose between ExFAT and Mac OS Extended because they don't know about their pros and cons.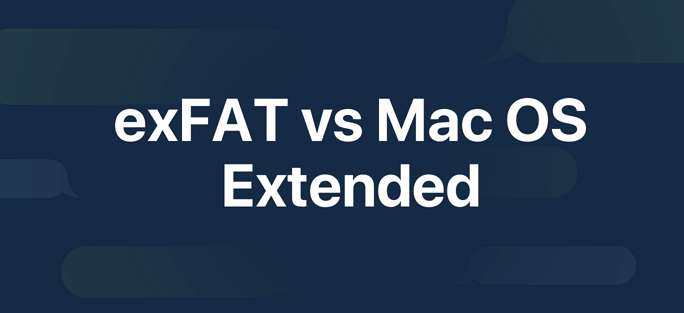 What Happens if I Don't Update macOS?
Some users may ask, what will happen if I don't update the macOS. Well, here's the answer. Macs on the market generally come pre-installed with the latest macOS for that model, and you can use it right after you get it. Under normal circumstances, it is recommended for the computer purchased within three years to keep updated. If your Mac is older than three years, then don't push it to follow the OS trend. Because updates can actually slow down your computer due to hardware device limitations.
How to Update macOS?
Now I believe you have a preliminary understanding of the macOS update. If you want to update your macOS, this part is what you need. In this section, we will detail how to update macOS.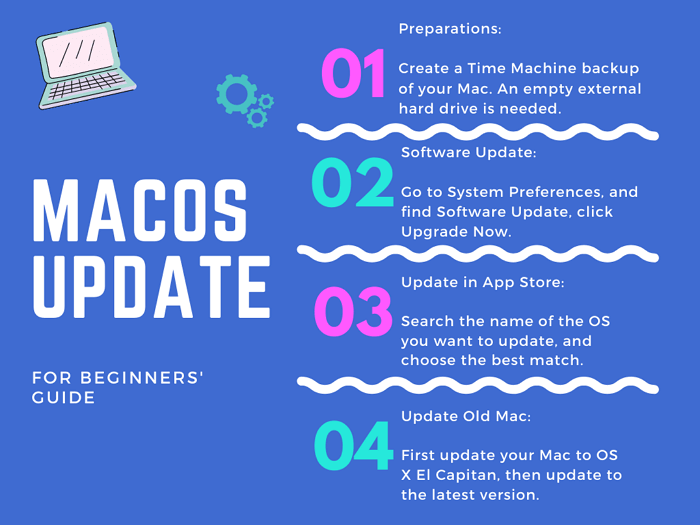 Preparation for macOS Update:
Before starting the update, it is highly recommended you create a backup with Time Machine. You need to prepare an empty external hard drive as the backup drive. And if you don't know how to use Time Machine, you can follow this guide:
Method 1. Update macOS with Software Update
Step 1. Click the Apple menu on the toolbar, go to System Preferences > Software Update. If you can't see the Software Update option, turn to Method 2 to update the OS.
Step 2. In Software Update, you could see if there's an available new OS version. Click the "Upgrade Now" button.
Step 3. Your Mac will step into the upgrading process. You might see a few minutes of a black screen and a white Apple logo with a progress bar. Wait with patience until your Mac is restarted, and that means the update process is finished.
Guideline: How to Fix Mac Black Screen of Death
Method 2. Update macOS Using App Store
For users who haven't updated their Mac system for a long time, App Store is a choice to download and update to the latest macOS. Also, if you can't find Software Update in System Preferences, you can try this method.
Step 1. Open App Store and search the OS name to which you want to update. For example, search macOS Monterey. 
Step 2. Click the best match search result, enter your Apple ID and the password, and the update process will start. Or you can download macOS Monterey from this link: macOS Monterey.
Notice: This method works for the following Mac models, and your current macOS should be higher than OS X 10.9.
MacBook Air 2015-2021
MacBook Pro 2015-2021
MacBook 2015-2017 12-inch
Mac Pro 2013-2019
Mac mini 2014-2020
iMac 2015-2021
iMac Pro 2017
Method 3. Update to OS X 10.11 First
This method works for users whose Mac is lower than OS X 10.9, and want to update to the latest macOS. 
Step 1. Use this link to directly download OS X El Capitan 10.11: How to get old versions of macOS. 
Step 2. Update your Mac to OS X El Capitan.
Step 3. Then follow Method 2 to update to the latest macOS.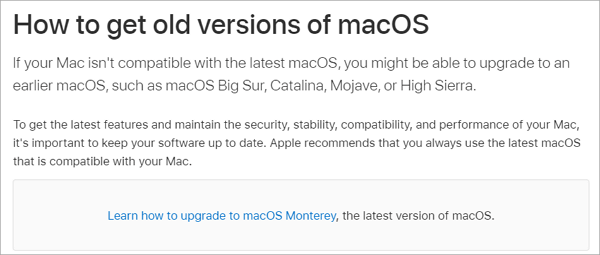 Wait! How to Fix macOS Update Data Loss
In rare situations, users could encounter data loss after finishing an OS upgrade. Here we got two solutions. First, if you have created a Time Machine backup ahead, you could restore the backup. Second, if you didn't back up your file, you can try third-party data recovery software to retrieve the lost data.
EaseUS Data Recovery Wizard for Mac
macOS Update FAQs
1. What is the latest macOS update version?
The latest macOS version is macOS Monterey 12.2.1.
2. Is my Mac too old to update?
It's hard to say whether a Mac is old or not for an update. If you want to update to the latest macOS version, your Mac might be too old. But if you only want an update, your Mac might have a chance. You could check the compatibility with this link: macOS Monterey is compatible with these computers.
Gemma is member of EaseUS team and has been committed to creating valuable content in fields about file recovery, partition management, and data backup etc for many years. She loves to help users solve various types of computer related issues.
EaseUS Data Recovery Wizard is a powerful system recovery software, designed to enable you to recover files you've deleted accidentally, potentially lost to malware or an entire hard drive partition.

 Read More

EaseUS Data Recovery Wizard is the best we have seen. It's far from perfect, partly because today's advanced disk technology makes data-recovery more difficult than it was with the simpler technology of the past.

 Read More

EaseUS Data Recovery Wizard Pro has a reputation as one of the best data recovery software programs on the market. It comes with a selection of advanced features, including partition recovery, formatted drive restoration, and corrupted file repair.

 Read More