Summary
This is a tutorial of how to restore lost data on 2018 new MacBook Air or Mac mini. When you mistakenly deleted files to the Trash, you can restore files by directly dragging files from the Trash. If files such as Word, Excel, photos, videos, etc. lost due to other reasons, follow this page and see how to perform data recovery on your MacBook Air or Mac mini.
Finally, the 2018 new Apple MacBook Air and Mac mini are available on the market for fans taking them home. And most Mac fans replied that new features on MacBook Air and Mac mini indeed surprised them.
Here, you'll learn how to restore lost data on new MacBook Air or Mac mini in two parts:
Part 1. Preparation for Data Recovery on New MacBook Air/Mac mini

Part 2. Apple MacBook Air/Mac mini Data Recovery Tutorial
And if you are one of these Mac fans, having taken the MacBook Air or Mac mini home, please be aware of trying the new features. You can never foresee what's going to happen the next second. Data loss is one of the top issues that most Mac users have to face every day.
Mostly, when you remove a file or delete a document by mistake, you can restore it by directly dragging the file from the Trash on Mac computer. If nothing appears in the Trash, this tutorial for MacBook Air or Mac mini data recovery can help. Follow the two parts here and see how to restore your lost files from new Apple MacBook Air or Mac mini:
Part 1. Preparation for Data Recovery on New MacBook Air/Mac mini
Instead of heading to get the data recovery tool, it's necessary to do some preparation jobs in advance.
1. Check TRIM Status and Disable It
Due to the nature of TRIM, data recovery seems to be impossible when it's turned on SSD disk. It's highly necessary to check the TRIM Status and if it's on, disable it.
And if you don't know how to do so, refer to this tutorial which involves the content of how to check and disable TRIM feature on Mac or PC for a guide:
TRIM SSD Data Recovery
If the TRIM feature is not disabled, your lost files and data have been permanently removed and no chance for recovery again.
If the TRIM feature was disabled before you deleted or lost files, you could continue the process.
2. Download Mac Data Recovery Software for Help
Mostly, when you search Mac data recovery software online, overwhelmed ads and recommends will come to the first page. And you can spend time testing each tool if you have much leisure time.
To save your time and energy, here you can try a piece of secure Mac data recovery software, named as EaseUS Data Recovery Wizard for Mac, which fully supports data recovery (from macOS 10.14 to Mac OS X 10.6) on all Mac computers.
It is available for you to download for free now:
Part 2. Apple MacBook Air/Mac mini Data Recovery Tutorial
Now, it's your turn to restore lost data from MacBook Air or Mac mini. Here are two cases with their respective solutions: Case 1. Mac can boot; Case 2. Mac cannot boot.
Case 1. Securely Restore Lost Data on Healthy Apple MacBook Air/Mac mini
If your MacBook Air or Mac mini runs smoothly without problems, here is the solution for data recovery:
Step 1. Disable System Integrity Protection (SIP)
1. Click Restart on Mac and hold Command + R at the same time to boot Mac into Recovery Mode.
2. Click on Utilities and launch Terminal.
3.Type: csrutil disable and press Return and then restart the Mac.
Step 2. Restore lost data from MacBook Air/Mac mini
Now you can follow the next tips and restore lost data on your Mac computer.
 Tip

To avoid unnecessary data overwritten issue, we'd like to recommend you connect external storage to your computer and save the restored data.
1. Run EaseUS Mac data recovery software
Launch EaseUS Data Recovery Wizard for Mac Free and select the location of your USB drive. Click Next to continue.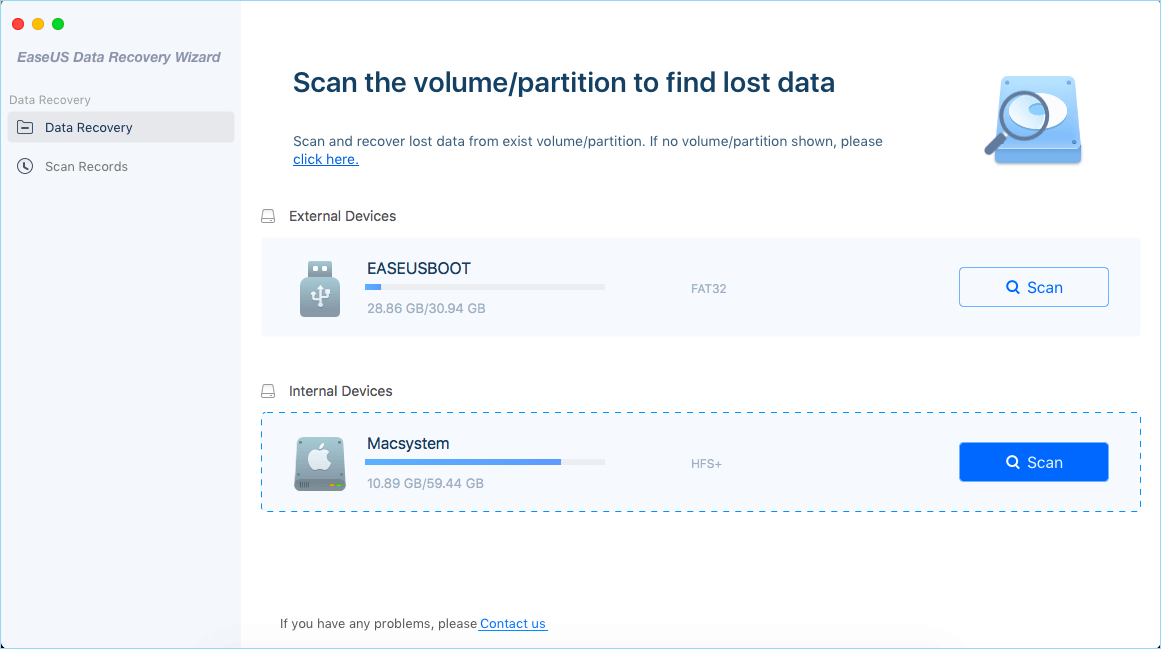 2. Select location and scan lost data
Let the program scan and find your USB files, including lost data with two scanning modes - Quick Scan/Deep Scan.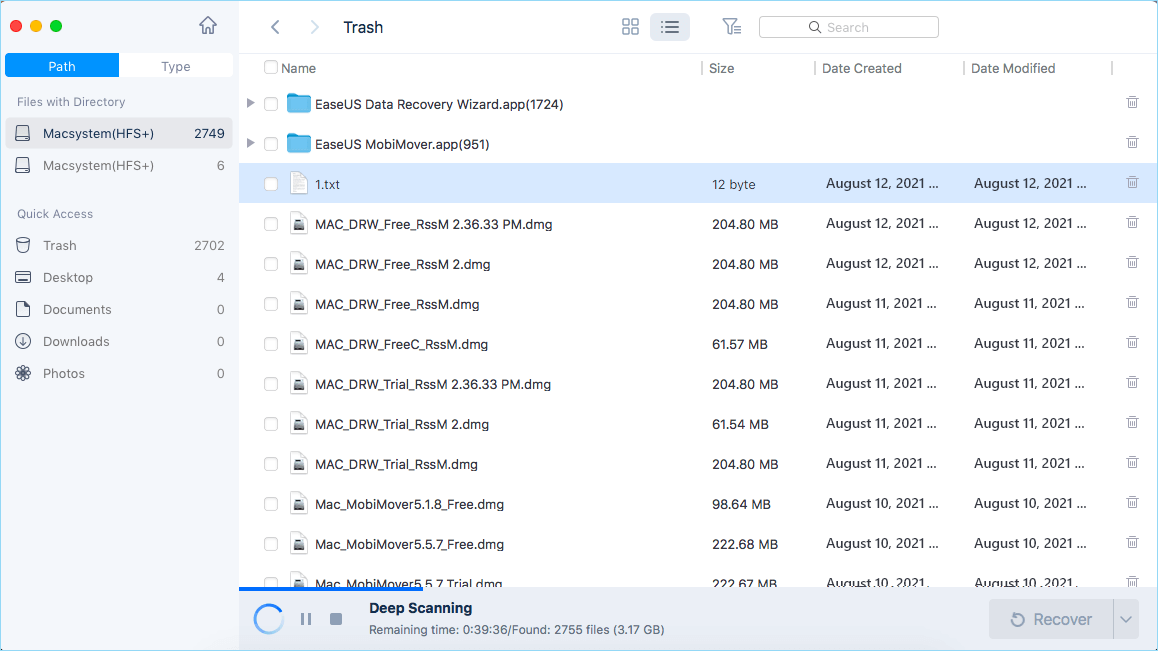 3. Preview and restore lost data
Preview and choose all found USB files, click "Recover" to extract and save in a safe device/location on Mac.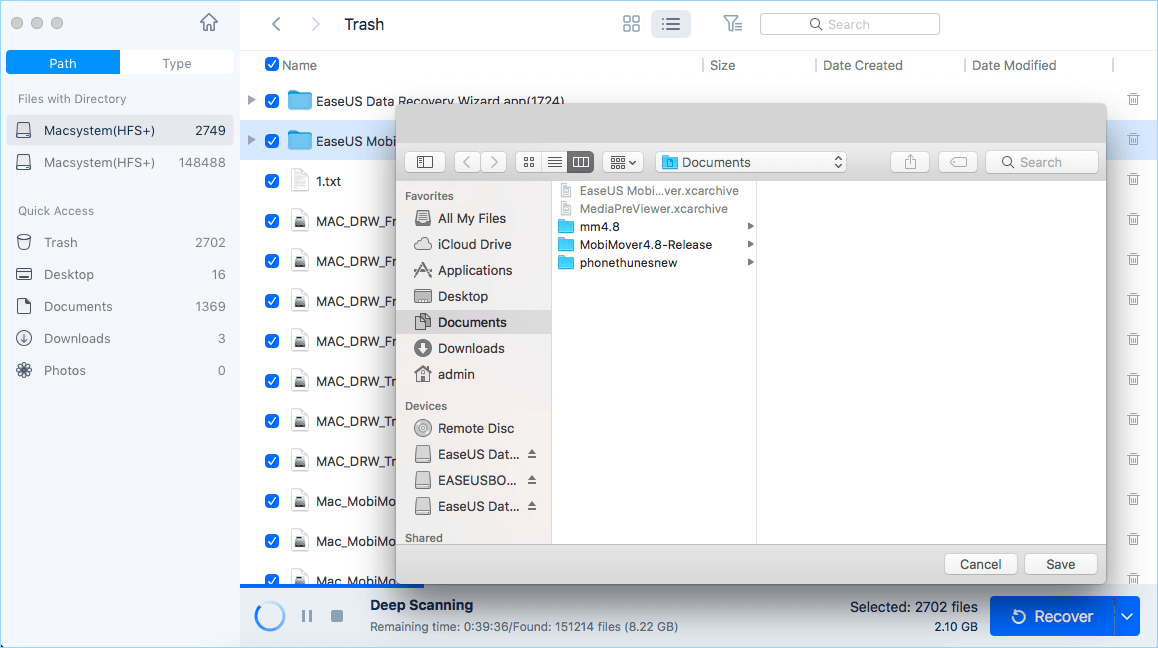 Case 2. Restore Data when MacBook Air/Mac mini Won't Boot
If the MacBook Air or Mac mini crashes, being not able to boot up properly, the best way to restore lost files is not to remove the SSD and connect to another computer.
Here we'd like to recommend you try a trick which doesn't need you to have tools to remove disconnect your SSD.
Step 1. Create A Bootable Disk for Mac Data Recovery
To do so, you'll need to use another healthy Mac computer for creating a bootable disk with EaseUS Data Recovery Wizard:
1. Install EaseUS Mac data recovery software
Install and run EaseUS Data Recovery Wizard Bootable Media for Mac on a healthy computer.
(This enables you to boot dead Mac computer and restore useful data with EaseUS Data Recovery Wizard. And it's not free of course.)
2. Create USB bootable disk
And chose available USB flash drive to create the bootable disk. (Make sure the available space on the USB drive is more than 2GB.)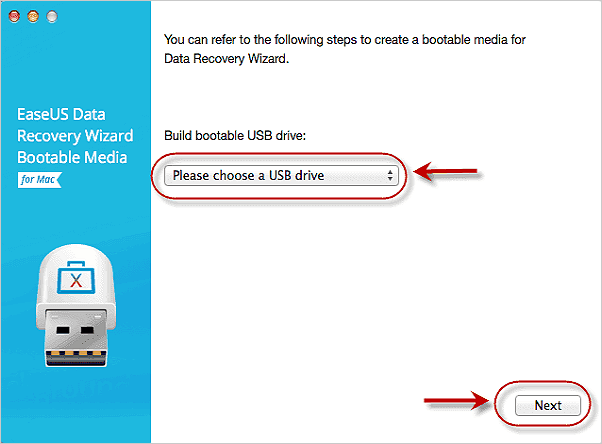 3. Complete
Once completed, follow the guidelines on the screen to restart the MacBook Air or Mac mini which won't boot from the bootable disk.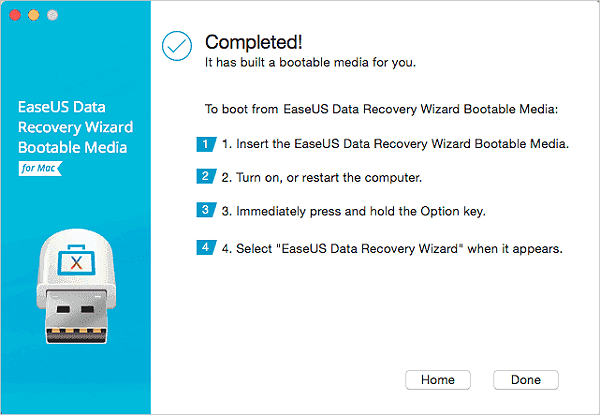 Step 2. Restore Data from MacBook Air/Mac min
Insert the bootable disk USB to MacBook Air or Mac mini, restart Mac and hold Option key along.
Select EaseUS Data Recovery Wizard and the whole computer will start up and enter EaseUS Data Recovery Wizard for Mac Interface.
Repeat the detail guidelines in Step 2 at Part 1.
Do remember to restore and save files to another external storage device in case of data overwritten.
100% of people found this article helpful.
Frequently Asked Questions
1. Why choose EaseUS Data Recovery Wizard?

"EaseUS Data Recovery Wizard is the best we've seen. It's far from perfect, partly because today's advanced disk technology makes data-recovery more difficult than it was with the simpler technology of the past, but it's fast and efficient..." —PCMag

"The first thing you'll notice about EaseUS Data Recovery Wizard Pro is that its interface is very clear and uncluttered, with only a small collection of self-explanatory controls. You won't find lots of extra options hidden in a system of hidden menus, either; what you see really is what you get." —techradar

"Recover lost files, even after deleting a partition or formatting your drive." —Macworld
2. Why cannot I recover 2GB data for free?

It is recommended to check the version installed is Free or Trial because they are different versions.

Trial has data preview function but cannot save any files, while the Free version enables to recover 2 GB files. The default free space is 500 MB and you may share the product on social media to get another 1.5 GB.
3. Why cannot the recovered files be opened?

A file is saved as 2 parts on the storage device: directory info (which is comprised by file name, time stamp and size info, etc.) and data content.

If the files with original file names and folder structures cannot be opened, one possible reason is the corrupted directory info. There is still a chance to recover the data content with the RAW Recovery method in our software.
4. Why isn't it suggested to recover the files back to the original drive?

The storage structure of the lost files would be altered or damaged by any changes on the drive. If you save the recovered files back to the same drive, the original data structures and data content would be corrupted or overwritten, which causes permanent data loss. So you should prepare another disk to save the files.
5. How can I check whether my data is recoverable or not before purchase?

The Free version helps you save 2GB files, so verify the recovery quality of our product before purchase.
6. How long does it take to scan the drive?

It strongly depends on the capacity of your hard drive and the performance of your computer. As reference,most drive recoveries can be completed in around 10 to 12 hours for a 1-TB healthy hard drive in general conditions.
About Data Recovery Wizard
It's super easy to recover 250+ types of files after deletion, disk formatting and virus infection. Click the links and compare the difference of each version.