Though Mac devices has very low risk of getting virus attack or malware/ransomeware hack so that quite a lot users choose Mac devices as a major tool for dealing with their daily jobs and confidential data. However, Mac computers are not immune to all virus, malware or ransomeware. Like the Windows users, Mac users may also face data loss trouble when their computers get attacked or hacked by unknown virus, malware or ransomeware. Here below, we'll recommend you effective methods about how to thoroughly remove all virus, malware or ramsomeware from your Mac computers and restore all lost Mac files and data back.
Step 1. Remove Mac malware/virus/ransomeware for free
1. Quite or force-quite Safari or other web browser when you get warnings about malicious software, virus or problems detected;
2. Go to Downloads and drag any install files or files that you don't recognize into the Trash;
3. Empty the Trash: Control-Click the Trash icon and choose Empty Trash).
Step 2. Backup important personal files into external storage device
In order to avoid further data loss trouble, it's highly recommended for you to create backups of important personal files or data on Mac after the first round of removing Mac malware/virus/ransomeware.
You can use the Time Machine to create a backups for your Mac data into an external hard drive or disk.
Step 3. Thoroughly remove or clean up virus, malware or ransomeware on Mac
Now you can use some virus cleaning software to thoroughly scan your Mac device and wipe out all hidden virus, malware or ransomeware. Or you may also follow below steps to manually remove or clean up virus, malwaer or ransomeware your Mac:
1. Check the name of app, move or close the app window that you don't know;
2. Open the Utilities folder (Command - Shift-U) and open Activity Monitor > Choose All Processes;
3. Go to the Utilities folder in the Applications folder and launch Activity Monitor;
4. Look for app such as MacDefender, MacSecurity or MacProtector;
5. Click Quite Process button and select Quit > Quit Activity Monitor;
6. Open the Application folder and locate the app (called MacDefender, MacSecurity, MacProtector etc.);
7. Drag these apps to the Trash and Empty the Trash.
Step 4. Restore lost data after Mac virus/malware or ransomeware attack
Sometimes, virus cleaning tool or software may delete important data on Mac. And you don't need to worry about data loss trouble after being attack be virus on Mac. Professional Mac data recovery software from EaseUS software may work for you to retrieve lost files due to virus attack.
You can free download EaseUS Data Recovery Wizard for Mac and install on your Mac computers to start retrieving lost files or data after Mac virus/malware or ransomeware attack now.
1. Launch EaseUS Data Recovery Wizard for Mac and select file types. Click Next.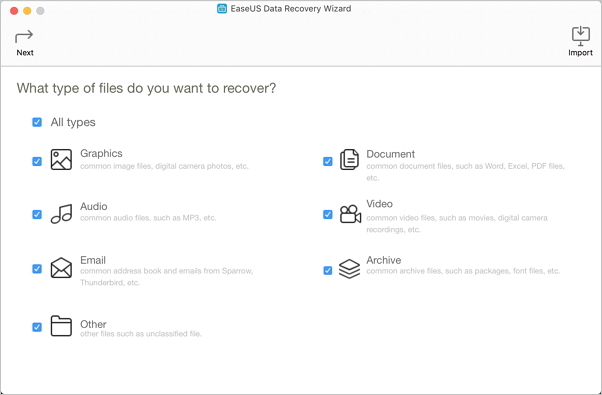 2. Choose volume where the encrypted hard drive, click "Scan" to let the program scan encrypted data for you. Choose Deep Scan and let the program to find more lost data for you on Mac.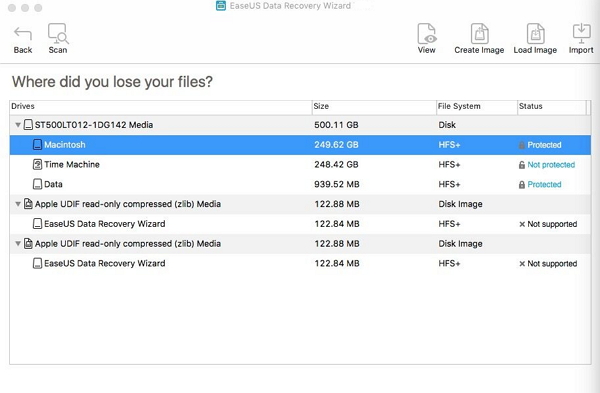 3. Preview and choose found hard drive data, click "Recover" to save in a safe spot on Mac.
4. If some restored files are encrypted with a strange format, don't worry. You can find relative decryption tool to decrypt them and reuse them on your Mac again.