Many users have an unpleasure experience of Time Machine stuck in preparing backup in macOS Sierra, el capitan, Yosemite or some other Mac versions. At the first beginning of the issue, many users will not recognize there is something wrong with Time Machine backup, they just wait and think how long should preparing backup take. Next, we will talk about how to judge if Time Machine stuck in preparing backup process or not and how to fix the issue to get Time Machine working in Mac OS X again.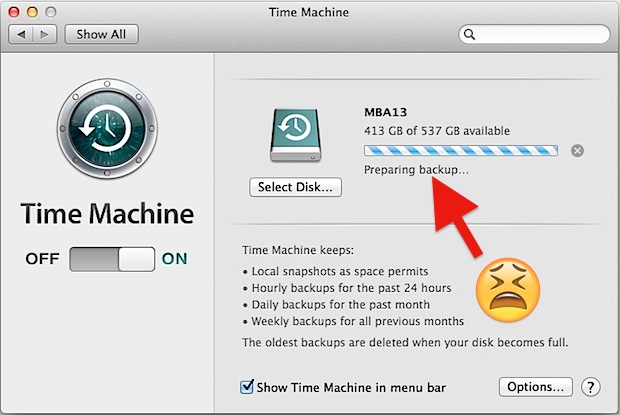 Note: If you get your data lost on Mac computer with Time Machine backup restore failed or without backup, you can try EaseUS Mac data recovery software to retrieve them back with 3 simple steps. It allows you to free scan and preview all the recoverable files and then purchase a license code for a real data recovery.
How long should Time Machine preparing backup take?
How long Time Machine preparing backup take usually depends on your backup frequency and the amount of disk space. Generally, the preparing backup process is very quick. But, some special situations will force Time Machine need take a long time preparing for a backup to begin.
1.You have a really large hard drive to backup.
2.It is the very first Time Machine backup or you haven't backed up a Mac in a while, say a few months.
3.You've made major changes or added a number of new files to your drive.
Is Time Machine stuck in preparing backup process?
In all the cases mentioned above, Time Machine backup preparation phase does indeed take a long time. But if the Preparing Backup stage takes 12-24 hours, getting stuck in that stage overnight or all day long with no reason, it's not normal. At most times, it suggests that Time Machine have been stuck at preparing backup.
If you are one of the victims, this guide should help you fix the problem and get Time Machine working on Mac OS X again. Or you can also try EaseUS Mac backup software, an alternative software to backup Mac without Time Machine.
How to fix Time Machine stuck in preparing backup in macOS Sierra, el Capitan, Yosemite...
Step 1. Stop the currently failing Time Machine backup attempt
1. Open the "Time Machine" settings panel within System Preferences (get there from the Apple menu or Time Machine menu).
2. Click the little (x) icon until the backup attempt stops.

When the progress bar disappears and it no longer says "preparing backup", it means that you have successfully stopped the currently failed Time Machine backup attempt. Then, you can move to the next step to troubleshooting Time Machine stuck in preparing backup issue.
Step 2. Remove the .inProgress file
When Time Machine backup is stopped and stuck, the first thing to do is trash the Time Machine placeholder file, at most times the .inProgress file found on the backup drive.
1. Open the Time Machine drive in the Finder and navigate to the "Backups.backup" folder.
2. Open the folder within Backups.backup that is the name of the current Mac which is stuck on preparing.
3. Put this directory into "List View" and sort by 'Date Modified', or just search the folder for a file with a ".inProgress" file extension.
4. Delete the "xxxx-xx-xx-xxxxxx.inProgress" file.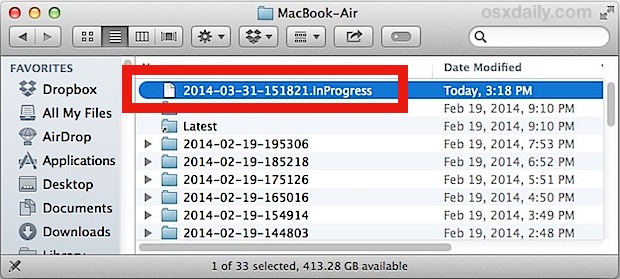 Step 3. Reboot Mac computer and initiate a backup again
Once the .inProgress file is removed, you can reboot your Mac computer with the Time Machine drive connected and turn Time Machine back on to initiate a backup as usual again. You'll find that Time Machine works well and is not stuck in preparing backup process anymore.