Is your Mac OS X Lion slower and slower? How to speed up Mac OS X Lion? This problem could be solved or considerably lessened with the following simple ways:
1. Clean out Startup Items
Some applications automatically (or when asked) set themselves as a "startup item", which causes them to open at every restart or login. You can find out what is in your startup items list by navigating to Apple Menu > System Preferences > Accounts > Login Items. You may be surprised at how many there are.
To remove them, simply select the item by clicking on its name and then hit the "minus" button at the bottom of the list. However, be sure that you know what you're removing; otherwise you may kill some vital function for the next time you restart.
2. Get rid of languages and translations you won't use
Apple is very considerate in providing language localizations for various languages. But the chances are you aren't using the Catalan, Farsi, or Klingon language localizations on your Mac. You can strip out the unused ones and gain more efficiency and drive space.
3. Get rid of clones
No one is secured against accidental creation of file copies. If a file is tiny then it's ok, but what about large files such as movies or presentations? You can enter the names of such large files into search to see if there are any matches. But sometimes it's not a solution, as the clones could have been renamed. Besides, you don't want to waste time to search such files one by one. In such cases an optimal solution would be to install and use special utilities that detect and remove duplicate files.
4. Clean up cache and logs
As a result of active use Mac apps create cache and log files that store specific data needed by these apps. This may also result in Mac slow Internet. You should remove cache and log files from time to time to avoid hard drive cluttering.
5. Repair Disk Permissions
Navigate to Applications > Utilities > Disk Utility. Select your Macintosh HD and select Verify Disk Permissions. If needed you can then Repair Disk Permissions.
6. Clear out unwanted applications
App uninstaller - EaseUS CleanGenius lets you remove unused applications completely and free up more disk space. When you drag an application to the Trash bin, it will leave behind the leftover which wastes your precious disk space. That is why to remove the applications completely.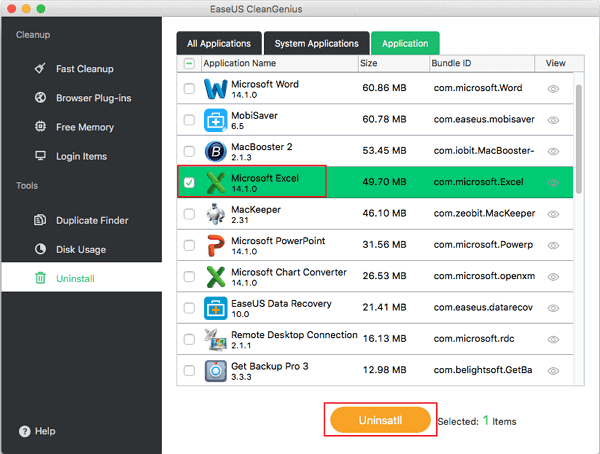 7. Empty Trash
8.Turn off Universal Access
(if not used) Navigate to System Preferences > Universal Access and turn off anything you're not using.
9. Check dock for unwanted apps.
Your dock should only contain your most used applications so take a look through to see if there is anything you can remove or uninstall.
10. Remove unused widgets
Each widget takes some memory and processor power even when you're not using the dashboard so only enable the ones you use. Alternatively, you can disable the dashboard.
11. Clean off your hard drive
It doesn't matter how large your hard drive is, eventually it will begin to fill up. You may not realize that Mac OS X uses the free space on your hard drive as "virtual memory", and it depends heavily on that virtual memory to run efficiently. If you're starting to feel sluggish, it may be because your drive is too full. There are lots of ways to clean it off. But sometimes a little more free space is all you need to be a peak performance again.
One click on CleanGenius to solve the problem of slow Mac!
EaseUS CleanGenius is a powerful and Mac cleaner for Mac OSX 10.7 Lion and later version, making Mac system run faster and perform better. Just one click on Fast Clean on the menu, all the system caches, user caches, system logs, user logs, user downloads, trash, and safari Internet Cache, etc. will be detected and removed in no time and you will experience smooth and speed again while using your Mac.
What's more, this handy tool keeps an eye on Clean function, it allows enjoying smooth & better system performance with such vital features as Free Space Monitor, Removable Device Monitor, Quick Clean Browse Device Files, and so on.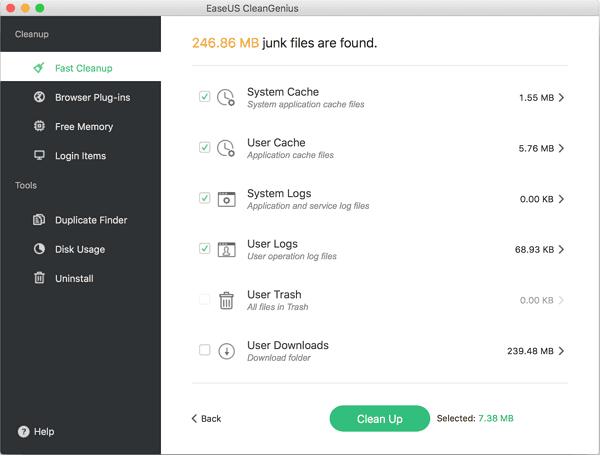 What are you waiting for? Download EaseUS CleanGenius and keep your Mac clean, efficient, and secured NOW!