Deleting Duplicate Photos Helps You Save Precious Mac Disk Space
Sometimes, you find your Mac is becoming slower and slower and finally even cannot work properly. When this problem appears, you may first go to your internal hard disk to check if there is enough free space. Usually, the result is that you have run out of disk space. Then, you continue to investigate the reason, next, you might surprisedly find that there are a large number of duplicate photos on your machine.
If it is the case, those files might be the chief culprit that slow down your Mac. To get it fixed, you have to use a Mac duplicate cleaner to remove duplicate photos to save the wasted disk space and speed up your Mac computer.
EaseUS CleanGenius Is The Best Mac Photo Duplicate Cleaner
Since Mac doesn't have a built-in feature that allows you to locate and remove duplicate photos, you should turn to a third-party duplicate file finder to do the job. Otherwise, you will need to manually search the whole Mac hard drive for duplicates and remove them from your machine. Believe me, you will not want to do that!
So, here, we recommend you EaseUS CleanGenius, the best tool for you to delete duplicate photos on Mac. Having a user-friendly interface, it is very easy to operate. All you need to do is to select a particular folder to tell the program where you want it to scan to find and remove the duplicate photos. It supports macOS Sierra, El Capitan, Yosemite and other Mac OS X versions after 10.6.
3-step Guide to Remove/Delete Duplicate Photos on Mac
Step 1. Launch EaseUS CleanGenius and click on Duplicate Finder;
Drag and drop folders to scan or click Folder icon to add folder for finding duplicate files;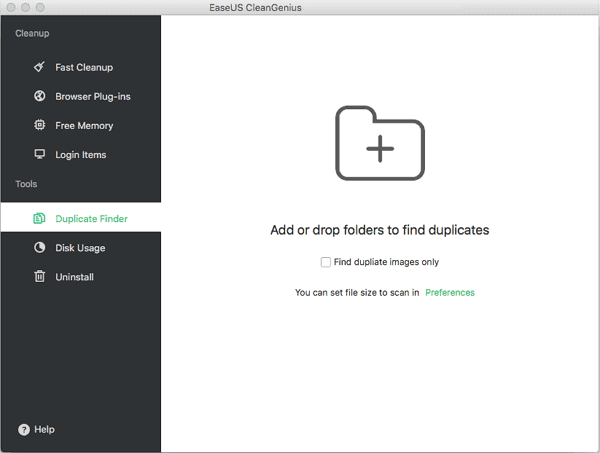 Step 2. Select target folder and click Open so to scan and find duplicate files;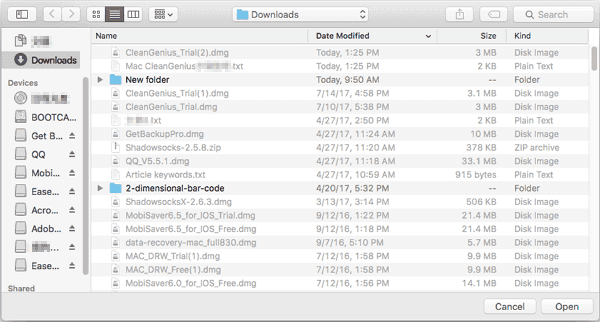 Step 3. Right-click found file and select View to identify which one is the file that you want to keep;
Select unwanted duplicate files and click Delete to remove from Mac.