Your hard drive space is rapidly depleting on your MacBook, and needed to free up some space quickly. While there is no definitive cure-all for making your machine as fast as day one, there are some basic things you can do that might help reclaim lost disk space, remove some clutter and generally speed up your Mac.
Empty your Trash: The most basic thing is to empty your Trash regularly. Unless you're unsure of whether you may need a deleted file later, there's no reason to have a Trash brimming with files.
But this is not the only trash you need to empty. Empty the trash in iPhoto, iMovie, and Mail too.
Remove applications you don't use: Your Mac comes with a lot of commercial applications on a trial basis (like Office, FileMaker etc.). If you know that you're not going to use those applications, remove them! Open your Applications folder, drag unused applications to the Trash and then empty the Trash.
Remove disk images from downloaded files: Whenever you download applications to install, delete the disk image (.dmg) files.
Clear system caches: To improve performance, all web browsers store downloaded pages and files in a cache so that they can re-use those files (instead of re-downloading them) if you visit those same pages again. Cleaning the cache could provide some free space. Although cleaning the cache for security reasons is a good thing, it reflects very poorly on your disk space management skills if you have to do it to save space!
Recover disk space on Mac hard drive easily with
EaseUS CleanGenius
To do all of these steps is intricate. Now, we recommend you to download the third party Mac cleaner – EaseUS CleanGenius to recover disk space on mac hard drive easily.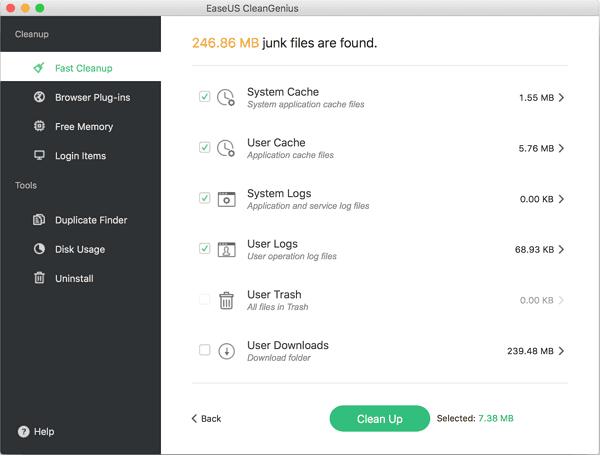 EaseUS CleanGenius offers an easy way to clean the caches, logs, system junk files, Safari Internet Cache and more just by one click for Mac OS X 10.7 or later. It thus offers an easy way to keep your Mac clean and healthy and lets it run smoother and faster. All types of Mac machine are supported like Mac Mini, Macbook Air, Macbook Pro, iMac, Mac Pro.