Are you having problem in managing music collection with number of duplicates?
Do you want to delete MP3 duplicates from your Mac start-up drive?
Want advanced MP3 duplicate finder for your Mac?
The efficient way of getting rid of duplicate music and video file on your Mac is with MP3 duplicate finder software. Work of finding and removing duplicate MP3 or WMA songs can very easily be done with it. Its highly skilled algorithms is useful in analyzing the MP3 duplicate.
EaseUS CleanGenius is a MP3 duplicate finder for your Mac. It can clean up your Mac and free up more disk space with the following features:
Duplicate file finder: Easily remove the duplicated files at the specified location. Duplicated files may have different file names and lurk in different folders, but they have the identical contents.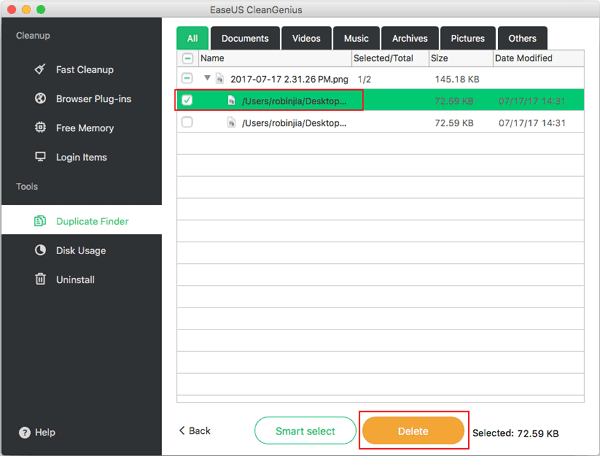 Mac cleaner: EaseUS CleanGenius offers an easy way to clean the system caches, system logs, user logs, user caches, system junk files, user downloads folder, trash, Safari internet cache and more just by one click. It thus offers an easy way to keep your Mac clean and healthy and lets it run smoother and faster.
App uninstaller: EaseUS CleanGenius also offers applications uninstall. When you drag an application to the Trash, its preferences, cache and log files still remain on your drive and waste valuable disk space. With EaseUS CleanGenius, you can completely remove applications and their associated files.
Browser Plug-ins Cleanup: Support to clean up and remove browsers such as Safari, Chrome or Firefox plug-ins, cache and cookies. Your browsing histories, bookmarks and downloaded files won't be cleaned.