With all the music, movies, files and other stuff are collected on MacBook, it really is a matter of time before your Mac start running out of space. When your Mac hard drive is running low disk space, you will realize your Mac runs slowly and the system peformance is slown down. While it is fairly simple to gain some more space by cleaning out some of the accumulated junk files, sometimes its preferable just to upgrade to a larger hard drive instead.
How to clean up Mac hard drive to solve MacBook running out of disk space problem
Here's how to clean up your Mac hard drive and reclaim the wasted space to solve MacBook running out of disk space problem.
1. Save all of your personal document files to disc.
2. Delete any personal document files that you haven't used from your hard drive.
3. Open iTunes and then delete any music you no longer play or like.
4. Open your email client and delete any old emails and sent emails.
5. Delete any unused applications you have downloaded or put on the MacBook since you purchased it. Leave the Mac system files alone, and don't delete any applications that came with the system. Next, delete any unused icons from your desktop.
6. Open Safari, click on "Edit," then "Empty Cache" to clear any saved web pages. In Internet Explorer, click "Tools," then "Internet Options," then "Delete" under "Browsing History." A menu will appear, and you can then choose to delete temporary Internet files and other files.
7. Empty the system trash.
8. Clear junk files, such as system logs, system caches, user logs, user caches. It is hard to locate these files if you are not expert. For common users, Mac disk cleaner is recommended highly. With the help of it, your system's junk files can be cleared out in seconds. EaseUS CleanGenius is such one for Mac OS X 10.7 or higher. EaseUS CleanGenius lets you clean junk files, such as system caches, system logs, user caches, user logs, user download folder, trash, Safari Internet Cache, etc. by clicking "Fast clean" in seconds. The disk space monitor lets you monitor the amount of disk space being used and left, it will sound and alarm you to clean out the junk files to free up disk space when your hard drive is running low disk space. Safely eject any individual mounted drive by one click.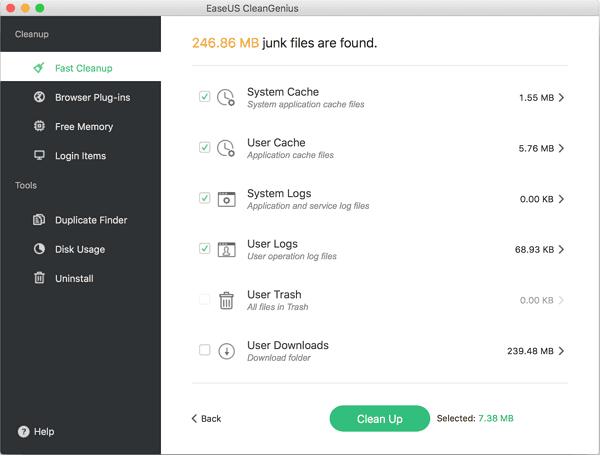 "CleanGenius is a drive monitoring and cleanup tool for OS X 10.7 (Lion) or later. Not only does it give you a quick overview of your drives' free space from the menu bar, but it also provides a "fast clean" option for clearing out certain parts of your hard drive." Editor reviewed EaseUS CleanGenius.
What are you waiting for? Download it to clean your Mac and free up disk space to solve Mac running out of space problem.