Mac OS doesn't provide the specialized tool to uninstall the applications, but you can remove an application by dragging it to the Trash. When you drag an application to the Trash, it may risk your Mac's health. The reason is that some of the Mac applications come not as a single file but rather as compound elements, with additional components such as plug-ins and preference panes. If you drag such apps directly to Trash, you only remove core part, its preferences, additional components, cache and log files still remain on your hard drive and waste precious disk space.
Some Mac applications have built-in uninstaller, you can use it to remove applications and their components safely and completely.
Some Mac applications don't provide built-in uninstaller, that's why it is strongly recommended to use Mac uninstaller software to remove applications and their parts once and for all.
EaseUS CleanGenius is a system clean software for Mac OS with the following useful features:
Mac Uninstaller: Safely and completely remove applications and their components, preferences, log files, etc. Select an application, just one click, the application and its additional components will be removed.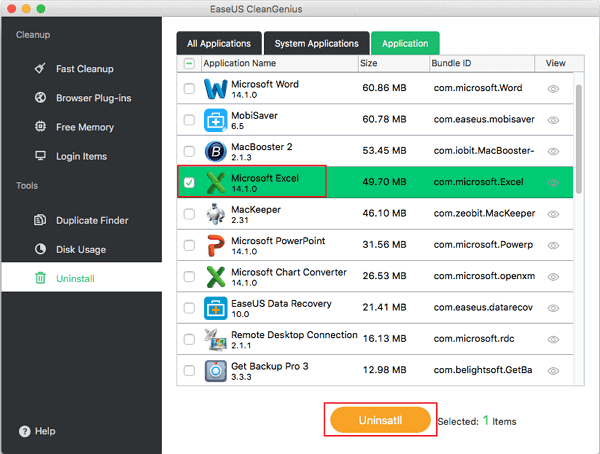 Fast Clean: Find and remove junk files (including system caches, user caches, system logs, user logs, user downloads, trash, safari Internet cache, etc.) to free up disk space and keep your Mac in health. Just by one click, the junk files will be removed in seconds.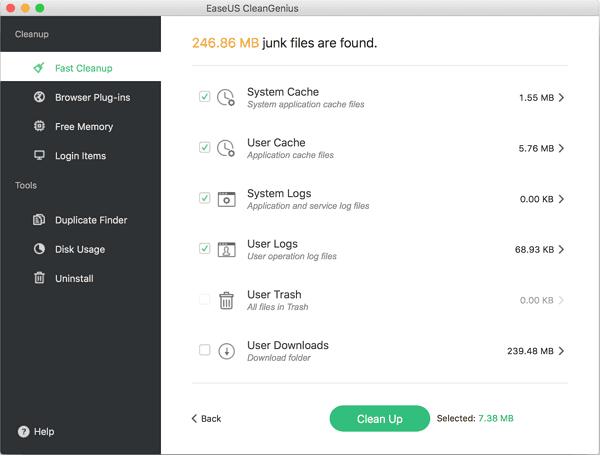 Free Space Monitor: Show total disk space & free disk space and warn you when disk space is running low, then you can clean your Mac in time to reclaim the wasted disk space.
Browser Plug-ins Cleanup: Support to clean up and remove browsers such as Safari, Chrome or Firefox plug-ins, cache and cookies. Your browsing histories, bookmarks and downloaded files won't be cleaned.
"EaseUS CleanGenius is one of the must-have utilities for Mac users. It offers one-click disk clean and keeps track of the space available on your drives, informs you immediately if the volume is out of space. This is great!!!"
EaseUS CleanGenius is an all-in-one mac cleaning software, worth of trying, get your Mac clean and healthy in seconds.