If you've started up your MacBook recently and received the error message "Mac hard drive full" then you're probably looking for a way to fix the issue that is causing the error. Normally this error is due to particular software packages that are taking up a large amount of space, a malicious program that is altering your hard drive, or the presence of too many duplicate files.
Unfortunately, as computers get newer and faster, older ones become obsolete. It seems wrong that our laptops and pcs are significantly less capable of performing after just two or three years. But what many people don't know, is that the 'Mac hard Drive Full' error doesn't mean the end of your system.
To fix the "Mac hard drive full" error message, you have to clean the system junk files and useless files. You can do this by hand, but it's difficult and it takes a very long time. You also may delete the wrong version of the file. That's why I recommend a cleaner for Mac that can make seeking and deleting junk files easy.
EaseUS CleanGenius can fix Mac hard drive full error easily
EaseUS CleanGenius is an all-in-one Mac cleanup utility tool that monitors your Mac disk space and disk ejector. It can clean all junk files with just a simple click and you will know how much disk space is available on your Mac. Using it on your Mac machine will surely keep your Mac clean and healthy at all times while letting all the operations to run smoothly and faster. It will alarm every time your Mac disk space is already running low. Once you are alerted in advance, you will know what files or applications to delete or move in time in order to allow an extra space so your Mac can run faster and better. It includes the following features:
Clean up Mac fast: You can free more space on your Mac disk keeping your Mac healthy at all times. With a simple click from the utility, all junk files (System Caches, User Caches, System Logs, User Logs, User Downloads, Trash, Safari Internet Cache and more) will be removed in just a matter of seconds.
Monitor disk space: It will show you the disk space available and will alert you in advance if the disk space is already running low. You can clean or move files to free up disk space to ensure that your Mac is running smoothly.
Disk ejector: Using this one will allow you to eject the mounted drives, such as external storage disks, CD and DVD disks, SuperDrive, network storage and disk images.
Browser Plug-ins Cleanup: Support to clean up and remove browsers such as Safari, Chrome or Firefox plug-ins, cache and cookies. Your browsing histories, bookmarks and downloaded files won't be cleaned.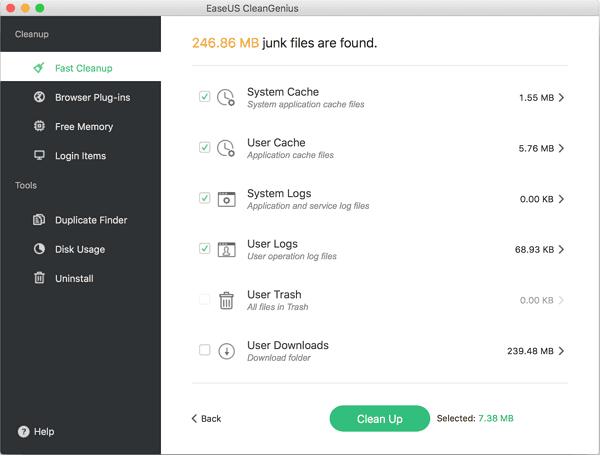 What are you waiting for? Download it and monitor your Mac disk space now. When your disk space is low, just one click to free up disk space.