Having not so much data stored on Mac but the hard drive somehow runs in low disk space and slow down the machine or clutter your Time Machine backups? When this happens, you may be curious about what has eaten up the disk space.
Mac Duplicate Cleaner Helps To Recover Wasted Disk Space
According to professionals and experienced users, the problem is most probably caused by duplicate files, for example, documents that are exactly the same but with different names, multiple copies of the same picture. Such files are a waste of disk space, consuming that precious SSD space on a modern Mac.
So, here, we recommend you to use Mac duplicate file finder sometimes also called Mac duplicate cleaner to scan your Mac first. At most times, you will be surprised just how many duplicate documents, photos, music and other files build up on your Mac computer. If it is the case, use the Duplicate Cleaner to remove them will help you get the problem solved and speed up your Mac computer effectively.
What Is The Best Mac Duplicate Cleaner? EaseUS CleanGenius Is Your Best Bet!
From the above paragraphs, we have known the importance of Mac Duplicate Cleaner. Now, the problem becomes how to find a reliable one that can help you remove or delete duplicate files easily and safely.
Here, we think EaseUS CleanGenius should be your best choice. Instead of searching your Mac manually for duplicates, you are allowed to select a particular folder and let this cleaner do its work. By this way, it can greatly minimize the tedious efforts used for searching your entire system for duplicate files. And with an intuitive interface, EaseUS Mac Duplicate Cleaner can guide you finish all the steps by yourself with no obstacles. The program can work in macOS Sierra, El Capitan, Yosemite and other Mac OS X versions after 10.6.
To Find And Remove Duplicate Files, Follow These Steps:
Step 1. Launch EaseUS CleanGenius and click on Duplicate Finder;
Drag and drop folders to scan or click Folder icon to add folder for finding duplicate files;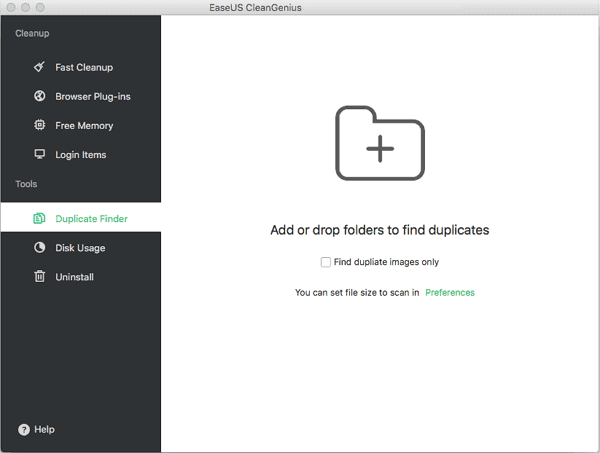 Step 2. Select target folder and click Open so to scan and find duplicate files;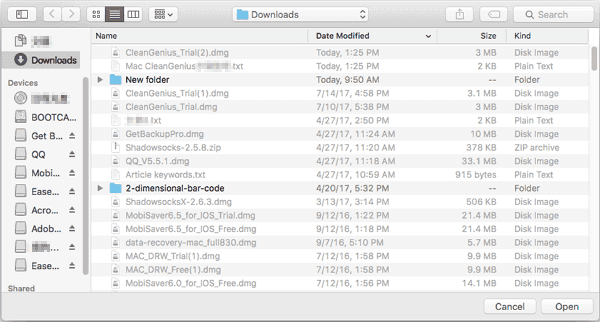 Step 3. Right-click found file and select View to identify which one is the file that you want to keep;
Select unwanted duplicate files and click Delete to remove from Mac.